03 Mar 2021
How does New Samsung Galaxy Z flip differs from Moto Razr foldable?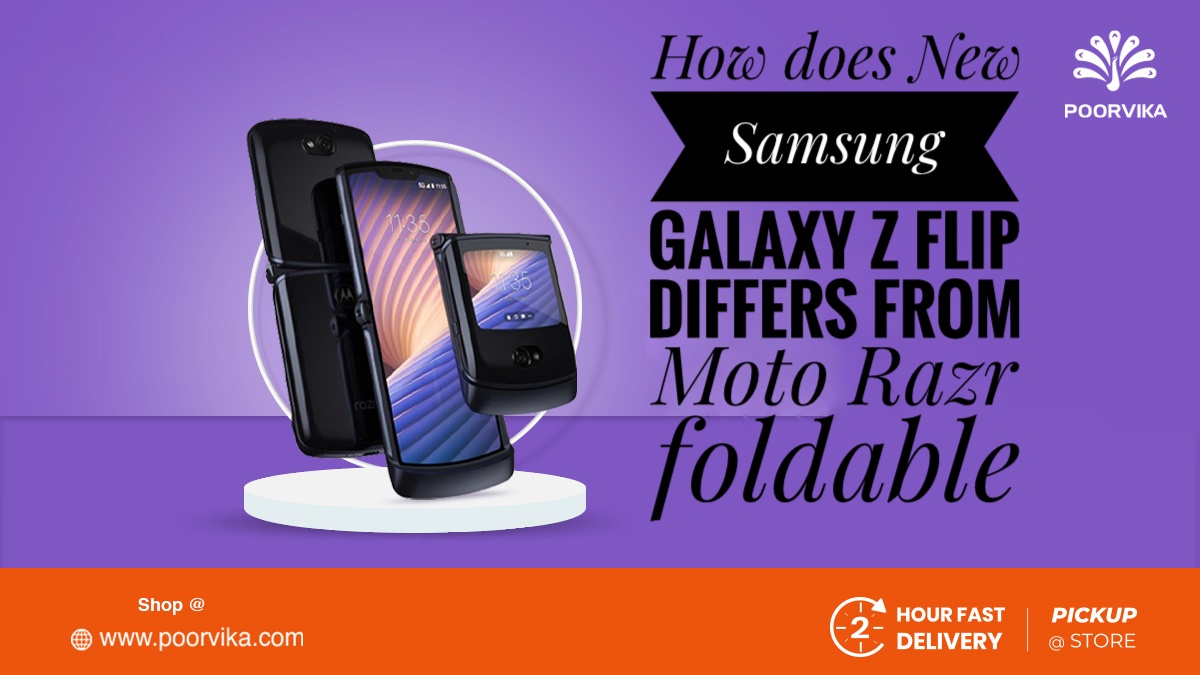 Difference Between Z flip and Moto Razr
It is absolutely fine and acceptable to be baffled, especially when the market is flooded with so many smartphones. Each phone tailored to suit your needs. Here we are going to explain about differences between Samsung Galaxy Z Flip and Motorola Razr.
First difference begins with how both companies market their products. Samsung complicates the difference between flip, fold but Motorola likes to keep things simple. Samsung's foldable phones are equipped with horizontal hinges which was more a tablet and it is the Galaxy Z series that can face off Motorola Razr one on one since it has vertical hinges.
After the dominance of smartphones, flip mobiles, slide mobiles lost their relevance in the market. Manufacturers are trying to reinstate flip smartphones. Flip smartphones are not novel, same batter with different topping. However, this initiative is not just worth appreciating but worth buying.
Specification
Z flip is made of an Ultra thin glass instead of hinge used in Motorola Razr. With Galaxy you get more stunning picture quality and a robust Corning Gorilla Glass 6 to offer supreme protection against waistline drops.
It also packs a flagship Snapdragon 855+, a processor which can effortlessly devour Snapdragon 710 of Razr. As a part of our product testing we had to transfer about 2000 images from Phones to Computer that is when we were able to notice a massive performance gap between both phones.
Clutching Galazy Z Flip is almost close to impossible because USB 3.1 is slimy and resilient. Both phones produced great images and the quality was similar. But Galaxy began to topple things after luminosity fell. Samsung has used AI of their S series smartphones.
The 790 mAh difference might not be visually pleasing but again 7 nanometer of Z Flip interferes greatly to offer more than 3 hours of additional usage.  Agreed visuals are more appealing in Z Flip but scrolling, transition effect is more pleasing in Razr because of its 90 Hertz panel.
Only if you want a bigger display, you will have to flip your phone because Razr flaunts a dual-screen. Dual screen of Z Flip is dwarfy also strenuous to view. Samsung Galaxy Z Flip is available in Mirror Black color. Samsung Z Flip price in India is Rs. 69,999.
And Motorola Razr offers two colors named Noir Black, Blush Gold. Motorola Razr price in India is Rs. 69,999.
Avail our 2 hour delivery to get your products delivered to your home.