05 Mar 2021
How good is the Nokia 3.4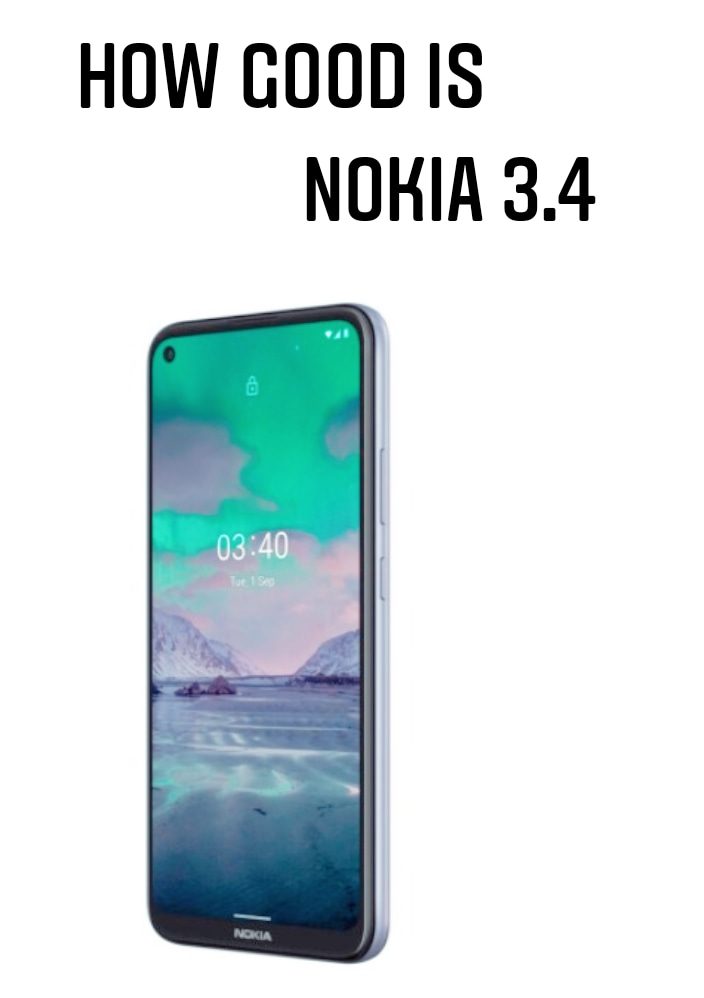 Nokia is one of the most renowned mobile brands famous for its top-notch build quality. When you reminisce on your childhood memories, do you recollect the first mobile phone that your dad bought? Most probably, it would have been a Nokia handset. The snake and bouncing ball games on the Nokia hold a very special place in all our childhood memories. We would wait eagerly for our fathers to return home just so we could play those exciting games.
With a rich history of unbelievable durability and unique features, Nokia has once again stepped into the game with their newest stunner – the Nokia 3.4. The device's outstanding design, features, and specifications make it exceptionally good. Let us discuss everything about the mobile to get a clear view of how good is the Nokia 3.4 really is.
When building a smartphone, the materials used in its build are very much important. They are like the White Blood Cells in you that protect your body from diseases. Similarly, the polycarbonate material used in the back panel of Nokia 3.4 makes it more robust. The 3D nano texture finish on the rear gives the user an exceptional grip over the phone and is designed in a way that does not leave fingerprints.
Smartphones need to be designed in a user-friendly way, and meeting the basic needs of a user is all you need to do to build a user-friendly device. What would be the basic need of a mobile user? The smartphone should be very comfortable to carry and grippy to hold. This is because most of the time we tend to drop our phones when it's too big to fit in your hand. To avoid this situation, Nokia built the 3.4 in the dimension of 161 x 76 x 8.7 mm, to provide a very snug fit and weighs just 180g.
They say that the face is the index of the mind; similarly, a smartphone's display is crucial. The Nokia 3.4 has a 6.39″ IPS LCD display with a resolution of 720 x 1560 pixels. The device has an aspect ratio of 19.5:9 with a pixel density of 269 PPI.
As we mentioned earlier, an ergonomic design is key for any smartphone. The Nokia 3.4 is proof of this with the power button and the volume button on its right side and right in reach of your fingers. This allows a user to reach for these keys without having to shift the device uncomfortably during one handed use. The device has three SIM slots on the left side along with a google assistant button.
Flipping the mobile on the back, we find a fingerprint sensor. Using the fingerprint sensor you can swipe up and down the notification bar. It has a primary microphone and a 3.5mm headphone jack at the top, a speaker grill, USB Type C port, and a secondary microphone at the bottom.
It comes loaded with an Qualcomm SM4250 Snapdragon 460 Octa-core processor paired with an Adreno 610 GPU that runs on the Android 10 OS. This combination takes efficiency and performance to the next level. CPU of the device carreis two parts. A 4×1.8 GHz Cortex-A73 an a 4×1.8 GHz Cortex-A53. It has three internal storage variants: 32GB 3GB RAM, 64GB 4GB RAM, and 64GB 3GB RAM. It also comes with a microSDXC card slot.
Photography is turning to be a hobby for most of us. Nowadays a smartphone comes loaded with hardware and features that can rival even some of the best cameras out there. The Nokia 3.4 features an amazing triple camera setup at the rear. It consists of a 13MP wide lens primary camera, 5MP ultrawide lens secondary camera, and 2MP depth sensor tertiary camera. You can now click stunning pictures with features like HDR, Panorama and record videos with 1080p at 30fps. It comes with an Led Flash. Along with the triple camera setup, Nokia 3.4 has an 8 MP wide selfie camera. The selfie camera records video with 1080p at 30fps.
The device also has other sensors like an accelerometer, gyro, and proximity sensor. Connectivity is one of the important factors to be noted when you opt to buy a smartphone. The Nokia 3.4 supports connectivity via Bluetooth 4.2, Wi-Fi, hotspot, GPS, NFC, and USB Type-C 2.0. A Li-Po 4000 mAh non-removable battery powers the device. The battery supports 10W charging. Fjord, Dusk, and Charcoal are the three colour variants available for the Nokia 3.4. The Nokia 3.4 price in India is Rs.11,999. Buy Nokia 3.4 from Poorvika online with exciting offers and deals. Avail of our 2 hours delivery service and get your products delivered sooner right at your doorstep.