07 Mar 2021
Zebronics 18W Charge powerbank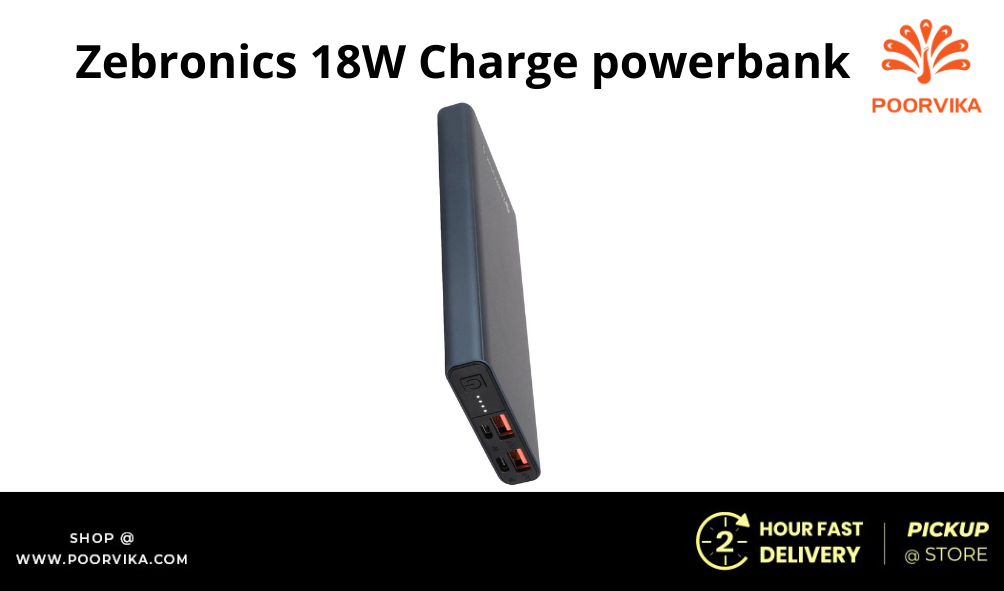 We often underestimate the role of powerbank in our lives. But the fact is: Its role is pivotal in our lives. Power is very much needed to keep our Smartphones alive. There are two ways with which you can power your mobile. The first way is by charging your phone via cable. The second way is charging via Power Bank. Click here to read our blog on powerbank.
Charging a smartphone through cable is not possible always. Though both process basically charges a smartphone. The former approach is static because the user cannot carry the phone. But charging the phone via a powerbank is more convenient. And it allows user to carry their Smartphone wherever they go. We will present you with a real-life instance to understand the importance of a power bank. Let us assume you are on a trek. Meanwhile, your Smartphone is about to die due to a lack of battery charge.
As you are at a place that doesn't have electricity, you can't charge your mobile even if you possess a charger. To avoid this situation in your life, we are introducing you "Zebronics 10000mah power bank." In this blog, let us have a detailed discussion about the Zebronics 10000mAh powerbank.
Zebronics 10000mAh powerbank
After seeing this power bank, no one can resist buying it. Though it is a budget product, it doesn't look like one as they have made its slim body with metal. In general, only premium products have a sleek and robust build. The build quality and aesthetics of Zebronics is phenomenal. Under the slim body, it has a 1000mAh battery.
Honestly speaking, it looks more like a Premium smartphone covered with matte tempered glass than a mere power bank. Since it has a textured finish, chances of slipping from your hand are unlikely to happen.
Zebronics has provided both overcharge and short circuit protection. On the bottom of the power bank lies a LED indicator that indicates whether the device is charging or not.
There are 4 ports in total. Among the 4, 2 are output ports, and you can use the other 2 ports for the input. You can charge the devices via both Type-C and Micro-USB devices using Zebronics. As the Zebronics 10000mAh power bank supports 18W fast charging, it gets charged much faster than you can imagine. Zebronics offers a 1-year warranty for its power bank for all kinds of manufacturing defects. It is available in Silver, Blue and Gray colours. The Zebronics power bank price in India is Rs.1799. Whereas, you can get this product from Poorvika at just Rs.999.
Avail our 2 hour delivery service and get it delivered straight to your doorstep.