10 Mar 2021
Best Amazon Alexa Speakers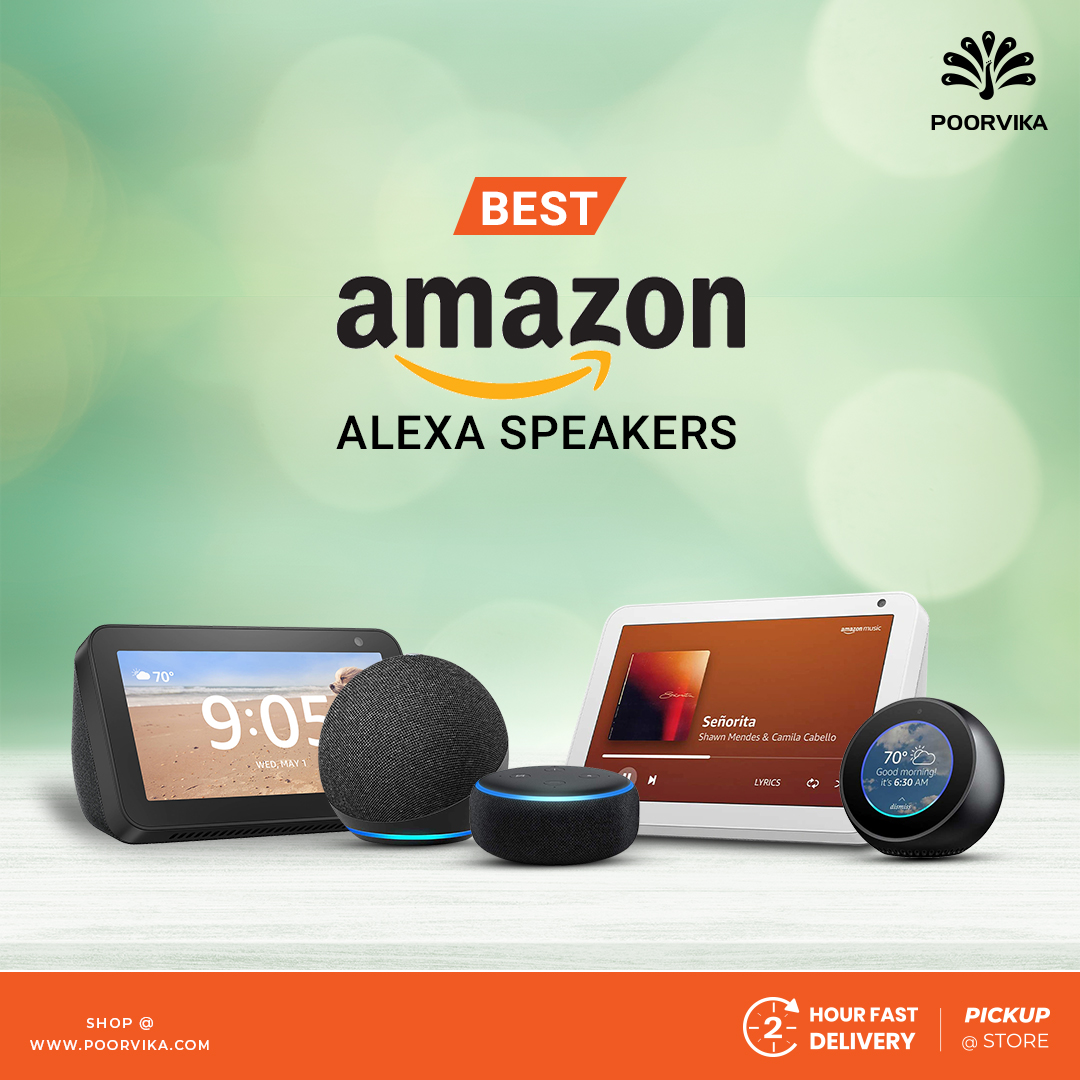 "Music washes away from the soul the dust of everyday life."
– Berthold Auerbach
Humankind can never function without music. It has an incredible power to raise good vibes all around you. Hearing melodious music will help you stay calm and composed. Many kinds of music with stunning beats and tones can enhance your happiness. Music plays a vital role to treat many physical discomforts like lowering blood pressure, respiration, muscle tension, improved cardiac output, and reduced heart rate.
Speakers are something that lets us enjoy even the minute beats in a song. Previously speakers were huge and heavy, which made it uncomfortable to carry them. But 2021 is all about the smart speakers that turn our home into a smart home. It fills the entire living space with beautiful music. When we talk about smart speakers, Amazon Alexa speakers are the ones that first hit our mind. This blog is about the Best Amazon Alexa Speakers.
Amazon Echo Dot (3rd Generation):
The 3rd gen Amazon Echo Dot sides come with a denim fabric that provides a perfect grip. The device has a volume on/off, an action button, and a microphone switch on the top. It supports two different languages: English and Hindi. It has a LED Ring covering the soft plastic in the speaker. The LED helps us to decode the messages it conveys.
When a message is received, the device projects a yellow colour. And while listening to your command, a mixture of royal blue and cyan blue colour is displayed. If the microphone gets turned off, the device delivers a red light. When the echo dot boots itself, the device produces cyan blue light, and once it ends, the light turns orange. While receiving calls, the device displays a green colour. Purple colour is delivered when you turn on do not disturb feature.
The Amazon Echo Dot (3rd Generation) is a 1.6″ speaker that delivers an outstanding sound quality. It has a 15W power adaptor. The external speaker can be connected using the 3.5 mm audio output jack. You can communicate with all the Echo devices at home using Alexa Communication. To proceed with a comment, all you need is to say 'Hey Alexa' and continue with your command. The Amazon Echo Dot 3rd Generation price in India is Rs.4,499. And at Poorvika it is only Rs.3,499. You save Rs.1000 with a 22% offer when you order from Poorvika.
Amazon Echo Dot (4th Generation):
The 4th Generation Amazon Echo Dot devises privacy protection. The device has multiple layers of privacy protection so that you can view, hear, or delete your saved voice recordings. You can stay updated about the latest news, favourite music, radio & podcasts and more using the Echo Dot.
This speaker lets you control smart devices like lights, ACs, TVs, and geysers through voice command using Alexa communication. You can adjust the bass, midrange, and treble of the music on the Echo Dot using the Alexa App. The Alexa Echo Dot can hear your command from any corner of the room as it has four microphones.
The device is available in two different colours: black and blue.
The Amazon Echo Dot 4th Gen price in India is Rs.4,499. Whereas, at Poorvika, it is just Rs.3,999. You save Rs.500 with an 11% offer when you order from Poorvika.
To read the extensive specifications and features about Amazon Echo Dot 4th Gen, read our blog here – Amazon Echo Dot 4th Gen – A Ball of Happiness
Amazon Echo Spot :
The Amazon Echo Spot comes with a stunning design that fits anywhere in your home. It comes with 104 x 97 x 91 mm and with 419 grams weight and also has a fantastic 2.5″ and 480×480 circular touch screen. It has various collections with which you can personalise your clock faces. You can enjoy video calling, alarm, reminder, news, music, sports, and weather updates with the Echo Spot.
You can control the Echo Spot can using a voice command. It has a stunning Front-Facing Camera that helps you enjoy video calling with your distant friends. It has four microphones assisting the speaker in recognizing your command quickly. You can access the volume and a Microphone/camera using the control button.
The device is available in an attractive black colour. The Amazon Echo Spot price in India is Rs.6,499 at Poorvika Online. Whereas, its actual cost in India is Rs.12,999. You save Rs.6500 with a 50% offer on the product when you purchase it from Poorvika.
Amazon Echo Show 8:
The Amazon Echo Show 8 features an 8″ HD screen. You can enjoy your favorite movies and shows with stereo sound. With the stereo sound, you can experience excellent music. You can access the device through voice commands. To play a movie, just say 'Hey Alexa play a movie'. Alexa supports two languages: English and Hindi; also additionally, you can control the device in Hinglish.
You can make a hands-free video call and can enjoy a better viewing experience. The device is available in black and white in colour. The Amazon Echo Show 8 price in India is Rs.8,999 on Poorvika online. The actual price is Rs.12,999. When you buy Amazon Echo Show 8 Online from Poorvika, you save Rs.4000 with a 30% offer.
Buy your favourite Amazon Alexa Speakers from Poorvika online and get the products with amazing offers and discounts.
Make the best use of our 2 hour delivery service and get the products delivered much faster.