13 Mar 2021
Importance of Hand sanitizer in day-to-day life

Though Hand sanitizers have available in the market for a long time, they gained their importance only after the (COVID -19) Corona Virus entry!
In our day-to-day life, we expose ourselves to tons of bacteria and viruses. Hand sanitizers play a vital role in keeping ourselves safe and secured from these germs.
Medical Practitioners recommend using a hand rub with at least 60% alcohol, as only those hand sanitizers can effectively kill toxic germs.
Ease of use:
Hand sanitizers help humankind overcome the difficulties of using soap and water to disinfect our hands, considering soap and water may not be readily available everywhere.
Hand sanitizers, on the other 'hand' are handy, and you can use them wherever you go.
Benefits of using Hand sanitizers:
-It terminates the spread of bacteria and viruses.
-It helps you switch to a healthy lifestyle.
-Handy and simple to use. Kills germs in no time.
In this blog we will take a look at one of the best hand sanitizers of all time that packs all these benefits into one little bottle – The Vooki Hand Sanitizer Liquid
Vooki Hand sanitizer Liquid:
This Alcohol-based hand sanitizer liquid makes sure you stay protected from various bacteria and viruses you unknowingly expose yourself to in your day-to-day life.
This hand sanitizer contains about 75% alcohol which is capable of killing 99.9% of germs.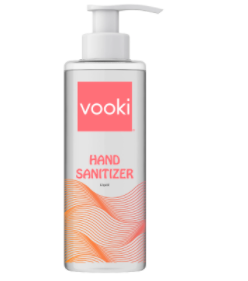 Unlike other hand sanitizers, the Vooki hand rub solution will not dry your skin and instead make it softer than before.
This hand sanitizer has a very effective ingredient called Isopropyl alcohol that kills germs effectively in no time, allowing you to brave the world with no worries.
It comes with a very mild and pleasant fragrance that positively impacts you every time you use it.
When to use the Vooki Hand sanitizer?
You can use the Vooki Hand sanitizer when soap and water are not readily accessible or when you want extra protection even after washing your hands with soap and water.
When not to use Vooki Hand sanitizer?
-If your hands are visibly dirty or greasy.
-If you expose your hands to chemicals such as those in a chemical lab.
Why? Because the Vooki hand sanitizer can only disinfect your hands. They cannot remove harmful chemicals, pesticides, heavy metals, and residue that may be present in chemicals.
Vooki Hand rub availability:
Vooki Hand rub solution is available in 2 different sizes:
One is the Vooki Hand sanitizer Liquid 500 ml (Pump type)
and the another comes as 5 Liters in a Can.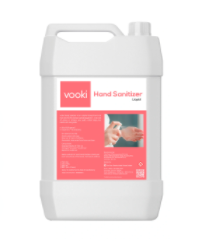 The Vooki Hand sanitizer liquid has a maximum shelf life of 36 months. So, worry not and stock your Hand rub solution without any delay.
Price of Vooki Hand sanitizer:
The actual cost of Vooki hand sanitizer liquid 500 ml (Pump type) in India is Rs.250/-
Here at Poorvika, we offer the same at Rs.199/- after a 20% discount.
And,
The actual cost of Vooki hand sanitizer liquid 5 litres in India is Rs. 2,400/-
Whereas, at Poorvika, we offer the same for Rs.999/- after a 58% discount.
Buy the Vooki Hand Sanitizer online from Poorvika and make use of these exciting discounts.
Don't forget to avail of Poorvika's 2 hour delivery service and have the products delivered straight to your doorstep with Poorvikas 2 Hour Fast.