13 Mar 2021
What makes iPhone SE (2nd Generation) special from the other iPhones?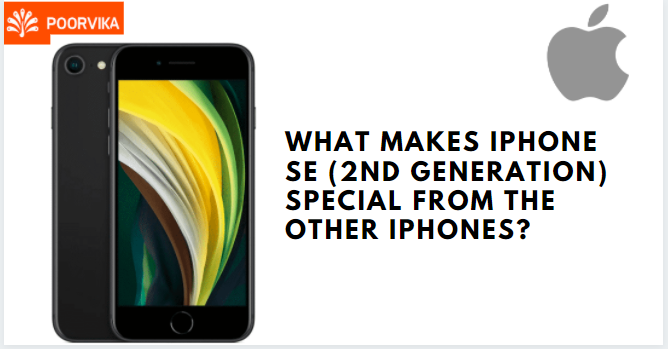 There is something about the Apple phones that makes many people go pitter-patter! With the release of every new iPhone, Apple never fails to impress its fans with its advanced and upgraded features!
Every iPhone has some feature that is unique and upgraded from its previous version. One such beauty with improved features and functionalities is the iPhone SE 2020(2nd Generation).
In this Blog, let us figure out what makes the iPhone SE special from the other iPhones.
iPhone SE:
The iPhone SE is an "affordable" mobile from Apple that comprises high-end phone specifications and technologies. The iPhone SE has undergone a complete changeover right from the display to the camera and the mobile's processor. The upgradation is so robust that you will wonder if all these functionalities belong to a "budget-friendly mobile" segment.
iPhone SE Features and Specifications:
Display:
Are you a fan of the iPhone's compact screen display?
We have a piece of good news for you!
This mobile accompanies a 4.7″ screen that makes it very easy and comfortable to carry around. Thus, satisfying the fans' who have a craze over Apple's most popular display size.
The Retina HD Multi-touch display boosts colour saturation. The display supports 1334X750p of pixel resolution at 326 PPI and 625 nits max brightness.
A13 Bionic Chip:
The A13 Bionic chipset with a third-generation neural engine performs much better when compared to the earlier released A9 chip.
Now your phone performs faster when launching apps, playing games, or delivering your favourite series on Netflix.
This mobile has up to 2.4x faster CPU than A9 and up to 4x quicker GPU capacity than its predecessor.
Camera:
The iPhone SE (2nd Generation) sports a 12-megapixel wide camera at the rear, the same as its previous version. However, this version of the iPhone includes many new specifications and features like the Portrait Mode, Portrait Lighting, and the next-gen Smart HDR.
It is no more a 1.2-megapixel front camera as Apple has revamped it to a 7-megapixel sensor.
Depth Control:
Get the focus!
With the Depth control effect, you can focus on what needs to be focused and blur the background as per your need.
Portrait lighting:
The freshly introduced Portrait lighting offers you six studio-quality effects that adjust the lighting so that it exposes you to the best possible light.
The six different lightings are as follows:
Studio Light
Natural Light
Contour Light
Stage Light Mono
Stage Light
High-Key light Mono.
Smart HDR:
The Smart HDR is so intelligent that it throws more light when it detects a person's face, capturing the contours and skin tone effectively.
Faster Wi-Fi and cellular data:
The iPhone SE (2nd Generation) supports Wi-Fi 6 that enables much quicker downloading, uploading, streaming, and backing up files.
This particular version of the Apple phone delivers up to 6.5X faster cellular speeds and up to 2.7X faster Wi-Fi speeds.
Water Resistance:
It is very much common to skip a heartbeat when water comes in contact with your phone.
With Apple's IP67 water-resistant mobiles, your heart no more has to skip a beat as your iPhone SE is no more afraid of water, well for up to 1 meter, a little splash of coffee, or dust.
Battery life:
Now Binge-watch without any worry as the iPhone SE (2nd Generation) lets you watch up to 13 hours of video, once charged.
Also, charging doesn't take much time as it charges up to 50% in just 30 minutes.
The Apple iPhone SE now comprises a 1821mAh battery, which has enhanced its battery life. Now the phone can stay charged up to 2.5 hours longer than before.
Dual SIM:
Roaming around with one smartphone for personal use and one for business?
iPhone has now introduced Dual SIM capacity in its phone's structure that enables you to use two different SIM cards in one mobile.
Why handle two when one mobile can do all the required work?
Is iPhone SE better than the iPhone 12 series?
We can hear you. We understand what your query is.
Undoubtedly, the iPhone 12 series has much more unique features and specifications.
The camera itself contains numerous properties like the Night mode, while its display comes with a Super Retina ADR technology with a ceramic shield.
So, why do we say that "the iPhone SE is special when compared to other iPhones?"
It is because of the proportion between the price and the features/specification that Apple offers!
The price-specs proportion for the iPhone SE is comparatively higher than the price-specs ratio of the iPhone 12 series.
Meaning, the iPhone SE offers more functionalities and specifications for its price when compared to the iPhone12 series.
Having analysed all the factors that prove why the iPhone SE is special, are you not excited to find-out its price?
The price of the iPhone SE 2020 starts in India from Rs.42,500!
Whereas the starting price of the Apple SE 2020 at Poorvika is just Rs. 38,900!! You get around an 8% discount at Poorvika.
So, what are you waiting for?
Get this fantastic piece of technology from the official website of Poorvika and avail all the exciting offers and amazing cashbacks for yourself!
Also, do not forget to use our 2 Hour Fast Delivery service to receive the products at your doorstep with next to no delay.