13 Mar 2021
8 tips for saving battery life on your iPhone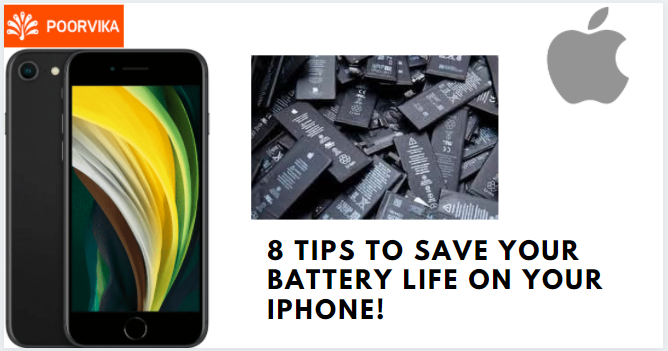 iPhone, being a premium model high-end phone, has been ruling the mobile market for ages. Apple's fan base is so loyal that they never fail to upgrade their iPhones, Apple watches, iPads, or Macbooks with every new release.
An iPhone is still the most favourite smartphone of many users despite its price, and the reason behind this is the features, specifications, and security an iPhone offers.
Apple's security system is out of the world that nothing can beat what an iPhone could offer. In a world where companies sell your data for money, Apple took a pledge to maintain your safety and privacy.
It also offers the best camera, best display, smoother performance, faster processor, and more, making our lives easier! Though it has plenty of features and upgrades to offer, the one thing that acts as a hindrance is an iPhone's battery life!
Worry not, as we have extra-ordinary tips for you to get a long-standing iPhone battery.
Eight tips to save your iPhone's battery life:
Tip-1: Identify and eradicate battery hogs:
As you sense a dip in your battery life, it is time for you to understand where the battery's energy gets disseminated. Make sure your mobile utilizes the battery for the apps and functions useful to you. If not, you need to monitor and make sure the energy is re-directed only to the necessary processes.
Eliminating apps, features, and functionalities that drain the battery's power will do its part in saving the battery life for a longer time than before.
"Focus on things that need to be focused," they say.
And now it is time for you to make sure your battery does the same.
Tip-2: Update your mobile to the latest software
Apple's updates are beneficial both in terms of security and performance.
Often, iPhone updates come with ways to fix bugs, if any, and include additional features for your mobile to function smoothly.
The word smooth functioning also insinuates the prolonged battery life of a device through advanced energy-saving technologies.
Well, what is simple than just updating your mobile to improve your battery life?
Tip-3: Activate Low-power Mode
The low-power mode is a battery saver technique for all possible reasons.
It lets the iPhone perform only essential activities and runs only the most wanted apps while blocking the activities like mail-fetching, downloading, etc.
Though the low-power mode will automatically kick in when your battery goes below 20%, you can activate it manually to ensure a long withstanding battery.
Once you enable this feature, the battery icon on the top-right corner will turn yellow.
To turn on the low-power mode, you have to go to the Settings> Battery> Lower power mode and toggle it on.
Tip-4: Use Wi-Fi more than Mobile data
Being in touch with the outside world using Wi-Fi over cellular data can do wonders for your iPhone's battery life. Having a 3G, 4G, or 5G data connection doesn't matter as long as it is not Wi-Fi.
Searching for a proper signal and establishing a stable internet connection using mobile data is much tricky, which ends up draining too much of your mobile's battery.
Hence, it is best to go for Wi-Fi in places where Wi-Fi is available.
Choose Wi-Fi and get a prolonged battery life!
Tip-5: Cut down on features you don't require!
"Cut down on those who take up more of your energy."
This saying holds relevance for a phone's battery life as well!
Some features or functionalities like Location Services, Background App refresh, Bluetooth or Airdrop, Siri suggestions, etc., imbibe more energy and deplete battery life!
Make sure to turn off those features for extended battery life.
Tip-6: Adjust screen brightness, enable Dark mode
A smartphone's display, along with its brightness, is becoming better with every new model. Though a display with increased maximum brightness adds a premium feel, it doesn't make your battery feel good.
The battery life drops if you keep using your mobile with high-level Nits. Hence, you can adjust brightness levels as per current lighting conditions around you to lengthen your mobile's battery life.
If your iPhone model supports Dark mode, make sure to enable it so you can save up on your battery.
Tip-7: Limit Push notifications
The more push notifications are on, the more the battery gets used.
In general, as your mobile interacts with the internet, particularly with mobile data, the battery gets drained.
As you receive a push notification, your mobile will access the internet, download the messages or images, wake up the screen, vibrate your iPhone, and alert you with a notification tone. Then, the process ends.
This process involves a lot of work, and the battery life decreases when your mobile has to deal with each of these tasks very often.
Hence, by limiting push notifications, you will save a lot of battery life!
Tip-8: Store it half-charged for the long term.
If you are under the notion of charging your mobile for a long time, then you must consider this tip to lengthen your phone's battery life. Neither charge fully nor drain your mobile's battery. Charge it to half, say 50%, for extended battery life.
Place your device in a cool and moisture-free environment. Exposing it to a higher or lower temperature may adversely affect your iPhone's battery life. Hence, make sure to store it at room temperature.
We hope these tips help you save your iPhone's battery life for that prolonged usage on a day-to-day basis.
You can buy the Apple iPhone online from Poorvika and avail exciting cashback and discounts from select bank transactions along with Easy EMI.
Don't forget to choose our 2 hours delivery service to get your products delivered to your doorstep with next to no delay.