16 Mar 2021
Conekt 10000 mAh Power Bank: best power bank under 1500

Currently role of Power Bank is very vital in our lives. Because Smartphones did not just gain popularity, our lives became very interwoven with Smartphones. Presently without Smartphones our day will be incomplete. And Smartphones cannot stay on their feet for a long time.
In this blog, we are going to present you about the best power bank under Rs.1,500. We agree that a concrete definition cannot be given for the term 'best.' Since the title says best power bank under 1,500 we can safely affirm this product as the best power bank in this price category. Scroll down to know more about Conekt power bank.
They need an external source to power them and the external device which powers Smartphone is called Power Bank. They store charge on behalf of phone and supply power when user requires to charge his/her phone.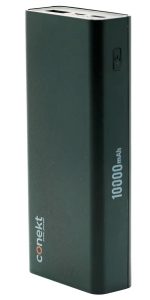 Specification of Conekt Power Bank
The 1000 mah lithium polymer battery of Conekt stays under the ABS Shell body of the power bank. ABS is the acronym of Acrylonitrile Butadiene Styrene. It is a kind of plastic that is mainly used in helmets. Unlike other type of plastic, ABS does not burn even if it is exposed to high temperatures.
It liquefies which makes it easy to recycle. Compared to other type of plastics, ABS exhibits high amount of resistance against strong chemicals. Seems like Conekt is also aware of the properties of ABS plastic. That is why they have used it in their products. In addition to solid build, Conekt has some really impressive features in its pocket.
Connectivity
On the top, it has 3 three ports to charge. Three ports includes a USB Type-A, Type-C, Micro USB. Which means you can charge all kind of electronic devices using Conket Power Bank. Its 12V Power Delivery feature can charge your smartphone up to 70 percent within an hour. And the QC 3.0 charging is sufficient to charge your phone at speeds that typical chargers can't even imagine. LED indicators displays current state of zeal pulse power bank. It is available in Black and White colors. Conekt Power Bank price in India is Rs.1,199.
Avail our 2 hour delivery service to get it instantly to your doorstep.