23 Mar 2021
BoAt Storm Smartwatch – Best Price in India, Full Features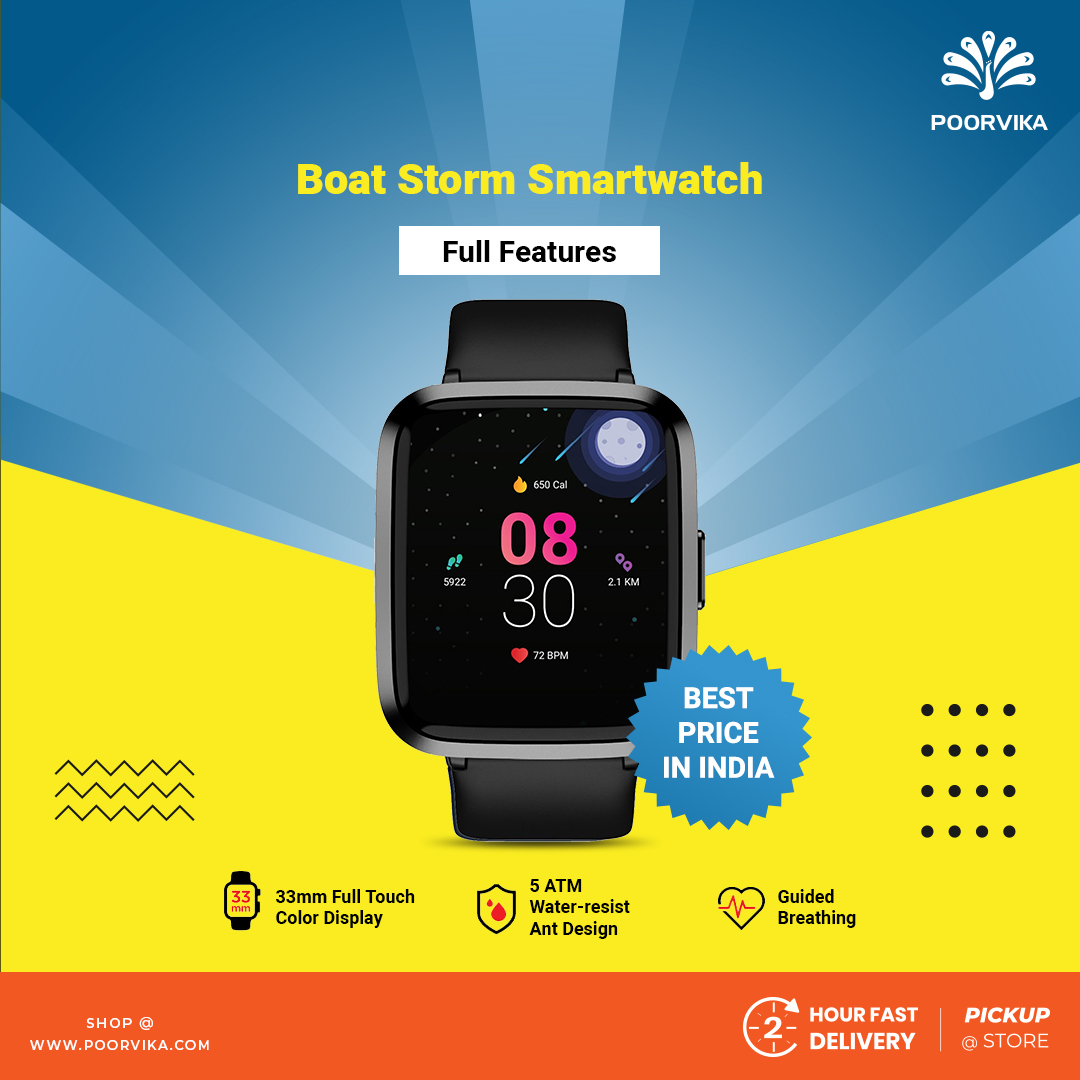 BoAt, our all-time favourite Technology Brand in India, has always been the go-to brand when it comes to owning the latest Audio devices. We have seen the brand offering affordable yet highly advanced devices, making our lives way more accessible. But it was a bolt from the blue when the brand announced its latest Smartwatch, the BoAt Storm Smartwatch, on 29th Oct 2020.
Its majestic entry into the World of Smart Wearables is absolute bliss for the Gen Y and Gen Z audience, as we witnessed a notable increase in traffic under the SmartWatch category. Let's go with the trend!
Its first Smart Wearable, BoAt ProGear B20, a Fitness Tracking Band, never looked like a nascent brand in the category with all its latest upgrades, so it received the warmest welcome ever.
The second hit, a much-optimized one, is no wonder a best-selling smartwatch in the market. Now grab your favourite Donut, sit back and Relax! With no further delay, let's dive in and analyze all the impressive specifications and features that the big boy has in store for us!
DESIGN AND DISPLAY:
The BoAt Storm Smartwatch ensures a best-in-class Design and Build, no matter what. It's a 1.3″ full-touch 2.5D Curved, Color Display placed on top of a high-grade square metal casing with an excellent finish, adding a pinch of beauty to the whole device. You're gonna have it wrapped around your wrist and flaunt it to your peers 24/7 – hence, fashion exposed.
Granted, you can pair it with your favourite outfit, as the gadget allows you to change skin-friendly straps from the options of Black and Blue! Now, you're left with zero reasons not to consider them for your parties 🙂
We overheard you when you're out on a bright and sunny day and expressed your apprehensions about the lack of a good display in recent smartwatches. BoAt guarantees a better display with the option of adjusting the watch's brightness to one that pleases your eyes.
Also, get a kick out of artistic designs and elevate your motivation with around 100+ downloadable Watch Faces that blends seamlessly with the dial. You can even raise your wrist to wake the screen up, and the multifunction button on its side helps you navigate through the watch with ease. Swipe left to access other functions and features of the watch!
FITNESS TRACKING – A PRO:
BoAt Storm, as the name goes, the Smartwatch grabs all the Fitness Enthusiasts' attention out there! Eating that extra Burger and burning it all off with a quick run the following day; Exiting the crowd and taking the stairs to burn away the extra fries we had along with it! Sounds like you? Then, this gadget is for you.
Track every step you take, every calorie you burn and every mile you cover with the Daily Tracker. Never skip your Workout plans, as the personal coach provides you with 9 Active Sports modes like Running, Hiking, Walking, Cycling, Yoga and more. Run, Trek and Gym – The 5ATM Water Resistance withstands sweat and accidental water splashes and intensifies your Workouts. Sweat is just fat crying – Sweat and tick off your Fitness Goals checklist today!
HEALTH TRACKING – A PRIORITY:
Health – A #1 Priority! We're well-aware of how the Pandemic ruled our 2020 along with this year and still eats away at our health. Hence, evaluating your day-to-day Health Condition shouldn't actually be a daunting task. The BoAt Storm Smartwatch makes it easier for you to get that thorough health assessment. Sleep Monitoring, 24×7 uninterrupted Heart Rate Monitoring, Blood Pressure reading, and the most crucial one, Blood Oxygen level (SpO2) Monitoring, the need of the hour is available for you to track your health 10x better.
Wake Up-Hustle-Sleep. We're all habituated to our Hustle-filled Life as the day goes by. Optimization of our Physical and Mental health is crucial for our body and mind to smile wide and keep going through these competitive phases. The Guided Breathing feature on the Smartwatch lets you Inhale and Exhale, helping you control your Heart Rate and decrease your stress level. It really helps if you're someone who gets constant anxiety attacks and panic attacks.
Hola to the women out there! We understand the difficulty you face in tracking your period cycle, and we see the struggle you go through fighting it. BoAt Storm Smartwatch has a Menstrual Cycle Tracker that lets you track your cycle and reminds you beforehand.
SOCIAL MEDIA NOTIFICATIONS IN A BLINK:
Social Media usage and interactions have become an essential ingredient of our lives, and for some, it is their bread and butter to taste success. Never miss out on any Social Media update like the Latest News on the COVID outspread, Trending Hashtags, an Increase in the number of Subscribers for your YouTube channel, and so much more.
BOAT PROGEAR APP, IT IS:
Connect your Smartphone through the BoAt ProGear App (supports Android and iOS) to receive messages, notifications, social media alerts, alarms, reminders and call alerts. Skip, Pause, or Play until your favourite track comes on the display – all with your exclusive BoAt Storm Smartwatch.
Misplacing or losing our smartphones is the biggest nightmare for many of us! Scare your next nightmare away with the Find my Phone feature that calls your phone and helps you locate it.
BATTERY:
How long will the Boat Storm Smartwatch last on a long day? With just 2.5 Hours of Charging time, the 210mAh Battery Capacity lets you drive the engine for 8-10 days straight and offers 20-30 days of standby time. With the USB Direct charging, you can just connect the charging pin to the charging pad located at the bottom of the watch.
The BoAt ProGear App floods you with options of multiple watch faces and other uber-cool functions. Seamless connectivity and instant notifications are only possible with its latest Bluetooth v4.2 Connectivity that has a range of up to 10m.
What are you still waiting for? Get your hands on the best-selling BoAt Storm Smartwatch today and master the art of Multitasking like a Boss!
PRICE:
I'd say BoAt prices its products at an affordable price range, reaching out to every broke soul on planet Earth. The Boat Storm Smartwatch Price in India is Rs. 2,599.
Visit Poorvika's Website today and Buy BoAt Storm Smartwatch Online with exciting offers and tonnes of cashback. Click on the 'Buy Now' button and select the 2 Hour Fast Delivery option before Checking-Out to get your order delivered to your doorstep, in a blink. Happy Shopping!!
What are the 5 things you need to know before buying a Smartwatch? – Read our detailed blog here – 5 Things to know before buying a Smartwatch