23 Mar 2021
Is a MacBook M1 Chip really worth the money?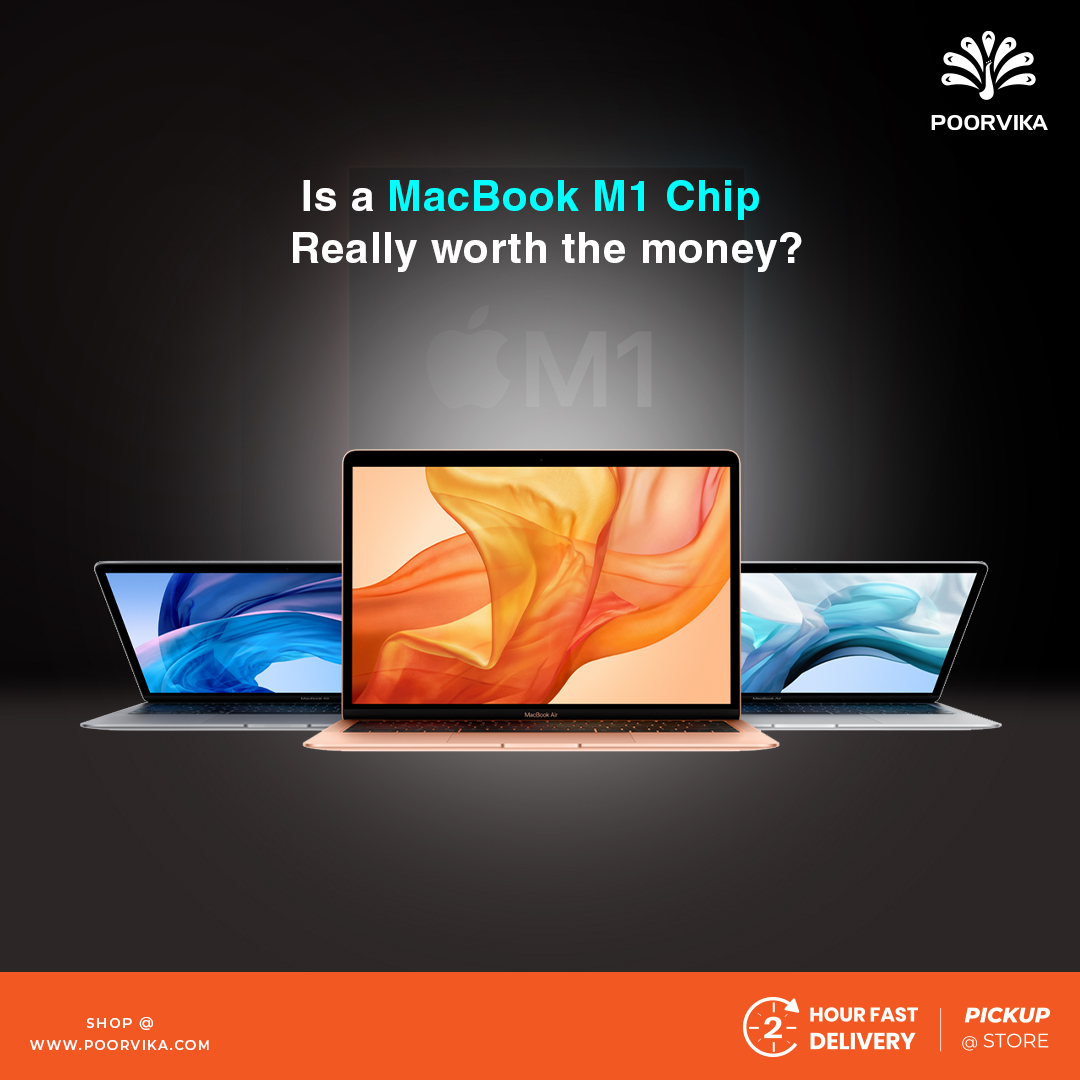 There has been quite an amount of buzz going around the recently launched Apple devices. Since its launch at the Apple One More Thing event last year, there has been more talk surrounding the performances of their new iPhone Series and MacBook Series built with in-house processors. The company also unveiled its latest Apple M1 chip, curated specially for the MacBook.
This Chip marked Apple's transition from using intel processors to their homegrown creation on their laptops. The new Chip has now gained a lot of popularity amid laptop users that swear by its abilities. The reviews for the new Macbook Pro M1 Chip and Macbook Air M1 in India have significantly risen, especially amongst students and industry professionals. This comes as a result of the unbeatable combination of power and design it offers.
Is it really worth the price point?
The build quality of these laptops is what one can expect from the brand. It is Premium in terms of feel and its minimalist design. The 13-inch Retina display speaks for itself when it comes to color accuracy. It has an LED Backlit display with a screen resolution of 2560*1600 pixels and a pixel density of 227ppi.
Both the models of the Macbook M1 chip come with the Magic Keyboard. The keys have a Scissor mechanism in place to provide a much more comfortable and quieter typing experience and are backlit. The Touch Bar on the Pro places commands right within reach. The force touch trackpad on the Air makes navigating the Macbook an effortless experience.
Both the laptops come with a Touch ID feature that does more than just work as a security feature to unlock your Mac. It opens up a new world of options. You can open password-protected documents, buy things on the app store, rent a movie, or even make a purchase on Apple TV.
All we looked at was build quality and a couple of features that make your computing experience effortless. What about performance?
This is where the company proves what it is really capable of doing.
Although Apple numbers appear very weak on paper, these laptops can give the others a run for their money when it comes to real-world performance. With major improvements made on Speed, Battery, and app optimization, the brand has now set a benchmark that is going to be hard to beat.
They both owe such extreme performance to the new Apple M1 chip we have been mentioning. It is the kind of SOC where all the components come baked onto the motherboard. This allows for efficient computing and transfer of data because all the components can now communicate in a much more efficient manner.
Geek bench gave the M1 quite a high-performance benchmark score. This happened before it got optimized for Apple silicone. The Single-core performance score for the M1 was 1285, while 5665 for multi-core performance. Once it got Apple silicone optimization, it became a whole different story. The Geekbench score for single-core performance maxes out at 1744, while it was a solid 7628 for multi-core performance. That is a pretty giant leap putting the M1 on top of the leaderboards.
How? Apple-designed the Chip's ARM Architecture with efficiency in mind, making it lightning fast. A 5nm process loaded with 16 billion transistors and a 16 core neural engine capable of performing 11 trillion operations per second makes it the fastest machine learning system at 15 times the average system's speed. With its four efficiency and four high-performance cores coupled with the eight-core GPU, the eight-core CPU forms a team that delivers a performance that is unheard of with two times faster computing.
Even the read and write speed is extremely fast at over 3000MB per second write speed and 25000 MB per second read speed. Video rendering is extremely fast. In a simple video rendering test, the Intel-based Mac book Pro rendered a 15min video in 10 – 12 minutes, while the M1-based Mac book Pro renders the same in 12 – 13 minutes. During this, the Intel-based Mac runs its fans at maximum capacity till we hear it, while the M1 doesn't kick up at all.
The battery life of these laptops has also received optimization to almost double of what we expected. This is because the Chip utilises a very marginal amount of power considering the efficient design we spoke of earlier.
App optimization is also an important parameter to be considered in battery performance assessment. In terms of apps, Apple has started its optimization of apps for their transition to the Big Sur OS, designed to harness the M1's full power. Apps right now come under three categories.
1.Optimized apps
2. Non Optimized apps
3. IOS and iPad apps.
Optimized apps are the ones that work hand in hand with Big Sur with no glitches at all. Since they gain optimization, they literally just sip on battery maximizing battery performance. How long will it take to optimize a large number of these apps for Big Sur? It takes quite a bit of time for small-time independent app developers and larger development teams to do so
The Big Sur optimized version of Adobe Photoshop might come out only later this year as it takes a lot of time and attentiveness to work perfectly with the new OS.
Non-optimized apps are the ones that run on emulators like Rosetta 2. These apps don't get optimised most of the time and may have a few hiccups but then are in high demand. The Rosetta 2 helps keep them in the hands of users even if the developers don't optimise it.
IOS and iPad Apps are the ones that can now not just run on an iPhone or an iPad but can now run on both laptops and desktops with Big Sur. Apple did this with an intention to bridge the gap between both mobile and desktop platforms, to give the user access to a larger number of apps. However, we are yet to see how some of these apps that use a touch interface might get optimized for an interface that solely depends on a mouse or trackpad.
Overall, the M1 series of laptops have one thing in common, and that's unmatched performance. The Macbook Air M1 chip Price in India starts at Rs.92,900, while the Macbook Pro M1 chip Price in India starts at Rs.1,22,900.
Is it worth the price? When you pay for that kind of performance, it is definitely worth every penny.
You can get the new Apple M1 Chip Macbook Pro and new M1 Chip Macbook Air online right here at Poorvika. You can get your device delivered to your doorstep with our 2 hours delivery promise as you opt for Poorvikas 2 Hour Fast Delivery option when you order.