23 Mar 2021
What makes the iPhone different from other phones?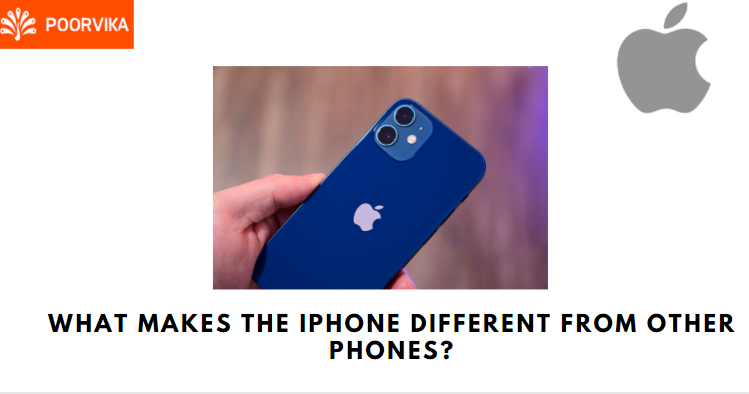 Indisputably, Android phones are improving in every aspect, right from the user interface to its Play store. Still, Apple users hook themselves to iOS products without giving heed to Android or other mobiles.
And that raises a common question.
Is Apple undeniably that good of a product, or is it used just to broadcast the status symbol and the brand?
If you speak in terms of technology, we have good reasons to believe that Apple goes beyond just a brand and a status symbol.
We ought to accept that Apples does put that extra effort to make its product stand out from the crowd.
In this blog, let's have a look at what makes the iPhone different from the rest of the mobiles in the market?
Top 8 cases where the iPhone differs from the other phones:
Case-1: iOS is faster and smoother:
Whenever there is a rift between the iPhone and any other phone, iPhone steals the show through its performance.
It goes without doubt that the A13 and A14 Bionic chip used in the iPhone 11 and 12 series makes the phone much faster and smoother to use.
More often than not, we get lost in the world of specs that we forget that "Performance not only comes from powerful specs but comes from efficient processors."
When comparing the Snapdragon 865 and the A13 Bionic chip, Gary Sims mentioned that " Qualcomm's chip beats the A13 in most cases except for GPU". But the point to be noted here is when the Snapdragon 865 was out, the A13 chip was almost half a year old!
It is needless to say that the Apple phones always stays ahead of the competition and ensures to deliver the best performance!
Case-2: iOS is user-friendly – Simple to use:
Since a wide range of manufacturers manufacture Android phones, there are many inconsistencies and confusion as they look and feel different from one another. As Apple is the only iPhone manufacturer, they can maintain uniformity in all their products, leading to user-friendliness.
The iPhones are so intuitive that you need not make an effort to customize anything, and still, it is one of the simplest devices to use.
Android devices introduced the option to customize to overcome this inconsistency and mess, making it easy to use the mobile.
Simply put, there is no requirement of the learning curve for an iPhone, whereas other phones require a lot of learning.
Case-3: Software Updates:
Software updation is one thing where Apple stands at a better position than any other phone. iOS offers direct updates, whereas Android releases direct updates only to its Pixel series, and some say even those have failed to get updated efficiently.
Again, the main reason behind the iPhone's successful direct updates is that it is manufactured only by Apple.
Android, being manufactured by many companies like Sony, Motorola, Samsung, OnePlus, etc., have to get the Android update first, work on it to optimize it to their respective devices efficiently and then send it out.
This whole process ends up delaying the Android updates by a month to a year.
Hence, Apple phones are the best when it comes to software updates!
Case-4: Apple Ecosystem:
Apple is the first-ever brand to build an Ecosystem. Once you become a part of this ecosystem, it is tough to come out!
One of the vital components of that ecosystem is the App store.
The App store is many light years ahead of the Google Play Store.
Apple takes a lot of efforts to curate the Apps to provide the best apps to its users. Not just that, it has coined better policies for the developers to list their Apps on the App Store, so it is next to impossible for a worthless App to get listed in the iOS store.
The App store gets the best apps first in the market! Thanks to the audience base.
Android and other mobiles have to take tips from App Store to create a better user experience for its mobiles.
Case-5: Security:
Truth to be told, Android's security updates are becoming more and more consistent. Android is taking necessary measures to ensure safeguarding both your mobile and your data from threats!
Even then, Apple has the upper hand when it comes to security.
Because Apple has a closed ecosystem compared to Google, making it hard for hackers to attack iOS.
Also, the consistent software updates and stricter App Store makes it even harder to break the iOS security system.
And to add more this, no other mobile's Fingerprint sensor could match Apple's Touch ID sensor, making it a lot more secure and protected.
Case-6: Great Camera:
Only a few Android mobiles can match the features and functionalities of the iPhone mobile camera.
Apple has developed its mobile's camera to the extent that it is a lot better than the professional DSLR cameras.
The iPhone 11 and the iPhone 12 camera come with many features, including the Night mode, Ultra-wide angle camera, Smart HDR, 4K videos, and many more.
You cannot find the above-mentioned features, filters and special effects of the iPhone in any other phone. It goes, without doubt, the iPhone cameras' can even act as a replacement for the professional DSLR cameras due to their details.
Case-7: No Bloatware
Bloatware is nothing but the pre-loaded software in mobiles that occupy too much space. You can delete specific bloatware, whereas you can't delete others.
This bloatware, though unnecessary, occupies too much of your mobile's storage space, thus slowing down the phone's performance.
You can see a lot of this pre-installed software in Android. However, you can't find even single bloatware in Apple phones hence providing you with a clean experience!
Though nowadays, Apple comes with some pre-installed Apps that might or might not be helpful, you can still have better control of your iPhone than Android phones. You have the option to disable the in-built Apps, which you don't require.
Case-8: Compatible with Mac:
Your iPhones sync perfectly with your Mac!
You can use your Mac as your iPhone just by placing your Apple phone nearby. You can receive calls, send text messages, do everything you can with your iPhone.
The Handoff feature lets you start an e-mail in Mac and continue it on your iPhone, thereby paving the way for easy accessibility.
All of these is possible because your iPhone effortlessly gets connected to the cloud.
In other mobiles like Android, this is currently not possible as it is not consistent.
From the above 8 points, it is evident that iPhones are much different from the other phones for good.
It is way ahead in terms of both technology and innovation, and it is no wonder why Apple phones are priced so higher.
And these 8 points answers the earlier raised question. Apple users hook themselves to these products, not because of the brand or status but because it is undeniably the best product available in the market.
Also, it is true that once you experience the Apple ecosystem, you will be so used to it that you cannot come out of it.
Check out the official website of Poorvika to know the price of Apple iPhone 11 and iPhone 12.
Do place your orders and buy them with the most exciting offers and cash backs.
Also, don't forget to avail of our 2 hour delivery service to get your products delivered straight to your doorsteps!!