24 Mar 2021
Best Features of the Dell Inspiron 3505 Ryzen R3 3250U Windows 10 Home Laptop D560338WIN9S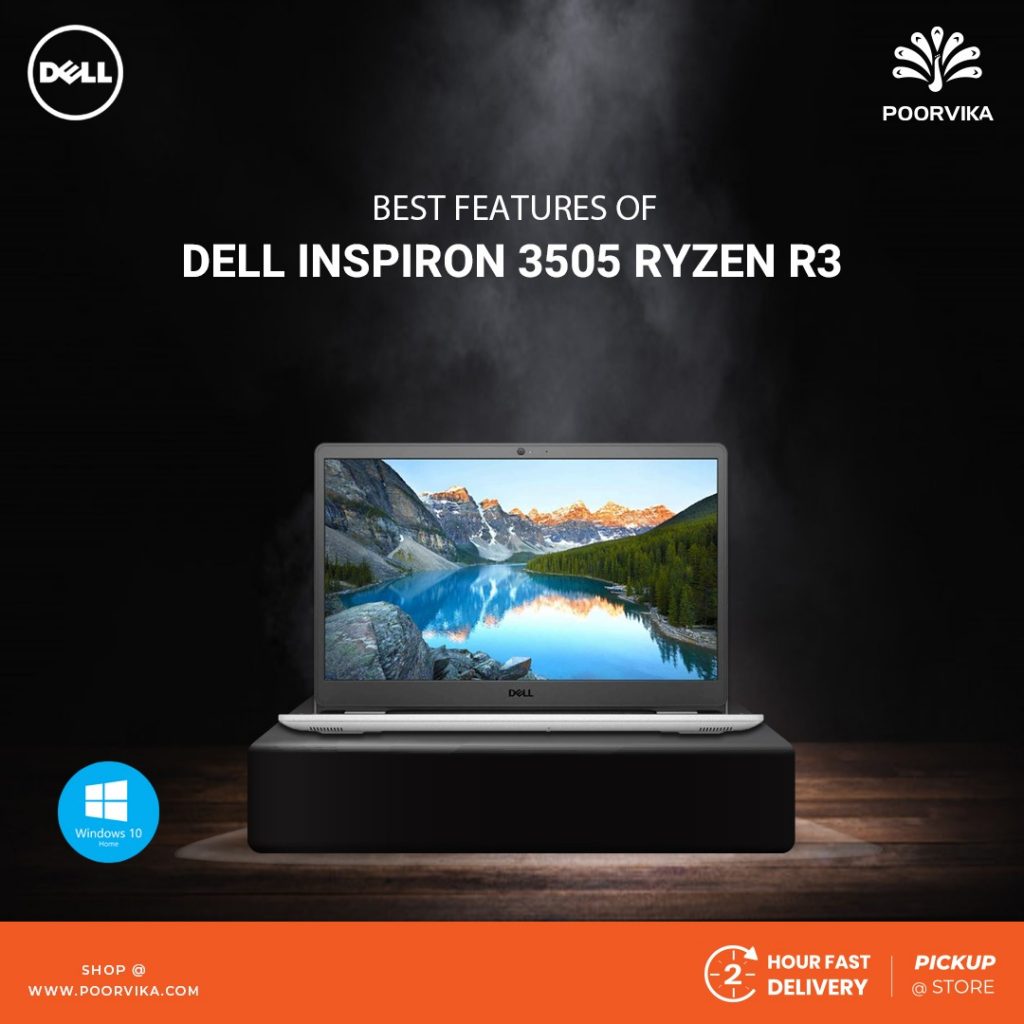 If you've come looking for the best features in one of the best budget laptops with a lot of power, you've come to the right place. This blog dives deep into the Dell Inspiron 3505 Laptop model D560338WIN9S with the Ryzen R3 3250U Processor to see what makes it worth every buck you spend.
The exterior shell of the Dell Inspiron 3505, explicitly designed for sturdiness, has a very aesthetic look and feels great to carry around in hand due to its lightweight design.
Measuring 19.9mm in thickness, it weighs just 1.98Kgs; making it 9.21% lighter than its previous generation of devices. The ergonomic design of the device with little rubber stubs on the bottom of the device keeps it elevated, serving to protect the under chassis as well as ventilation for the heat vents.
The 15.6-inch FHD display with a resolution of 1366×768 pixels has Wide Viewing Angles that allow for a spectacular visual experience, further enhanced by the slimmer screen bezels.
The most interesting part of this laptop is its AMD Ryzen 3 3250U series processor, also called Picasso. The Ryzen 3 3250U released back in January 2020 is very similar to intel's new i3 1005G1 in comparison. These are processors that come under the budget laptop segment, but we expect them to perform as they do not come with a dedicated graphics card.
Therefore, the visuals, if not graphic intense ones, have to be supported by AMD's integrated Radeon Graphics. The Picasso has 2 Physical cores that support hyper-threading up to 4 threads with a base frequency of 2.60GHz. They reach a max single-core Boost Frequency of 3.50GHz and a max multi-core Boost frequency of 2.60GHz.
However, being an entry-level performance processor, Picasso doesn't support Overclocking. One of its main features is that the Picasso has a 14nm process technology, a significant leap from their previous 32 and 28nm processes as competition against intel's 14nm Skylake and Kaby Lake processors.
The 14nm process ensures better power efficiency, lower heat production and better overall performance. It also features the new Dali (Zen+) Micro-architecture developed by AMD for 2 core processors mobile with 4 threads and the Vega GPU.
AMD developed Dali to be a successor for both Excavator, a micro-architecture for High-Powered Processors, and Puma, a micro-architecture for Low Powered processors bringing the entire range under a single architecture. AMD also claims a 52% improvement in the average number of instructions as executed per clock cycle (IPC) per thread per core with Dali.
In the Cine Bench 20 single-core benchmark test, the Ryzen 3 3250U has a score of 309 as it doesn't involve its hyper-threading abilities. However, in the multi-core test, it tops out at 751 points.
AMD's Integrated Graphics Radeon RX Vega 3 is no slouch either. For a rather light entity, its weight class perfectly handles graphic-intensive tasks with ease, like Photoshop.
Vega is the GPU's architecture based on the 5th Generation GCN and is code-named Vega Raven Ridge. It has some improvements compared to the previous Polaris version. It has a 1000MHz core speed with 4500 million transistors supporting DirectX 12 and DDR4-2400.
The device exhibits varied but commendable performance on the GPU side as it is capable of running certain heavy graphics-intensive games in a rather choppy manner, as opposed to not being able to run them at all.
Games like Valorant can run at a full 1080p on high graphic settings and goes steadily at a speed of 60fps even with low graphic settings! Meanwhile, newer games like Far Cry, Assasins Creed Odessy, NFS Heat and Red Dead Redemption can run at an equally stunning resolution of 720p, and low graphics settings run in a very choppy manner at 12 to 20fps.
The device comes with 4GB of DDR4 RAM, which makes the transfer of data lightning fast. The speed at which the RAM functions is 2400MHz. Although a RAM card with speeds between 3200 – 3600MHz is said to be optimum for gaming and heavy tasks, in some scenarios, the difference between 2400MHz and 3200MHz RAM card is as negligible as 10%. This would explain how the Ryzen 3 3250U can pull off benchmarks with a 2400MHz RAM card.
Storage is of two variants that serve different purposes. It has a 1TB HDD with a speed of 5400RPM and a 256GB SSD. HDDs are generally meant for data storage with two different RPM speeds of 5400 and 7200 RPM. Faster RPMs, translate to, faster read and write speeds.
Although on paper, this makes the latter deliver 33% more data than its former in numbers, it translates to the 5400 having an average speed of 100MB/s and the 7200 with a marginal lead of 120MB/s.
SSD majorly help in storing software and data related to the Operating System used on the device. Since an SSD contains, as the name suggests, Solid State circuitry, the need to pull data from a mechanically spinning drive becomes unnecessary, resulting in a noticeably faster startup, boot-up and shutdown speeds.
Most laptops nowadays come with a webcam, and with the recent pandemic enforcing the need for online communication, the need for a webcam has become all the more necessary. The Dell Inspiron 3505 comes with an inbuilt HD webcam. The webcam has a resolution of 1280×720 pixels and can record crystal clear videos at 30fps.
Audio Quality from the Inspiron 3505 is excellent, considering it has 2×2 stereo speakers of 2.5W. Speakers found on the bottom of the laptop bounce audio off the surface of where you've placed the laptop. Dell Cinema further enhances the power and effect of these speakers to provide a Theater-like experience.
The keyboard on this device is a full-sized one and therefore has a numeric keypad, a handy option for those who deal with accounts and calculations all day. Working at night or under low or poor lighting is not a problem either as the keyboard is backlit.
The Dell Inspiron comes with several connectivity options that include an SD Card Reader, a USB 2.0 Gen 1 Type-A, two USB 3.2 Gen 1 Type-A, Audio jack, RJ45 slot, HDMI 1.4, Power in, and a wedge-shaped lock slot.
However, the best thing about the Dell Inspiron 3505 Ryzen R3 3250U is the fact you can get this laptop online at Poorvika for just Rs.36,990 and have it in your hands within 2 hours with Poorvika's 2 Hour Fast Delivery service.
Head over and get yours today!