24 Mar 2021
Everything you need to know about the Mi NoteBook 14 e-Learning Edition Intel Core i3 10th Gen Windows 10 Home Laptop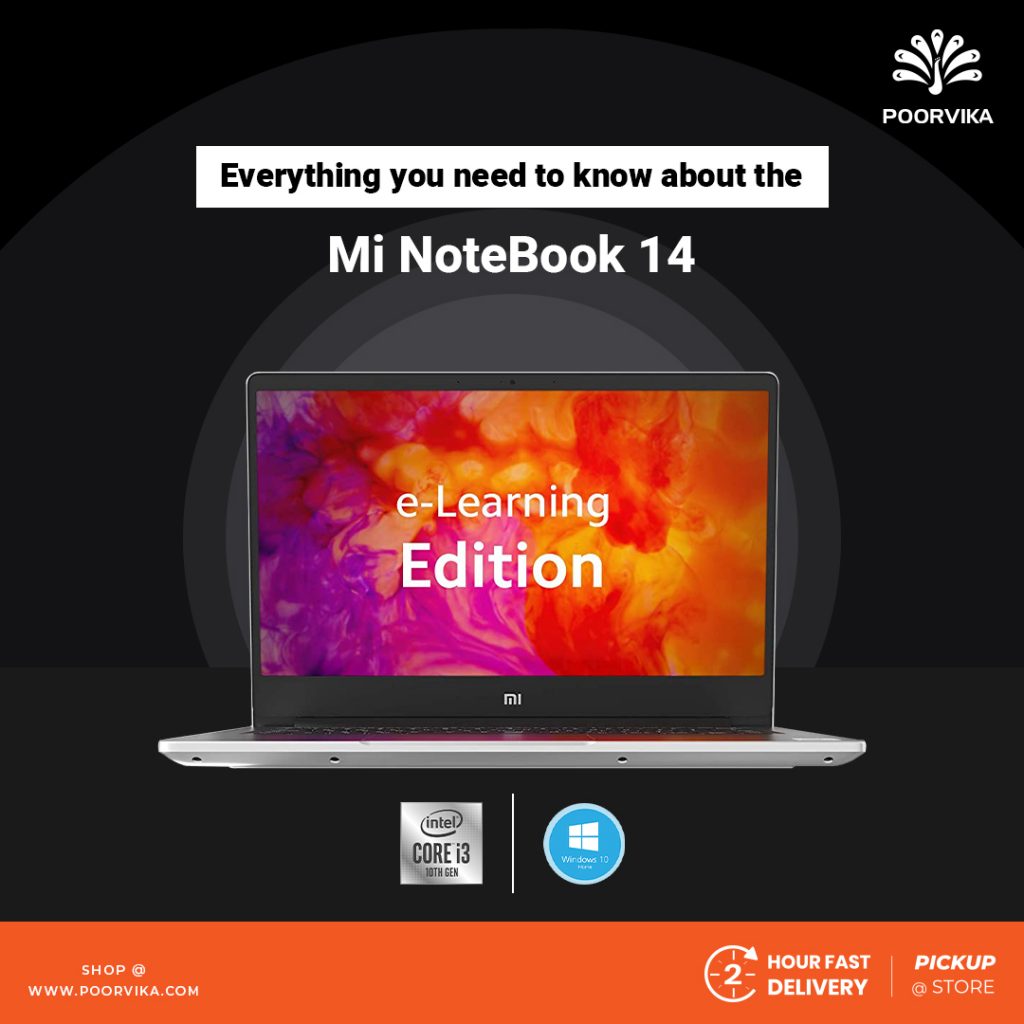 Mi, the Smartphone giant, is a company known for innovation, not just in the field of smartphones but also in AI, smart devices, and smart home automation. Now they have made a splash in the Laptop sector with their
Mi NoteBook 14e Learning Edition Intel i3.
The Mi NoteBook 14e Learning Edition Intel comes with a 14-inch FHD display boasting a 1920×1080 screen resolution. It has a 16:9 aspect ratio with an Anti-Glare feature that does not allow external reflections on the screen due to its frosted texture. The 81.2% screen ratio makes sure you get the most out of your screen from any direction within its super-wide 178-degree viewing angle.
Its overall design is as beautiful as its display. The metal unibody measuring just 17.9mm in thickness is minimalistic, sleek, and extremely stylish. There are no logos anywhere on the frame, and its sandblasted finish gives it a very refined feel. The Mi laptop weighs just 1.5Kgs despite its all-metal body making it one of the lightest in its class.
An Intel i3 10110U chipset is what powers the Mi NoteBook 14e Learning Edition. The chipset is from the Comet Lake Series and has a 14nm process like its predecessor Whiskey Lake. It has 2 physical cores and 4 virtual threads with a base operating frequency of 2.10GHz and can be Turbo Boosted up to a maximum frequency of 4.10GHz.
An added feature is its Intel Optane Memory which intelligently learns all your go and frequently added files and keeps them in memory, so you have faster access to them when you need them the most. The chip can reach a maximum temperature of 100 degrees centigrade, which wouldn't pose a problem since the laptop has an extra-large air intake vent and a fan with a larger diameter to keep the laptop cool.
Most laptops can get very loud when they reach their peak load because the fans work at their maximum capacity. That is not the case with the Mi NoteBook 14e that claims the fan's maximum sound at full capacity is 37dB.
It has the Intel UHD Graphics 620, which we can find in most Ultrabooks that use Ultra-Low Power Voltage processors. However, they are not suited for heavy games like the Nvidia GeForce series of graphics cards. They can support casual games.
Storage is the least of all your worries as the laptop has 256GB of SSD. These Solid State Drives have no mechanical parts that move or rotate like a typical HDD, reducing the read and write times, making its responsiveness almost instant. Therefore SSDs ensure that you get super-fast boot-up and shutdown speeds with data transfers of up to 600MB per second.
8GB of DDR4 RAM lets the laptop go through tasks like a hot knife through butter. DDR4 or Double Data Rate 4 is the fourth generation in the line of DDR RAM. It is known for faster speeds and increased bandwidths, allowing it to keep up with most multicore processors.
The Mi has an inbuilt 720p webcam that keeps you connected to all your Zoom meetings and online seminars in High Definition. The DTS Audio Processing system and Stereo Speakers ensure that every sound and note you hear is crystal clear.
The Keyboard is an important aspect of the laptop as it is the part a user interacts with the most and looks at for aspects of feel and comfort. Mi has achieved this with their Scissor switch mechanism and the specifically designed 1.3mm key spacing for maximum comfort.
The Multi-touch Trackpad is sensitive and comfortable while letting you navigate the screen with various gestures. The Keyboard even has a dust protection layer that protects the keys from external dust and debris.
The device comes with a 46Wh battery that we get to charge with a 65W charger. Its fast charging capabilities allow the laptop to reach a 50% charge in just 35 minutes. A full charge can give you 10 straight hours of usage, making it very efficient.
The Mi NoteBook 14 e-Learning Edition Intel Core i3 10th Gen Windows Laptop is available Online at Poorvika for the price of Rs.36,999. Head over to our website or store to check out the wide range of other devices we have, along with offers and discounts that are curated just for you. Get your device even faster with our 2-hour Delivery promise and have it delivered right to your doorstep!