24 Mar 2021
Which is the Cheapest and Best Gaming Laptop?

Gaming laptops are the latest in trend at the moment, and everyone wants to get their hands on one. Unfortunately, most of these gaming laptops cost an arm or a leg, counting the higher specs needed to facilitate gaming requirements.
But what about the average student or the game-savvy beginner who wants to test the waters? Affordability plays a major factor here.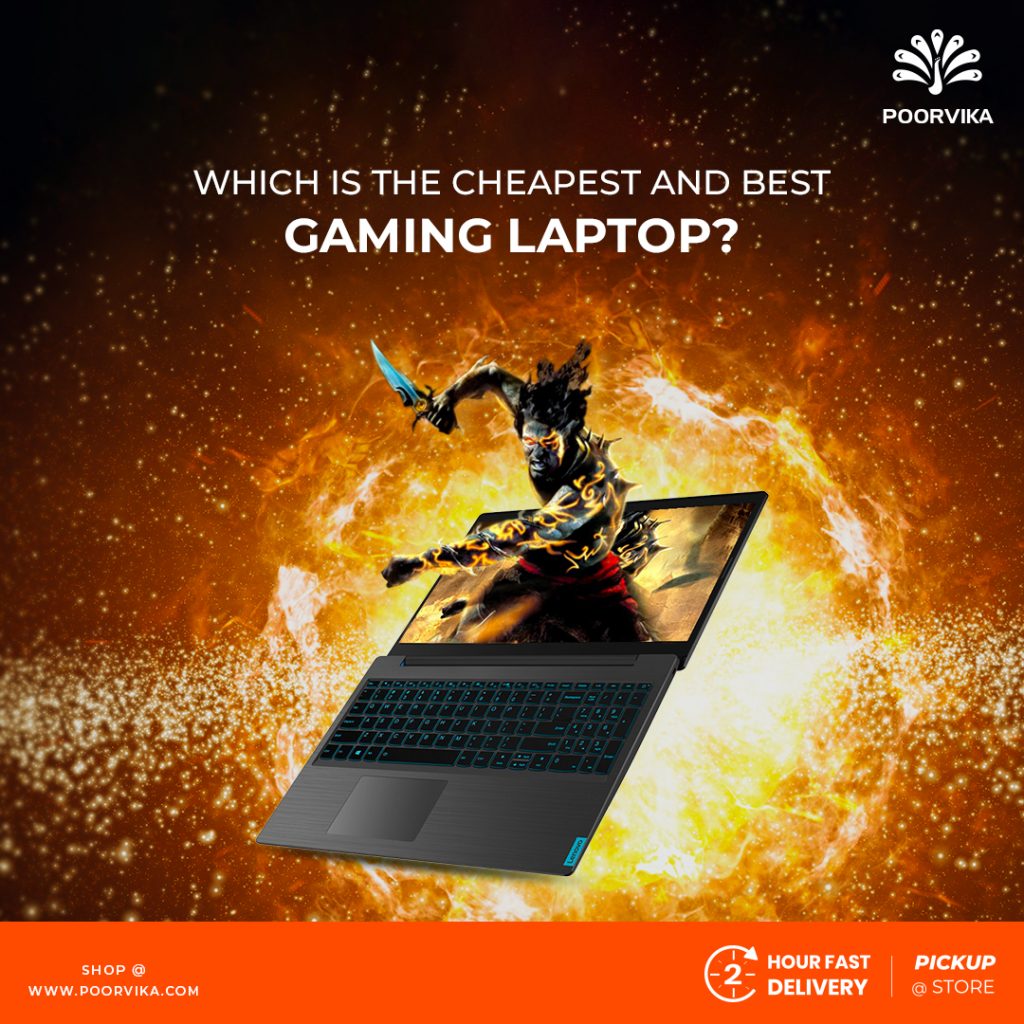 With the vast array of laptops in the market, it is a tad bit difficult to find an affordable gaming laptop with a bang for every buck you shell. Lenovo and HP has the answer to that with their series of gaming laptops. The HP Pavilion Gaming Ryzen 5 Quad Core 15ec0100AX and the Lenovo Ideapad L340 Gaming Intel Core i5 9th Gen.
The Lenovo Ideapad L340 comes with a super sleek exterior. Weighing just 2.2Kgs, its minimalist design gives it a very polished and classy look compared to most other laptops. The L340 has a 15.6 Full HD IPS, Antiglare Display with a screen resolution of 1920×1080 pixels. The display is pretty bright at 250nits, and its 45% color gamut brings colors to life.
Powered by the latest Intel i5 9th Gen Processor and 8GB DDR4 RAM, this device can literally demolish any task put in front of it without flinching. The 3GB GDDR5 standalone NVIDIA GeForce GTX 1050 Graphics, with its powerful imaging capabilities, makes sure every gaming session is lag-less and immersive. What about storing all my games? With its 1TB internal hard disk, space is the least of your worries… well, at least storage space (that final boss in space is yours).
Speaking of games, the keyboard is another "key" component (pardon the pun) that plays a vital role in any gaming laptop. It has to be very sturdy and capable enough to take a beating from all that combo smashing on the keyboard. This keyboard can do just that and more even at night with its backlit feature. The Stereo Speakers with Dolby Audio makes sure that everything you hear, from movie explosions to the background chatter on your zoom meetings, is extremely clear and crisp.
It also has various ports for all your peripherals, such as 2xUSB 3.1, 1xUSB 3.1 Type-C, a Headphone/microphone combo jack including Intel Wireless (2×2 AC) & Bluetooth 4.2 for all your wireless connectivity.
The camera captures crystal clear 720p videos and makes sure clarity is of first priority during all your virtual dates (Yes, we know you took time to dress up). It also comes with a privacy shutter that allows you to cover the lens (just in case your date is a creepy one).
The Battery of the L340 can stand up to 9 hours and takes just 60 mins to charge about 80 percent and 120 mins to charge the battery up to a full 100 percent.
The HP Pavilion Ryzen 5 is also a formidable gaming laptop. With its angular edges and aggressive design, one look at it, and you know this is one laptop that doesn't play games. It is the Game changer itself. It comes with a 1080p IPS Anti Glare Full HD WLED Backlit display. Its Micro bezel edge makes the entire display look premium while providing a much more fuller viewing experience.

The AMD Ryzen 5 processor, with its four cores that can be overclocked to 3.7Ghz, means serious business. Its Wraith Stealth Thermal Solution maintains the processor at optimum temperatures even amid your most heated battles. If you were wondering, those vents on the back are not just for aesthetics. They are a set of outlet vents based on a Heat Pipe design and significantly increases thermal efficiency.
The 8GB DDR4 SDRAM and the 4GB GDDR5 NVIDIA GeForce GTX 1650 standalone Graphics work as a team to take on even the most graphics-intensive games. The HP Pavilion Ryzen 5, with its vast 1TB HDD, takes the worry of storage space off your mind so that you can worry about that sniper on the rooftop. Go ahead, take the Shot.
SFX is what adds to the thrill factor in any game. From Super loud engines backfiring to the feeble click of a grenade pin, the HP Pavilion Ryzen 5 has you covered with its Front Firing Audio speakers. What's more? The speakers are designed by none other than the world-renowned Danish audiophile brand Bang & Olufsen, assuring one nothing less than quality audio.
The device has multiple connectivity options such as a USB 3.1 Type C, a USB 3.1 Type A, a USB 2.0 Type-A, an HDMI Port 2.0, a 3.5mm Audio port, an RJ-45 port, an AC smart pin, and a multi-format SD media card reader.
It runs on a three-cell 52.5W Wh Li-ion battery that can provide up to 6 hours of standby.
If you are looking to join the gaming bandwagon as a beginner on a budget, both these laptops are excellent options to start off with. The HP Pavilion Gaming Ryzen 5 Quad Core 15ec0100AX price in India is Rs.56,899 and the Lenovo Ideapad L340 Gaming Intel Core i5 9th Gen price in India is Rs.55,499. Get them both online at Poorvika and make the most of our 2 Hours Fast Delivery Option to have your product delivered to you even faster.