26 Mar 2021
Advantages of the HP Pavilion Intel Core i5 11th Gen Windows 10 15-eg0103TX Laptop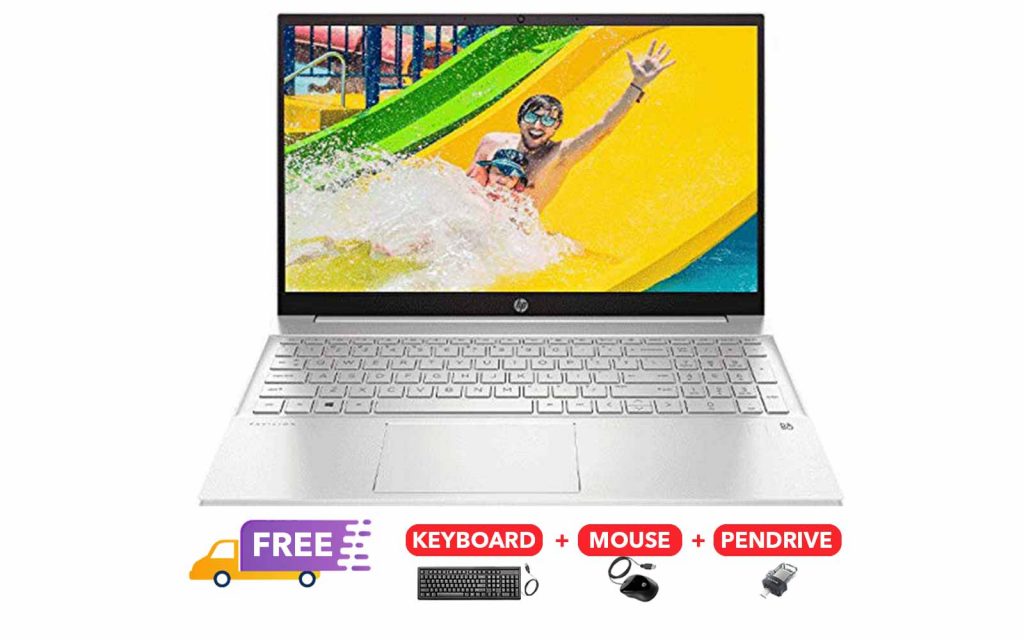 Generally most of us look for two elements before buying a product. What are the two elements? It is none other than Price and Features. Both these elements must be balanced. Only then, a customer will be satisfied. End of the day, all manufacturers work to satisfy customers.
So, what can be considered as advantages of a product? If a product offers features, more than the expectation of customers, those features can be considered as advantages of a product. Scroll down to know more about advantages of HP Pavilion Intel Core i5 11th Gen laptop.
Performance of HP Pavilion 15 Laptop
Without processor a laptop cannot function. So if a laptop doesn't have a robust CPU, while comprehending about a laptop, we cannot use the word 'Advantage.' Honestly speaking, if a laptop doesn't have a strong processor no other feature can be stated as advantage of the laptop. Under the chassis of HP Pavilion 15, it has an Intel Core i5 11th Generation processor.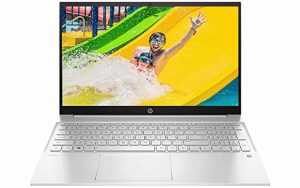 It belongs to the Tiger Lake U Microarchitecture. Ice Lake has already set a benchmark in terms of performance. So people were expecting a better performance from the Tiger Lake. Intel took things seriously, and created a microarchitecture, which can comfortably take everything on its shoulder. Manufacturing process of this chip is called as SuperFin.
Because Intel uses a technology called FinFET, this technology lets current pass through without much resistance and leakage. This technology, improves performance of the laptop to a great extent. HP Pavilion works perfectly, in accordance with the saying of late great boxer Mr. Mohammad Ali. The laptop was able to float like a butterfly even after opening heavy applications.
The term performance is a wider context. Because it describes about the entire process of laptop's functionality in real life scenarios. Apart from processor, contribution of three more components plays a pivotal role in improving the performance of laptop.
Storage of HP Pavilion
Slide your thumb to know more about three vital elements. First element will be RAM. Random Access Memory is known as RAM. This laptop has a 16GB DDR4 RAM, which lets HP Pavilion 15 to work in accordance with the next clause of Ali's saying. You will be able to feel its stings while multitasking.
Next element is storage. In most scenarios storage is referred as ROM. Abbreviation of ROM is Read Only Memory. Pavilion has a 512GB M.2 Solid State Drive. Since this is M.2 SSD, it has no moving parts or cables. M.2 SSD is directly connected to the motherboard of the laptop. Hence the read and write speeds are unbelievably quick.
GPU
Now comes GPU (Graphical Processing Unit) plays a vital role in terms of gaming and other tasks related to graphics. This laptop comes with a NVIDIA GeForce MX450 2GB GDDR6 graphics card.
After using this laptop we understood why manufacturers ditched GDDR5. Performance gap between GDDR5 and GDDR6 is noticeable and while using Pavilion 15 laptop, you can know the laptop's real potentiality. Since its GPU is impeccable, there was no kind of lag or heating issues.
Visuals & Battery Life
As stated earlier every manufacturer will aim to satisfy their customer. This is not an opinion but a plain fact. In order to satisfy customer, a product must excel in all aspects. In addition to robust processor, Pavilion 15 has a display which can lure any kind of fish in the lake.
The HP Pavilion 15 has a 15.6 inch Full HD Anti-Glare display with a screen resolution of 1920 x 1080. The display produces around 250 nits of brightness which is sufficient enough to stand out in all lighting conditions. Color Reproduction is accurate and Visual Experience on the HP Pavilion 15 laptop is very impressive.
The 3 cell, 41 Watt Hour Li-ion battery provides excellent battery life. So from now on, you don't have to worry about your laptop running out of steam. Has your laptop ever betrayed you? Most of our laptop will have betrayed us during crucial scenarios. Don't be worried, HP Pavilion is not like any other regular laptop available in the market. Once the battery is fully charged, it can comfortably last for 8 hours.  
Keyboard
HP has one more thing for you. Pavilion has a backlit keyboard. This feature is really useful in poor lighting conditions. In addition to Performance, Display and Battery Pavilion 15 has another feature that can be considered as advantage of HP Pavilion 15 laptop.
Connectivity
Without proper ports, we will feel like as if we are put behind bars. The HP laptop has an array of ports. Through these ports, you can do everything from transferring data to streaming all kinds of content to an external source. There is 1 USB Type-A, 2 USB Type-C, HDMI, 3.5 mm headphone jack with microphone support, and dedicated port with multi format card reader.
Why are you still waiting? Buy HP Pavilion 15 online from our website Poorvika. Get it instantly to your doorstep by availing our 2 hour delivery service.