30 Mar 2021
Best Waterproof Smartwatches of 2021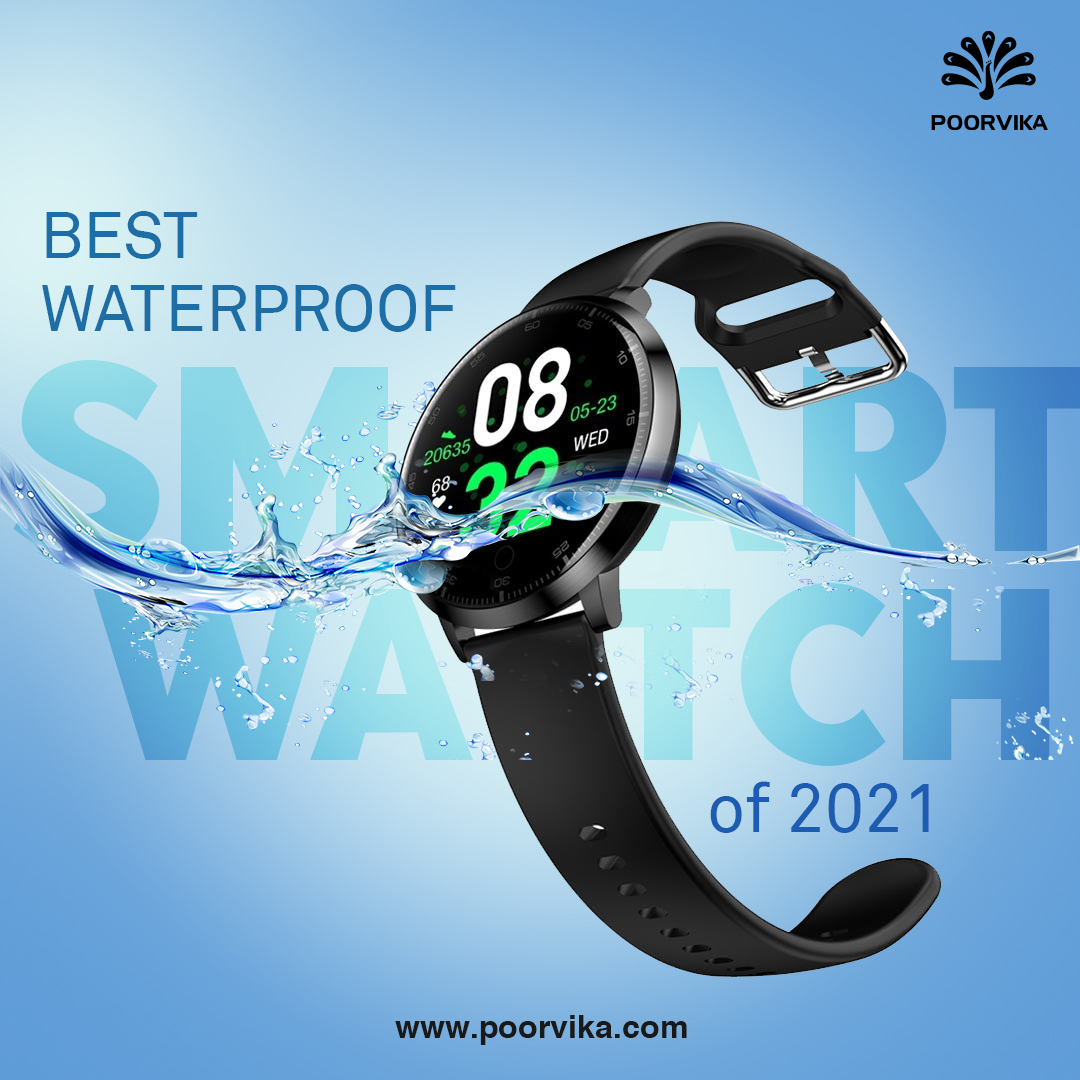 Smart Devices and Liquids share the same relationship as a cobra and a mongoose. Not exactly a match made in heaven, until recently. Tech giants and manufacturers spend millions every year on research and development to make their devices waterproof or water-resistant, at the least. But how do you measure a device's water and dust resistance? An IP rating.
IP RATING:
IP or Ingress Protection is a rating scale that manufacturers have recently started using on their devices to measure and rate how water-resistant and dustproof their products are. For those wondering, the term "Ingress" means "to enter" and hence the name.
The rating depends on a scale of 0 to 10 for both solids and liquids. Solids have a rating from 0 to 6, with 6 being the highest or most dust resistant, while liquids get a rating from 0 to 10, with 10 being the highest or most water-resistant.
There is also the third number in an IP rating that helps measure impact resistance. Most manufacturers don't prefer putting up this rating as there are high chances of damage when people see the rating and then proceed to test their devices.
Here's how the IP rating works for solids. As previously mentioned, it starts at 0 and ends at 6, with 6 being the highest level of dust protection.

Level 0 represents no protection, while 1 represents protection against anything larger than 50mm. It then goes down in increments like 12.5mm, 2.5mm, all the way down to level 6 that is completely resistant to dust.
An IP Water Resistance rating is also the same, starting at 0, but instead of ending at 6, it ends at 9K, with 9K being the highest level of water resistance. Zero, as usual, represents no protection and 1 represents protection against vertical drops that simulate rainfall. It then goes up in increments of increasing water pressure and force from various angles up to total immersion in water 1 metre Deep and more at the 9K Level.
Most smartwatches are water-resistant or waterproof these days. Some are better than others in terms of their IP rating. But which of these watches can you take for a swim without worrying about water damage?
APPLE WATCH SERIES 6:
The Apple Watch Series 6 is the newest kid on the block in the Apple smartwatch series. It does not exactly have an IP rating, but Apple claims it is 5ATM water-resistant and 'Swim-proof' as Apple dubbed it.
It means that the Apple Watch Series 6 can submerge up to 50 meters underwater with no problem while also performing shallow-water activities such as swimming in a pool or on an Ocean.
However, Apple does put a disclaimer on its website suggesting that we not use the smartwatch for waterskiing, scuba diving, and any other high-velocity water-based activities that may involve using the Watch beyond the recommended depth of water-resistance.
The Apple Watch also has a neat little water lock feature that we can access from the Apple watch's settings draw. This setting actually expels any water that may have gotten into the Apple watch via the speaker that vibrates to eject all the water outside.
SAMSUNG GALAXY WATCH 3:
The Samsung Galaxy Watch 3 also has an IP68 rating. Comparing it with the rating levels mentioned at the start shows the Galaxy Watch 3 has a dust or solid resistance rating of 6 and a water resistance rating of 8. This rating level suggests that the Galaxy watch 3 is impervious to dust and is perfect for shallow-water swimming. Samsung gives this smartwatch a 5 ATM water resistance rating allowing the user to submerge the device up to 50 metres underwater.
As a side note, Samsung also includes that the Galaxy watch 3 has a military spec MIL-STD-810G durability rating, provided after testing the Watch against a subset of 10 specific conditions, including drop, vibrations and shocks, dust, high temperatures, low pressure and high altitudes. Therefore, an accidental drop in the pool or a brief walk in the rain with the Samsung Galaxy Watch 3 should be the least of your worries.
SAMSUNG GALAXY WATCH ACTIVE 2:
The Samsung Galaxy Watch Active 2, just like its newer and more advanced sibling we mentioned earlier, also has an IP68 rating. Like the Galaxy watch 3, Samsung gives the Watch Active 2 a 5 ATM water resistance rating as well, allowing it to be submerged underwater, 50 metres deep.
This lets you take it for a swim in the pool or use it for any other shallow-water activities. Samsung, however, discourages the use of the smartwatch in waters with high velocity or any sort of intensive water sports. They also advise the user to rinse the device in freshwater when used or exposed to saltwater to prevent saltwater damage or corrosion.
Both Galaxy Watch 3 and Galaxy Watch Active 2 have a water lock feature that locks the screen from accidental touches while using the device underwater. It also deactivates the always-on display at the wake-up gestures.
HUAMI AMAZFIT GTR 2 AND AMAZFIT GTS 2:
Like the Apple Watch Series 6, the Huami Amazfit GTR 2 and Amazfit GTS 2 launched last year do not exactly give the user an IP rating on their website. They, however, claim that the GTS 2 and the GTR 2 have a water resistance grade of up to 5 ATM that allows using the device when going for Shallow water activities like swimming or at places like the beach.
The company also advises against using the Watch in rough waters or wearing it while playing high-intensity water sports. They also mention avoiding exposing the device to sudden changes in temperature, such as when trying to dry the Watch with a hairdryer.
Since the Watch only has an IP68 water resistance rating, the company suggests not using the Watch while taking hot baths or saunas. They request this as hot steam can cause sudden temperature changes as well as condensation inside the Watch.
Buy Here:
These make up our list of the best waterproof smartwatches for 2021. You can get the smart devices mentioned above and more here on the Poorvika website, along with a range of offers, discounts and cashback curated just for you. Getting your device need not be a long wait either as we have a 2 hours delivery service in place to have your product delivered right to your door.