31 Mar 2021
Noise Cancellation Vs Noise Isolation – Is Noise Cancellation Better?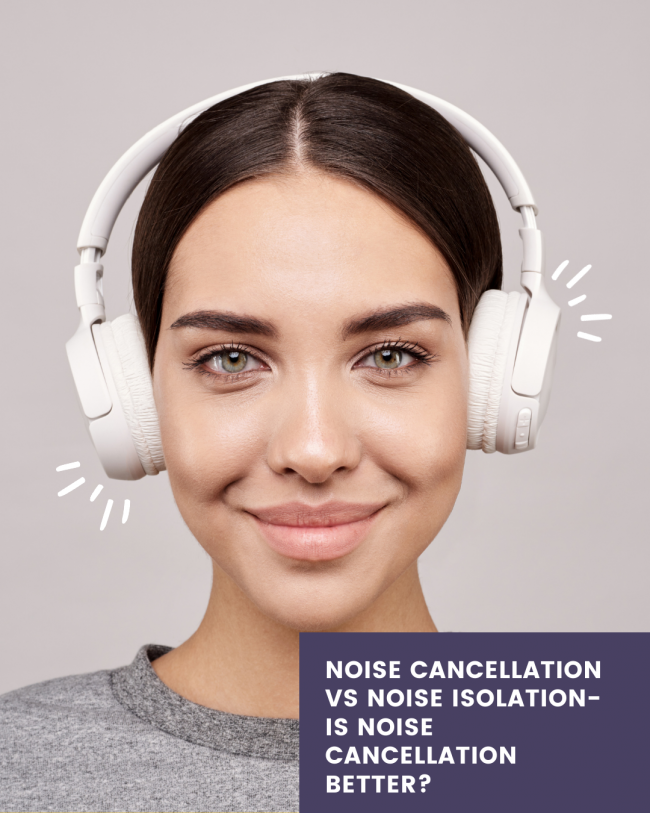 Headphone help you listen to your favourite song, but the right pair of earbuds or headphones are required to block out every unwanted external sound and noise, so you can travel in your imaginary world, allowing music to heal your soul.

So what do you do when you want just that, but have no idea what noise-cancelling headphones or earbuds is best for you?
This blog lets you know everything about Noise-cancellation headphone and Noise-isolation headphones and the difference between them.
For those out there, headphone hunting, this is for you too.
NOISE ISOLATION
NOISE CANCELLATION
Noise isolation takes a passive approach to bar out the external noise.
Noise cancellation technology takes an active approach to bar out external noise.
It isolates you from your surrounding by sealing your ear using foam pads or ear cups.
It cancels the external noise with the help of electronics.


There is no need for a battery in a noise isolation headphone.
Noise cancellation headphones work on battery.

Noise isolation is known for delivering perfect mid-tone and higher-pitches.
Noise cancellation headphones are very well known for delivering bass frequencies or sounds.
A Noise isolation headphone is most likely cheaper compared to a Noise-cancelling headphone.
A Noise cancellation headphone's price range is slightly higher in the market compared to Noise Isolation Headphones.
Noise isolation headphones are bulky as the noise isolation ear cups carry bulky cushioning to block out external noises.
There are many lightweight noise cancellation headphones your can get. A lot of

True Wireless Earbuds

(TWS) also come under this category.
Noise Cancellation VS Noise Isolation
IS NOISE–CANCELLATION BETTER?
Yes, headphones with NC are better than headphones with noise isolation or any other available technology in the market. Now, for the main question, "why it is better than other technologies!"
NOISE REDUCTION AND CANCELLATION:

The Noise cancellation headphones use software and various other technologies to cut out the external noises, ensuring absolute peace to the ears.
Noise-isolating headphones on the other hand, use physical attributes to block ambient noise. So, these headphones will most likely be bulky, resulting in noise reduction rather than noise cancellation.
So Whether you're flying long distance or relaxing in a coffee shop, devices with noise cancellation technology are your best bet if you're looking for absolute noise cancellation.
DIGITAL NOISE CANCELLING TECHNOLOGY:

Many noise-cancelling headphones come with single or dual noise sensor technology.
Noise-Cancellation technology and hardware are engineered to reduce the high-frequency sound that we encounter in day to day life. It blocks out the busy street noise and lets you enjoy your own private concert wherever you are.
The dual microphones available on the earphone captures ambient noise and transfers the data to the processor. Using an advanced algorithm, the processor processes it via the feature in real-time to cancel out ambient frequencies.
This system works together with a new Bluetooth Audio SoC(System on Chip) capable of sensing the external environment while adjusting the music to provide an immersive music experience.
SOUND QUALITY:

The sound quality on an ANC device is exceptional. The earcups or earbuds transmit sound waves with the same amplitude, and it will invert the phase of the original sound.
These sound waves combine to form a new wave in a process called interference to efficiently cancel each other out, in an effect known as destructive interference.
Noise cancellation headphones achieve this result through the use of analogue circuits or digital signal processor. This feature produces rich highs, crisp mids and perfect bass that makes you feel like you are centre stage at a performance.
BATTERY CAPACITY:

The battery capacity of ANC headphones is pretty high. Some can even play music for up to 24 hours in one single charge.
Many TWS earbuds with this feature come with a charging case where you can charge your TWS earbuds and is pretty handy.
Many NC headphone comes up with quick charging facility. The fast charging functionality charges your headphone quickly and will give at least 2-5 hours of playback time.
Many Noise cancellation headphones like Marshall Major III (Bluetooth) Boom Headset, Bose Noise Cancelling Headphones 700 and Apple Airpods 2 are best known for their amazing battery capacity.
COMFORT AND STYLE OF ANC HEADPHONE:

In-ear noise cancellation earphones provide utmost comfort as it comes with an innovative ear-fit system. An adjustable loop is available in these headphones for an optimised and ergonomic fit that rests snugly in your ears, letting you wear your headphone and start jogging with style.
Most ANC headphones are wireless. ANC headphones seamlessly blend the worlds of sophisticated styling with excellent comfort.
Super-soft, pressure-relieving earpads are available to evenly distribute pressure and increase earpad contact for a stable fit.
Also, many headphones come in a super lightweight design. Some are so light that you barely notice wearing them. You can shake-it up wirelessly.
If you are a fashion freak, check out our official Poorvika website to get a fantastic pair of stylish noise cancellation headphones that suits your budget and fashion.
PRICE:
Speaking of the budget, the price of noise-cancellation headphones is slightly higher than noise-isolation headphones as the headphones or earbuds are engineered with advanced technology.
However, these brands have also introduced many headphones or earbuds in the budget category. It allows you to embrace futuristic technology at its best price.
Boat Airdopes 138 Wireless Earbuds, Oppo Enco W11, are some of the best headphones that come at an affordable rate.
Feel free to visit our visit Poorvika website to get yourself a pair of noise cancellation headphone or Noise isolation headphone for the best price and get your favourite device delivered straight to your doorsteps with our 2 hours fast delivery Service.
Happy Shopping:)
Click here to check out my other blogs to stay on top of Upcoming Smartphones, Earphones, and many more gadgets. Get the latest Tech News and Updates, all in one go!