01 Apr 2021
iPhone 12 Accessories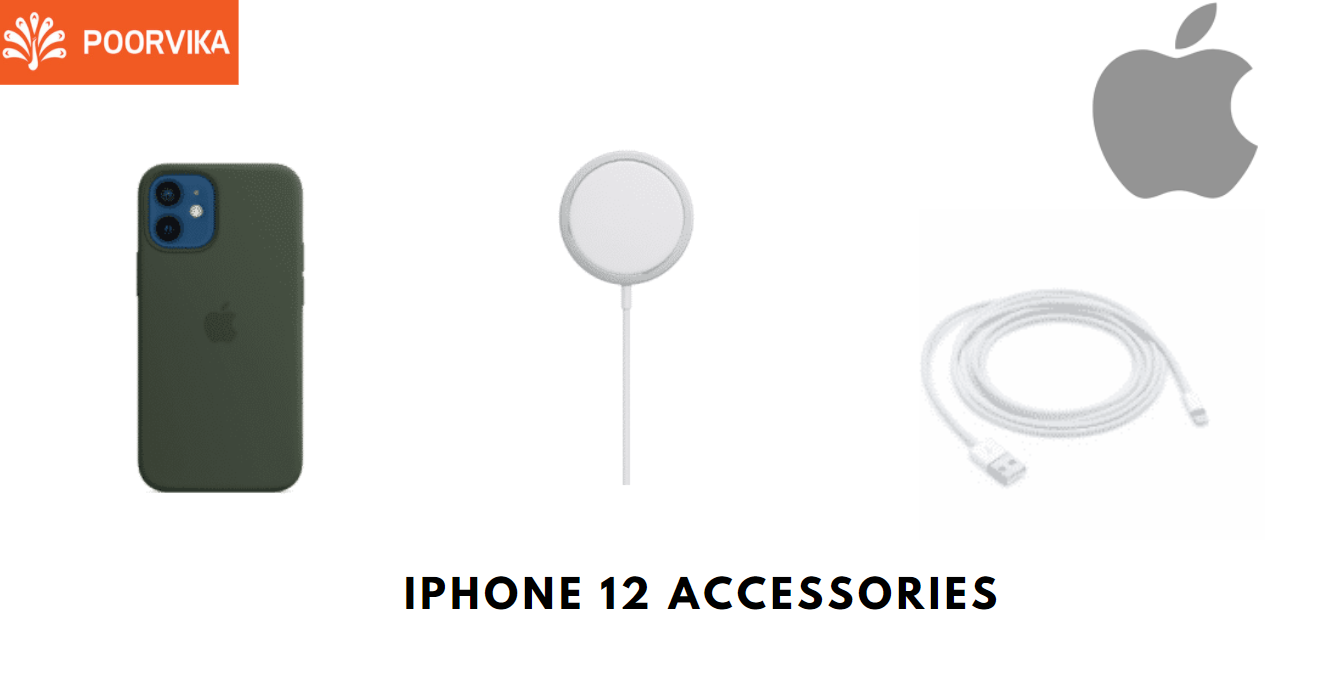 While the iPhone itself is a fantastic invention, Apple makes the user experience a lot more impressive with its out of the world iPhone 12 accessories!
Some accessories protect the device, while some enrich the user experience by adding more features and functionalities.
Gone are the days where the users select the mobile just for its specifications and design. We live in an era where people buy a mobile phone only because it has a top-notch accessory.
Having understood the people's mindset, Apple is putting in a lot of innovation on its accessories that galvanize the user to buy Apple products!
In this blog, let us look at the various accessories available for the iPhone 12 series mobile in detail.
Apple iPhone 12 Accessories:
iPhone 12 Back covers:
We cannot afford to damage a hefty priced mobile phone by being careless.
A small slip of the hand might burn a hole in your pocket, and that is why back covers come for the rescue.
Back covers are discovered to protect the mobile phone from slip, fall and dust. Though safeguarding the mobile is the main aim, style and fashion also play a vital role in choosing a back case! We look for a light-weighted back case that doesn't increase the weight of the mobile in toto.
Having read its users' minds, Apple came up with a mobile cover that satisfies all your expectations.
Get ready to welcome a comfortable, easy to carry, classy mobile case in the market that not only guards the mobile but is also so stylish that you will fall in love with it.
Silicon case:
This Apple Silicon case best compliments your iPhone 12 series as it comes with a posh look in vibrant colours.
It has a soft microfiber lining on the inside and a silky soft touch exterior that gives a premium feel to the user.
The interior microfiber lining provides an added protection to the mobile that ensures no crack or damage to your beloved iPhone 12.
This mobile case has in-built magnets (the Magsafe) that align flawlessly with the iPhone 12 series providing a wonderful attach, detach experience.
This exemplary alignment of magnets makes the wireless charging faster like never before.
To simply put, this case not just protects your iPhone but also aids in faster charging.
This mobile case is stain-resistant, so even if you pick your mobile while your hands are still dirty, it doesn't impact the back cover.
This Silicon Magsafe case undergoes thousands of hours of testing before it is out in the market. There is no doubt that you will fall in love with this classy looking, too good mobile back cover!
This Silicon case comes in a variety of colours. Do check out the official website of Poorvika to know the available colours.
The price of the iPhone silicon back cover with Magsafe in India is Rs.4,900/-, Whereas, at Poorvika, we are offering it just for Rs.4,499/-
By getting this iPhone back cover from Poorvika, you can avail of an 8% discount of around Rs. 401/-
iPhone 12 Accessories- Clear case:
Apple has designed this thin, light-weight, and easy-to-grip iPhone case to provide extra protection to your iPhone 12 series smartphone.
Apple manufactures this clear case with a blend of Optical clear polycarbonate and flexible materials. These materials ensure that it protects your iPhone from all directions, be it in the front, back or the sides.
The case's surface comes with a scratch-resistant coating that maintains the back cover's look throughout its life. The materials used in manufacturing this clear case are optimized so that it prevents getting yellowed over time.
On the back, the case is firm, and on the sides, it is so flexible for an improved grip.
Apple has taken the back covers to an extent which we would have never imagined. Back covers now aligns the in-built magnets and enables wireless charging!
Back covers are no more used just to protect your iPhone from an unexpected fall but do more to it.
No doubt why Apple is a premium device!
This clear case is available in many different colours. Pick your favourite before it is too late.
The price of the iPhone back case in India is Rs.4,900/- . We at Poorvika offer this product at just Rs.4,499/-
Charger:
iPhone 12 accessory -USB Adapter:
This Adapter is suitable for all mobiles models, be it iPhone or any other phone and iPad. It has the advantage of the fast-charging feature that enables charging the phone rapidly. This USB Adapter comes in different variants like the 5W, 12W, and 20W.
The price of 5W and 12W Apple USB Adaptor in India is Rs. 1,700/-Whereas, at Poorvika, we offer it for Rs.1,499/- and Rs.1,599/- respectively.
The 20W Apple Adaptor's price in India is Rs.1,900. You can get this in Poorvika at just Rs.1,899/-.
Get these fantastic products from Poorvika at a discounted price.
Apple Magsafe Wireless Charger 15W:
The Apple wireless charger is now a hot topic as people are still wondering how can one charge their phones without a wire!
It comes with perfectly aligned magnets where you can attach your iPhone 12 series phone for fast and utterly wireless charging upto 15W.
This wireless charger is Qi certified and is compatible with iPhone models and Airpods Models.
The price of this Apple Magsafe Wireless Charger 15W in India is Rs.4,500.
Do check out the official website of Poorvika to place your orders without any delay!
Apple Lightning to 3.5mm Headphone Jack Adaptor:
Since the iPhone doesn't come with a headphone jack these days, it has come up with a fantastic idea for those who are in dire need of using wired headphones.
Yes! with the use of Apple's 3.5mm headphone Jack adaptor, you can connect your headphones with your mobile without any hassle!
The 0.1m Apple Lightning cable does this miraculous job and keeps us in astonishment.
The price of this fascinating Apple Lightning to 3.5mm Headphone Jack Adaptor in India is Rs.898/-
Apple Lightning to USB Cable:
You can use this Apple data cable along with the Apple Adaptor to fast charge your iPhone or iPad.
You can also use this cable to transfer data from your iPhone to your Macbook or vice versa. It has a cable speed of around 480Mbps so that you can transfer the data much faster than before.
This Apple USB cable comes in 2 different lengths: 1m and 2m.
The Apple Lightning price to USB Cable 1m and 2m in India is Rs. 1,600 and Rs.2,900, respectively.
Buy the Apple USB cable from the official website of Poorvika.
Apple never fails to improve the user experience and take the product to the next level.
While the general public is still astonished by Apple's innovation and improvement, they are upgrading their level to provide the best of the best things to us.
Learning and implementing our learning is a life-long process, and Apple always follows this.
The above is the list of the Apple iPhone 12 accessories available at Poorvika.
Do check out the official website of Poorvika to place your orders with exciting offers, cashbacks and discounts.
Also, do not forget to avail of our 2 hour delivery service to get the products delivered to your doorsteps.