09 Apr 2021
Best Features of the ASUS VivoBook S S14 Intel Core i5 11th Gen Windows 10 Home Laptop S433EA-AM502TS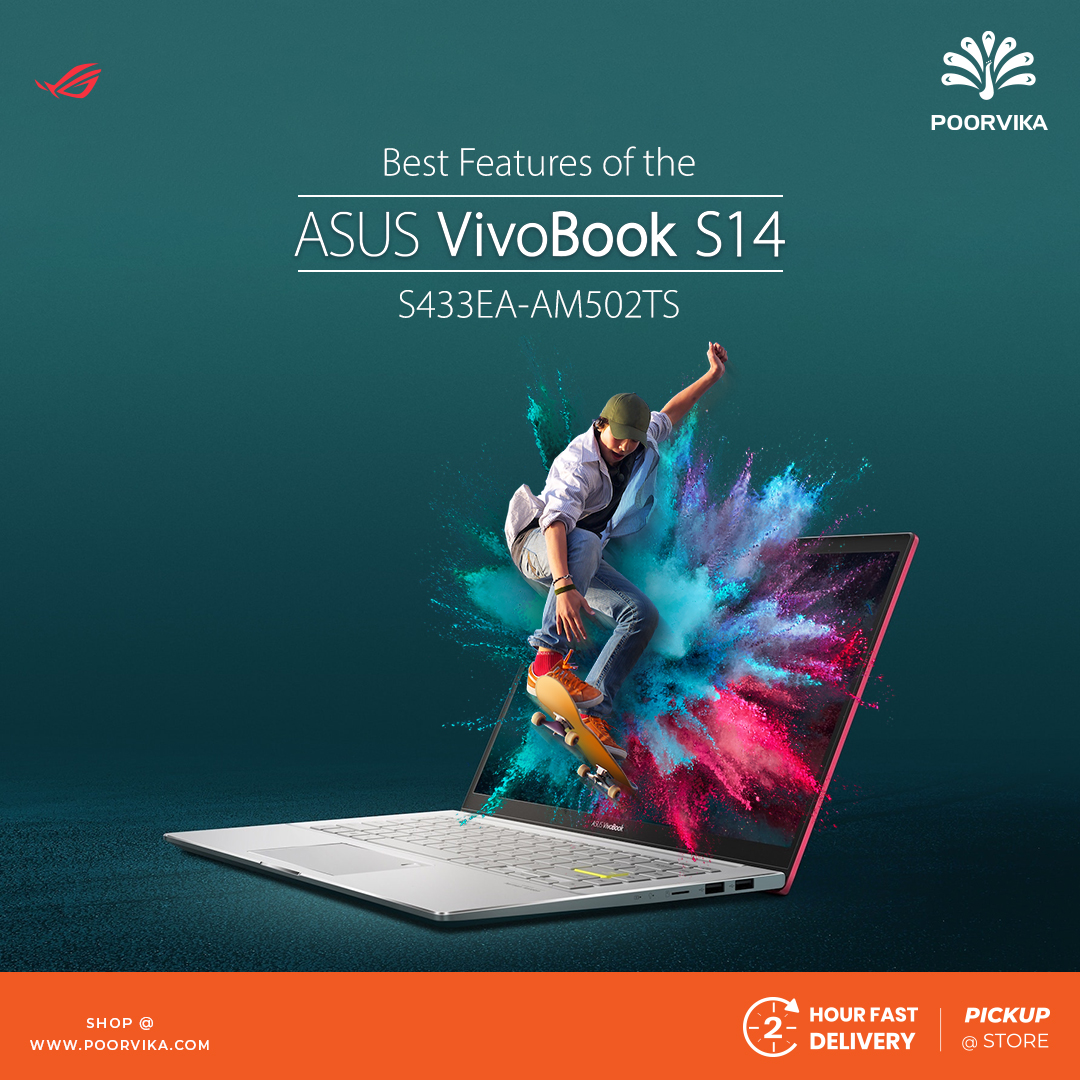 A decade back, the Americans were dominating the computing industry. Despite tough competition, the Taiwanese manufacturer has become an indomitable force in the market. Because they were able to manufacture world class Motherboards and Gaming Components. And it is through Gaming Components, ASUS was able to capture the Indian market. Today we are going to see the best features of ASUS Vivobook S S14 Laptop.  
Performance of ASUS Vivobook S
Since the performance of ASUS Vivobook S is definitely envious. We can safely affirm that the Chipset is undeniably a best feature of the laptop. The laptop runs on Intel Core i5-1135G7 processor. It is a Quad Core processor with Integrated GPU. Just like every other laptop chipset, it uses X86-64 bit Instruction Set Architecture.
And the microarchitecture is built on Tiger Lake U which makes the laptop to perform exceptionally well. The chipset is one of the main reason behind the aggression of the laptop. The processor has a base frequency of 2.4GHz with Hyperthreding support which allows each core of the laptop's chipset to handle many applications simultaneously. Another reason behind blazing performance of Vivobook S is: manufacturing process of the chipset.
Intel uses 10 nanometre SuperFin lithography process to manufacture Intel Core i5-1135G7 chipset. Since Intel uses smaller nodes than other manufacturers, the power efficiency of ASUS Vivobook S must be equivalent to 7 nanometre chipset.
All these elements makes Vivobook an unstoppable force in both benchmark test and real world performance. In Cinebench R23 Single Core benchmark test, the processor has a total score of 1343 points.
Single Core test doesn't involve Hyperthreading. Whereas in Multi Core test, the chipset was able to score 5913 points. Because Multi Core test involves all cores and Hyperthreading.
GPU
Gaming on ASUS Vivobook S laptop is manageable because of the Intel Iris Xe Graphics. It has 80 Execution Units that has the ability to operate between 400 to 1300MHz frequency.
Since Intel Iris Xe is not a dedicated Graphic Card, we cannot expect it to run heavy games smoothly on this laptop. Yet the Gaming Experience on this laptop is not worth complaining. Because there was no kind of lag or stutters while playing graphically intensive games like Assassin's Creed: Odyssey in low graphic settings.
Display of ASUS Vivobook S
The ASUS Vivobook S has a 14 inch Full HD Anti-glare display with screen resolution of 1920 x 1080 Pixels. It has also has sRGB 100 percent certification that can deliver very accurate colors. Visual experience on the Vivobook S laptop is amazing. Brightness level of the display makes sure user doesn't experience discomfort at any cost.
Memory
In addition to Chipset, contribution of this element cannot be ignored. Because it can improve or deteriorate the performance of a laptop. The ASUS Vivobook S laptop has an 8GB RAM in order to provide breezy experience while multitasking. Meanwhile for Volatile memory, the laptop comes with 512GB Solid State Drive. Since SSD has no kind of moving parts inside, read and write speeds of Vivobook S laptop is very fast.
Additional Features
The ASUS Vivobook has an additional layer of security named BIOS booting user password protection. It prevents outsiders accessing the laptop. Though it is not a very commonly used feature, in real life its functionality is very useful during tough times. Next useful feature of ASUS Vivobook is: fingerprint reader. By using fingerprint reader, user need not type the password to login.
Verdict
ASUS Vivobook is a perfect laptop for students and officials. Vivook S price in India is Rs.65,990. We all hate waiting time. From now on, you don't have to wait because Poorika heard your voice. That is why we are offering 2 hour delivery service to get products directly to your doorstep.