10 Apr 2021
Best Features of the ASUS VivoBook S15 Intel Core i5 11th Gen Windows 10 Home Laptop S532EQ-BQ502TS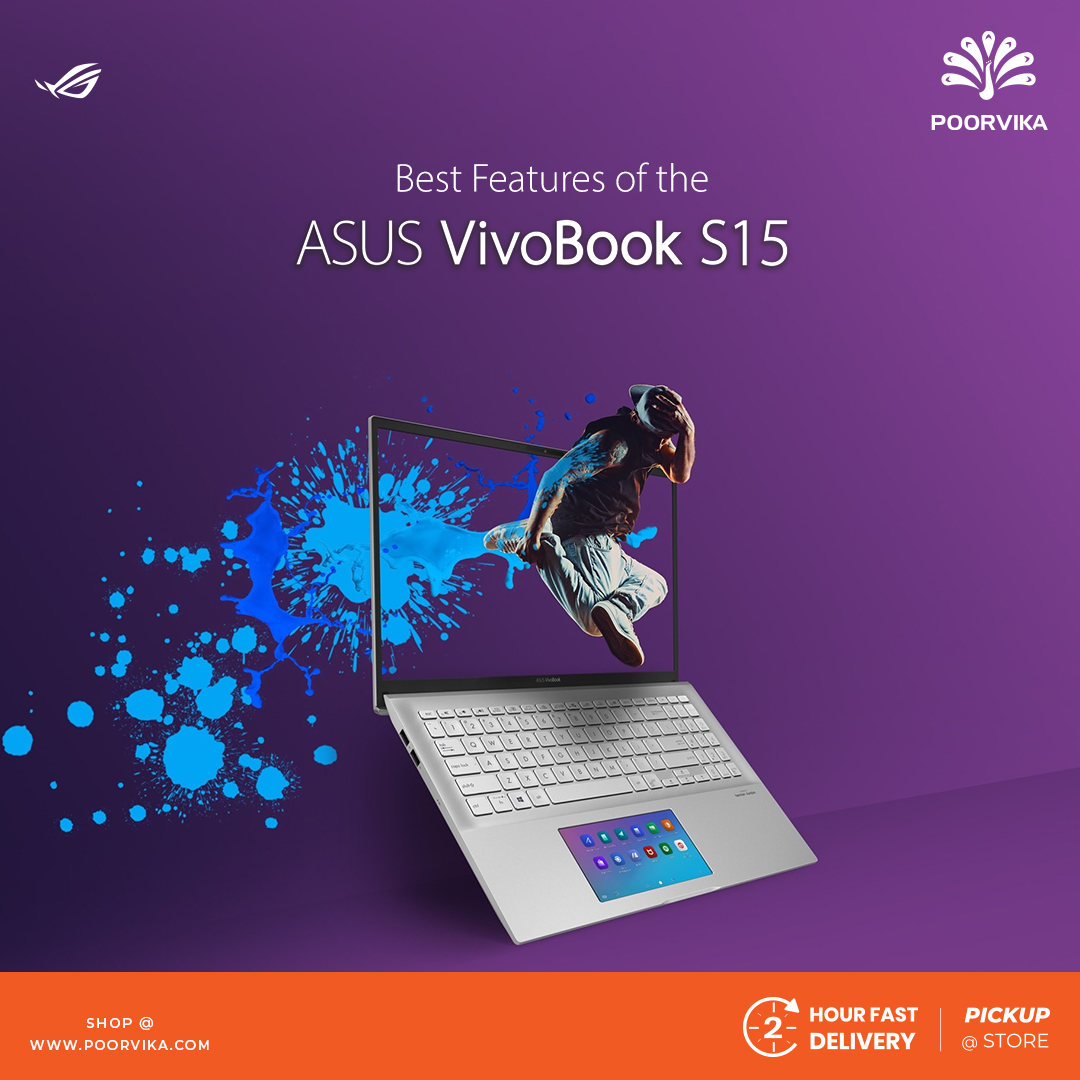 Mere description about specification of a product will not convey a clear message to user. Hence we are going to mention about best features and real life performance of ASUS Vivobook S15 laptop. We all know that the American manufacturers have been dominating and are still dominating computing industry. Because right from computer manufacturing to chipset manufacturing, everything is done by American manufacturers.
Despite this kind of tough competition, ASUS has become a dominant force in the industry. This became possible only after years of hard work of Research Development team and Engineers working at ASUS. In the initial days ASUS did not manufacture computers and laptops. They began to manufacture motherboards and gaming components which made ASUS popular. After that they also began to manufacture computers and laptops.
Chipset of ASUS Vivobook S15
Chipset is the vital element which determines the performance of a computer or laptop. It is also known as microprocessor. The chipset of laptop is not made of one component alone. It consists of two major components named CPU and GPU.
Role of a CPU is to receive, process and deliver the commands assigned by the user. Meanwhile the role of GPU or Graphics card is very similar to CPU but the process is not entirely same. Since GPU works only when there is a demand to render and process graphics.
The ASUS Vivobook S15 runs on Intel Core i5-1135G7 CPU. It is born to create a lasting impression. The base clock speed of i5-1135G7 is 2.40GHz and using Intel's Turbo Boost Technology, it can reach up to 3.80GHz. Manufacturing process and Microarchitecture are the two main reasons behind the splendid performance of the laptop in both benchmark tests and real life.
The Tiger Lake U microarchitecture is known for its brilliant performance and amazing power efficiency. One more advantage of using this microarchitecture is: it has a bigger cache memory. Bigger cache memory cannot be explicitly seen on paper but its role is evident while multitasking.
Benchmark Scores of ASUS Vivobook S15
Intel is using 10 nanometre SuperFin lithography process to manufacture this chipset. In this manufacturing process each transistor of the chipset is built on epitaxial drain in order to reduce data latency to a great extent. In Cinebench R23 Single Core benchmark test, the chipset has a total score of 1343 points.
Single Core benchmark test is undeniably one of the best way to know the real potentiality of the chipset. Because it does not test Hyperthreading capability of a processor. On the other hand, Multi Cores test involves all cores of a chipset with Hyperthreading. Thus the Intel Core i5-1135G7 is able to score 5913 points in Cinebench R23 Multi Core benchmark test.
While speaking about Benchmark scores, we need to remember that the real life performance is slightly different from benchmark tests. Even under heavy usage, Vivobook S15 didn't struggle a bit. Even after deliberately opening tons of tabs on Google Chrome browser, the CPU utilization didn't cross beyond 13 percentage.
GPU of ASUS Vivobook S15
In general most of the laptops do not have a separate Graphics Card which limits the actual potentiality of the laptop's chipset. Because laptops which don't have dedicated graphics card cannot smoothly run graphically intensive games.
Since the ASUS Vivobook S15 has a dedicated 2GB NVIDIA GeForce MX350 graphic card. You need not have to bother about playing heavy games like The Witcher 3: Wild Hunt, Assassin's Creed: Odyssey.
Compared to Integrated graphics, the GeForce MX350 offers 2.5X faster performance. We did not face any kind of lag or frame drops. The functionality of MX350 doesn't end there, it is also extremely helpful while working on Adobe applications like Photoshop and Premiere Pro.
Memory
Chipset is not entirely responsible for the performance of a laptop. Components which come under this category also play a vital role in defining the performance. A laptop with robust chipset will not perform well, if it has poor quality memory components.
Vivobook S15 comes with 8GB DDR4 RAM which delivers top notch multitasking experience. Be it switching between applications or opening heavy applications, you will not face any kind of slowdown.
Meanwhile 512GB PCIe NVMe M.2 Solid State Drive is connected directly on the motherboard of Vivobook S15. The user will not be experiencing any kind of lag even while transferring large files.
Display
Vivobook S15 doesn't have one but two displays. The primary display of ASUS Vivobook S15 is a 15.6 inch Full HD Anti-glare display with screen resolution of 1920 x 1080 Pixels. Colour reproduction on the primary display is very accurate. Images were sharp and detailed, so it is entirely safe to affirm that the visual experience of ASUS Vivobook is amazing.
Now comes the secondary display of Vivobook S15. The ScreenPad has a supporting screen resolution of 2160 x 1080. Content displayed on it is bright and is visible across all lighting conditions.
ASUS has placed secondary display on the touchpad of S15 laptop. Though it cannot increase our productivity but it can make our user experience more comfortable.
Keyboard
This component of a laptop plays a prominent role in refining user experience. Since the key travel is just 1.4mm, user need not apply much pressure. Keys on the silver colour Chiclet keyboard are spacious and very comfortable for typing lengthy passages. Silver colour keys on the aluminium chassis of S15 looks lovely.
Additional Features
Two features of ASUS Vivobook are definitely worth mentioning in this blog. First feature is: Webcam with IR function. The Infrared Camera eliminates the need of typing password to login. And the next impressive feature will be BIOS booting user password protection. It is another additional layer of security so that the laptop remains completely secure.
Ports
ASUS Vivobook has many ports for media and connectivity. The list includes 1 x USB 3.2 Gen 1 Type-A, 2 x USB 2.0 Type-A, 1 x Thunderbolt, HDMI to stream content to external devices like projector, 3.5mm Jack for headphone, micro SD card reader.
You can buy ASUS Vivobook S15 windows 10 laptop for just Rs.72,990 from our website Porovika. Avail our 2 hour delivery service to get it instantly to your doorstep.