12 Apr 2021
Best features of the ASUS ZenBook Duo UX481FL-BM5811T Laptop

After the advent of the invisible pathogen COVID-19 our lives became entirely dependent on technology. And we must be really thankful for Computers and Laptops. Because without their role, our lives will have been very terrible. Are the one who is looking for a laptop which can satisfy the creator in you?
Then you are in the right place. Today in this blog we will be presenting about the best features of ASUS Zenbook Duo laptop that can effortlessly satisfy the creator in you. We will comprehensively describing about performance of components which gives the laptop a WOW! factor.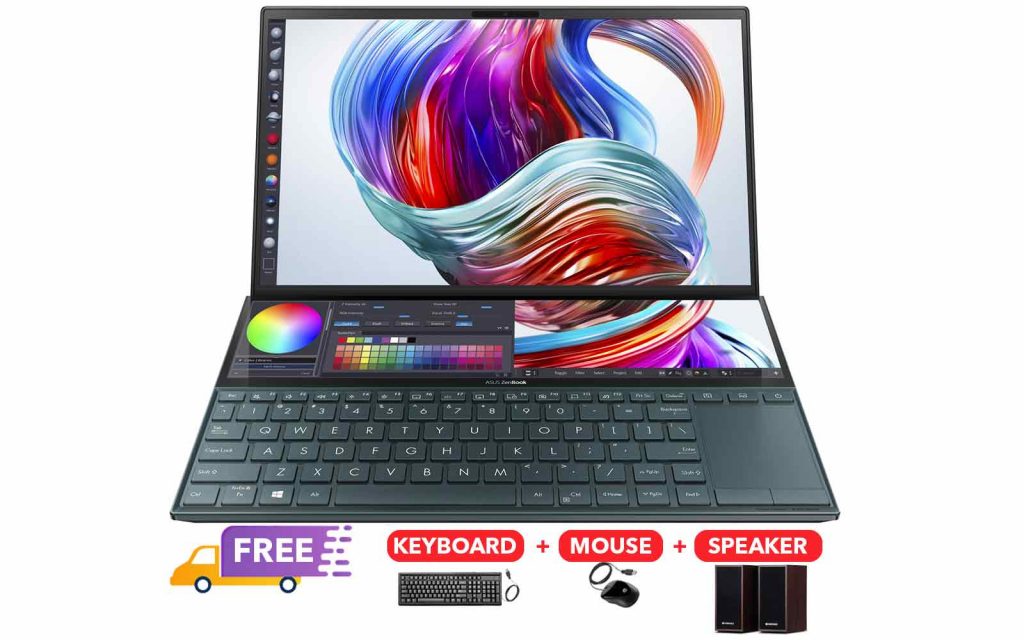 Display of ASUS Zenbook Duo
Display is undeniably the prime component of ASUS Zenbook which is surely a WOW factor. Because display of this laptop is completely different from other laptops available in the market.
Zenbook Duo has not one but two displays. It is extremely useful for Content Creators, Editors, Designers. 14 inch Full HD Anti-glare Primary display of Zenbook Duo has 100 percent sRGB certification. Thus its display has the ability to deliver very accurate colors.
And 3.5 mm bezels allows user to watch the entire content without moving their head or rolling their eyes. The 12.65 inch additional display supports a screen resolution of 1920 x 515.
The Secondary display has a Stylus touch support which makes the Zenbook Duo very comfortable to do all sort of editing work. The Ergolift hinges of the laptop is also an add-on in making the laptop very comfortable for content creators.
Chipset of ASUS Zenbook Duo
Chipset of a laptop consist of two major components. Because unlike smartphones, laptops do not use System on Chip. The Zenbook Duo laptop runs on Intel Core i5-10210U processor.
This Quad Core processor has a base frequency of 1.60Gz with Hyperthreading support. Thus each core of the laptop's processor can handle multiple tasks simultaneously. And the Comet Lake Microarchitecture of the chipset is known for its impeccable performance and superb power efficiency.
In Cinebench R20 Single Core benchmark test, the processor has a total score of 426. Hyperthreading doesn't work during single core benchmark test, the processor has to create a 3D form in Cinema 4 software.
Multicore test involves all cores and Hyperthreading. It is really surprising to see 1206 points in Multi Core performance. Because many server processors fail to score above 1100 points.
All these components make the laptop to perform exceptionally well in real life too. It comfortably glides through basic video editing and vigorous multitasking. Even the 6MB L3 Cache reacts very nimbly in order to ensure the user doesn't face any kind of latency while opening applications.
The Zenbook Duo has a 2GB NVIDIA GeForce MX250 which is powerful enough to handle all kind of heavy games like Crysis 3, The Witcher 3: Wild Hunt comfortably. On average it was able to deliver 67 to 73 frames per second.
Thus you will not see any kind of lags or frame drops at any cost. In addition to gaming, role of MX250 is really useful while working on Adobe Photoshop and other image editing applications.
Verdict
Is the secondary display really useful or is it just a marketing gimmick? To be honest it surely enhances user experience to a great extent.
It also helps to increase your productivity especially if you are using Adobe applications. Though it is a first generation product, seems like ASUS has done everything in a right manner so that user doesn't experience any kind of discomfort while using Zenbook Duo laptop.
ASUS Zenbook Duo laptop price in India is Rs.79,990. Avail our 2 hour delivery service to get it instantly to your doorstep.