12 Apr 2021
Inbase launches Urban LYF Smartwatch with Bluetooth Calling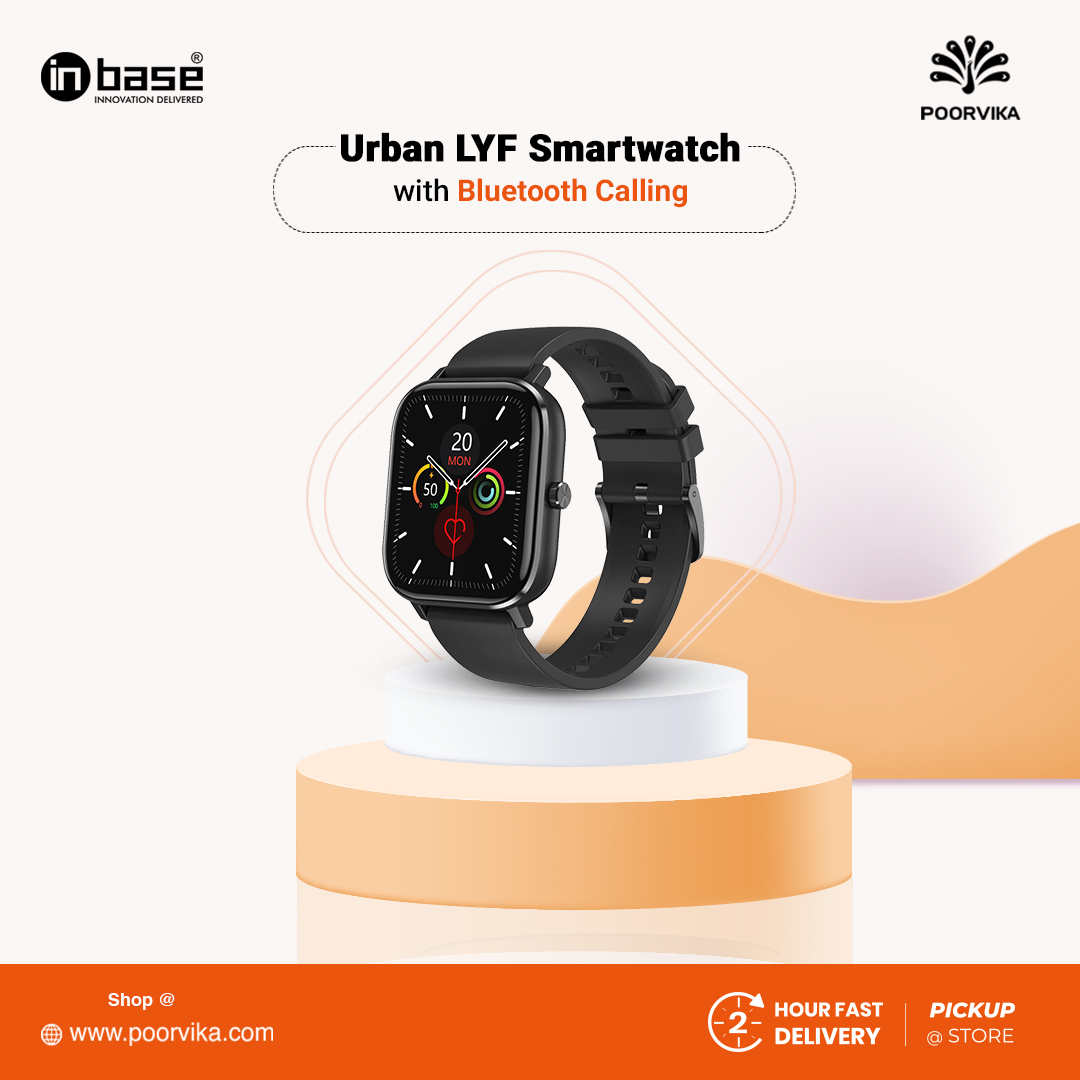 Blood Oxygen level sensor, heart rate monitor, Electro Cardiogram sensor, super-bright display and every other feature under the sun; these are terms and quirks you primarily find in devices under big brand names like Apple & Samsung.
But what if you wanted all this and more without burning a hole in your pocket?
Inbase has the answer for just Rs.3999 here at Poorvika called the Inbase Urban LYF smartwatch.
DESIGN & DISPLAY:
The Urban LYF smartwatch comes with a large 1.75 inch HD display with a 240x240px screen resolution. The HD display reproduces colours with impeccable vibrancy. Right off the bat, the smartwatch has a very premium outlook for a device within this price bracket.
Its minimal bezel-less design with the polished, almost curved glass on display ekes elegance. Inbase did not skimp on the quality of materials either, as this device's build feels solid yet lightweight in hand.
The smartwatch's interchangeable silicone straps make it easy to personalise. Inbase has made it with quality materials, with the Urban LYF branding on the silver buckle.
There are three colour variants available for the Urban LYF. It also comes with an array of inbuilt watch faces which you can customise. You can even set images from your gallery as watch faces.
HEALTH TRACKING:
On the inside, the Urban LYF smartwatch packs a plethora of smart features that are usually available on very high-end smart smartwatches. The biggest surprise you can expect is the spO2 Blood Oxygen Level monitoring with sensors that can measure the oxygen level in the bloodstream. It helps to detect symptoms and to alert the user in cases of sleep apnea and breathing conditions.
Another remarkable feature included in the watch is the Electro Cardiogram monitor and blood pressure monitor, which can help you take ECG readings and measure blood pressure in real-time.
The Heart rate sensor available in the smartwatch can also track your heart rate in real-time with close accurate readings.
The Inbase Urban LYF has a Bluetooth calling feature that allows you to answer calls directly on your smartwatch and even has a dial pad that feels very ergonomic and functional due to the large screen that we previously mentioned. Therefore, the larger screen size allowed Inbase to include functions like an inbuilt calculator and a Calander.
WATER RESISTANCE:
Taking this device to the pool wouldn't be a problem as it has an IP67 Water Resistance Rating. The device is entirely impervious to dust and grime; however, submerging it underwater for too long is not advisable. It has an IP67 rather than the standard IP68, which is available on most devices now. It can take a splash or even a quick dip in the pool during your swim, but anything more could put the device at risk of water damage.
SEAMLESS CONNECTIVITY:
The device is compatible with Android and iOS devices and stays connected to your smartwatch via Bluetooth 4.0, and vibrates to alert you of notifications. The haptic vibration on the Urban LYF is commendably sound, making sure you don't miss a single message or call. It has a decent range that ensures you sufficient freedom to move around without your phone having to be strapped on you the entire time.
Remember the Bluetooth calling feature? The Urban LYF smart device can even give you access to your phone contacts after you sync it to your mobile device, allowing you to make calls without even having to reach for your phone. The device also lets you to control the music on your phone and proves helpful when using the watch to click pictures.
A very nifty feature in the Inbase Urban LYF is the tracker that allows you to find your smartphone by making it vibrate. This feature is handy as it is easy to misplace the phone when the watch itself gives you the options needed to function with minimal need for pulling a smartphone.

BATTERY LIFE:
Battery life on the Urban LYF is quite commendable, boasting seven days of average use without calls and 2 days of continuous usage inclusive of calling. The device has a maximum standby time of 15 days.
PRICE:
The Inbase Urban LYF Price in India is Rs.3,999 and is available on the official Poorvika website. You can buy Inbase Urban Lyf Smartwatch Online from Poorvika or visit your nearest Poorvika Store to get a hands-on experience. Check out our latest products and offers curated just for you. We even have a 2 Hour delivery system in place so you can have your order delivered to your doorsteps in no time.
Also, explore the specifications of Inbase Urban and Pro smartwatches here and choose your desired one – Inbase Urban Lite and Pro Smartwatches – Total Spec Sheet