13 Apr 2021
Are the prices of Apple Products justified?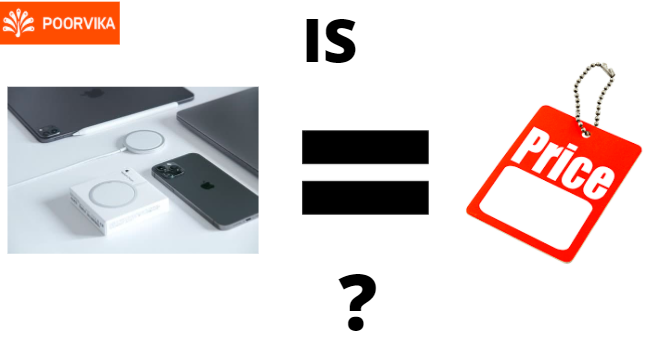 While we love some products for their price, we love others for their quality.
We might fall in love with the quality so much that price becomes irrelevant.
Apple's loyal customers belong to the second category!
Though Apple prices its products on the higher side than the other company, Apple's fan don't seem to mind it.
Apple is undoubtedly more than its Logo and brand value.
It puts in a lot of effort and innovation to make its products the best in the market. Yet, the general public doubt if the prices of Apple products are justifiable.
Many people believe that Apple's brand image is the only reason behind its hefty price.
And on the other hand, the Apple followers provide logical reasoning behind its pricing and how it is justified!
In this blog, let us understand if the prices of Apple products are truly justified.
Reasons why Apple Product's price is justified:
User Experience:
Though getting to know a smartphone is not a tedious task, Apple makes it a lot more manageable by keeping things simpler than Android.
Even a person with zero tech knowledge can use Apple products without any guidance.
Apple has built the iOS platform on Objective-C and has optimized it for the hardware in each device. So, the device performs each operation most efficiently and executes the program with very few instructions.
This specification leads to a smooth user experience thus, resulting in improved user experience.
Apple has designed its iOS products to be memory-efficient and avoid garbage collection. And this is the reason why iPhones can run faster on a lesser memory and still offer comparatively better battery life.
Undoubtedly, Apple's user experience is one of the main reasons people don't mind paying a massive amount.
Apple Ecosystem:
Apple is not only about mobile phones.
It has created an Eco-system where you can sync all your Apple gadgets for a better and easier living.
The gadgets available in the Apple Eco-system are as follows:
Apple mobiles – iPhones
Tabs from Apple – iPads
Apple Laptops – Mac
Apple's Speaker – Apple Homepod
Apple Smartwatch – Apple Watch
Apple Smart TV – Apple TV
You can interlink/sync these devices to one another to make your work easier.
For instance, once you sync your iPhone with your Mac, you can make/receive calls or messages even on your Mac. You can set a reminder on your phone and can get notified on your Mac.
So, whether you are using a Mac or your iPhone at that moment, you never lose any notification.
Innovation and First in the market:
Apple has an innovative strategy that involves terrific new products and innovative business models.
Apple's innovation leaders relentlessly push their pace of innovation, that their competitors are only able to chase them but unable to become a trendsetter yet.
They also possess an innovative business model where they did not stop after introducing an iPod but proceeded further with iTunes that took their market share to the next level.
"We're gambling on our vision, and we'd rather do that than make "me-too" products."

– Steve Jobs
Innovation is in their blood. And it is not wrong to pay this amount for the most innovative and out of the world thinking minds Apple possess.
Reputation and Brand loyalty:
"Love is Blind", they say!
And that love is not just for humans, but for products too!
Once you fall in love with Apple, you can't restrict but wait for the next excellent product Apple will release.
Apple casts a magic spell that makes their one time consumers into customers.
So, Apple is translating its Brand loyalty into premium and getting it from the customers who are unwilling to switch out of the Apple Ecosystem.
Most people who own Apple products consider it more as a status symbol than as an electronic utility with high quality. And, Apple is clever enough to make a revenue out of that mindset.
Few others feel that Apple products are an extension of their personality – the elegance, the design, the simplicity, etc.,
They feel this luxury brand represents their personality and hence go for the product without any second thought.
Whatever be the people's reason or mindset behind becoming a loyal customer of this reputed brand, Apple never fails to make the best use of it.
Finally, to end, Apple's current CEO Tim Cook mentioned,
"We never had an objective to sell a low-cost phone. Our primary objective is to sell a great phone and provide a great experience, and we figured out a way to do it at a lower cost."
Apple is not a Non-profit Organization, so we can't expect it to provide products at a subsidized or at a meagre cost. The company has its own set of objectives, and it does not ask them to sell its products at a lower price.
Verdict:
As per the factors we considered earlier, and in accordance with Tim Cook's statement, it is very well justified for Apple to sell its products at the current cost.
You can get all the Apple Products online from the official website of Poorvika. Buy these Products along with exciting offers, amazing discounts and cashbacks.
Get these products delivered at your doorsteps with Poorvika's 2 hour fast delivery service.