13 Apr 2021
The new Amazfit GTR 2e and GTS 2e – Comparison and Specs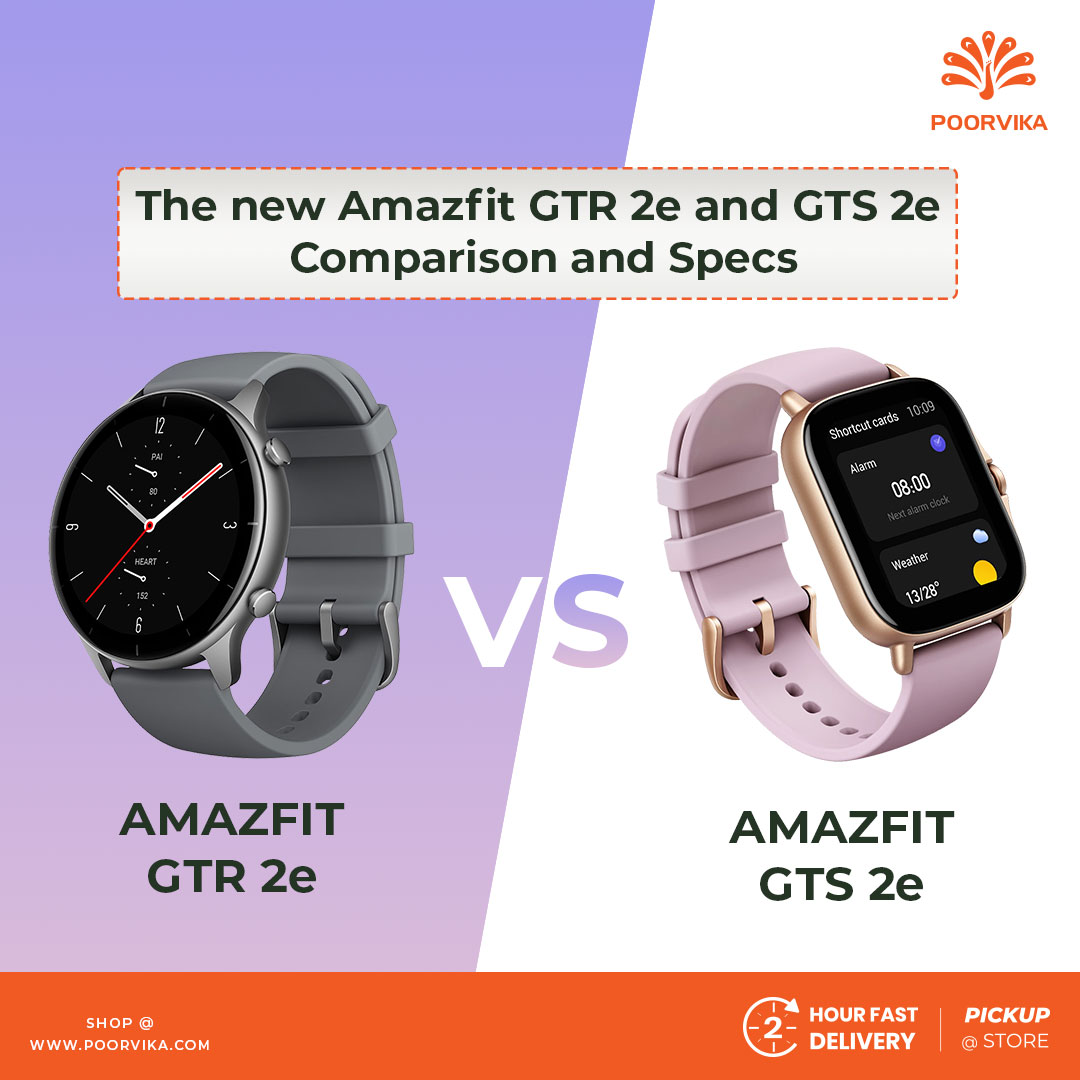 Huami is known for creating smart wearables. In the last quarter of 2020, Huami released two smartwatches; the Amazfit GTR 2e and GTS 2e. Both these watches have one thing in common. They are the absolute definition of "value for money". Loaded with features, both these smartwatches are not very different from each other either. So what's the difference, and how do they compare?
DISPLAY:
The most apparent difference which you can see from the is the difference in the external design. The GTS 2e has a 1.65 inch rectangular AMOLED display with a resolution of 348×442 pixels, while the GTR 2e has a 1.39 inch circular AMOLED Always-on display with a screen resolution of 454×454 pixels. The GTR looks considerably larger than the GTS because of the circular shape of the dial.
Speaking of the dial, both devices have an extensive range of watch faces to choose from. Various customisable options allow the user to tweak the dials to suit their needs and moods. However, the dial shape difference does not allow users to have the same set of dials on both devices as the dials' shape aspects would not be compatible if interchanged.
DESIGN:
In design aspects, the GTR 2e has not changed from its predecessor, GTR 2, other than the bezels' minimalistic markings. The GTR 2 has detailed markings on the bezel that resemble a divers watch. The GTS 2e, on the other hand, has no visible change whatsoever except for the shift from a 3D glass on the GTS 2 to the 2.5D glass.
They have made the external casing from a premium grade metal, and the rear, out of quality plastic. The backside houses the spO2 sensor. Another factor that is almost immediately noticeable on both devices is that there are two buttons on the side of the GTR 2e, while the GTS 2e has only one.
On the GTR 2e, the top button toggles between the menu and the back function, while the one on the bottom is a dedicated shortcut button. The GTS 2e, on the other hand, has a single button that toggles between the menu, going back and the shortcut button.
FUNCTIONS AND FEATURES:
In terms of features, both the GTS 2e and the GTR 2e are not significantly different. They are loaded with features from their predecessors. Both have fitness tracking functions. The spO2 sensor is a PPG High Precision Optical sensor developed by Huami that offers 24/7 heart rate monitoring.
Both have a personal activity intelligence system to evaluate your health and use a complex algorithm to access data collected over time based on your heart rate frequency and activities duration.
They also have a stress level monitoring system to help you keep your stress levels in check. Sleep quality monitoring on both devices helps monitor and collect data such as various sleep stages like light sleep, deep sleep, REM sleep, and breathing conditions.
FITNESS TRACKING:
The system access all this data and offers qualitative analysis and suggestions. Sports modes are aplenty in both the GTR 2e and the GTS 2e, as both devices have 90 built-in sport modes. Smart recognition in six of those sport modes reduces the need to manually select them while creating a detailed analytical report of your workout after the routines are over.
BATTERY LIFE:
One significant difference in both these smartwatches is the battery life. The GTS has a 246mAh battery, while the GTR, on the other hand, sports a much larger and almost double 471mAh battery.
This battery size translates into the GTS 2e being able to have a battery life of 14 days, with normal use and 24 days with primary use. The GTR 2e exceeds that of the GTS 2e, boasting 24 days with regular usage and a whopping 45 days with primary usage.
That's a mind-blowing month and a half of usage on a single charge.
The GTR 2e, however, takes about 2.5 hours to reach full charge considering it has a bigger battery but not much in comparison to the GTS 2e that can get 100% charge in 2 hours. Both come with a magnetic charging stand facility.
CONNECTIVITY:
Both devices are also water-resistant to a depth of 50 meters, allowing you to stay worry-free when you go for a swim. They are also very similar in terms of connectivity options such as Bluetooth 5.0 and GPS GLONASS.
Sensors in both devices range from Accelerometer, Gyroscope, Geomagnetic Sensor, Ambient Light sensor, Air Pressure sensor and Temperature sensors.
Another major difference, more of a downgrade, is that both GTS 2e and GTR 2e do not come with a speaker like their siblings. This difference lets you only accept or reject calls using the device, as answering a call directly on the device is not an option. Unlike their predecessors that came loaded with 3GB of internal memory, both devices do not own internal storage.
PRICE AND AVAILABILITY:
Putting aside these differences, most features on both devices don't seem to change. They lack some aspects found in their older sibling, that reflects in the price tag of both the devices. They both are great value for money when compared to most smartwatches within their price range.
You can get both these devices at Poorvika. The Huami Amazfit GTS 2e price in India is Rs.9,999, while the Huami Amazfit GTR 2e price in India is Rs.9,999. Head over to our website and check out the offers and cashbacks we have for you. Make use of our 2 hour fast delivery option to have your device delivered right to your doorstep.
To know the complete specifications of Amazfit GTR 2e, read our blog here – Amazfit GTR 2e – Full Features and Specifications and of GTS 2e, here – Amazfit GTS 2e – Full Features, Specifications and Price in India