17 Apr 2021
OnePlus Buds Z review with Google Assistant support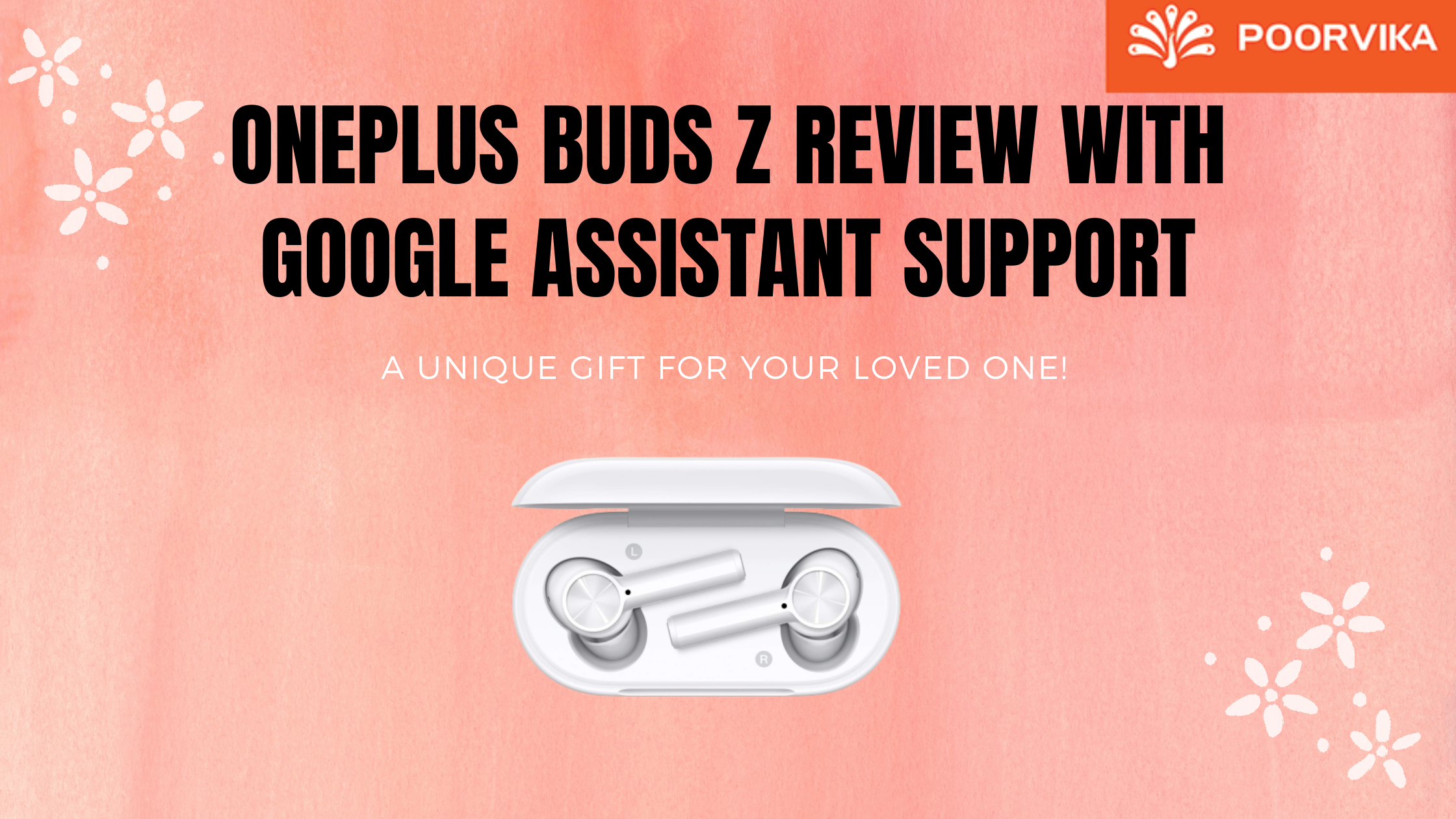 Music is a universal language that unites us. It elevates your life experience and makes you feel good every single time you plug your earbuds into your ears. OnePlus wanted you to experience this universal language with newly integrated technology, so they introduced the OnePlus Buds Z.
The OnePlus Headphone is here to change your life with all the upgrades and enhanced audio it provides. Read the blog further for a detailed review of all the features and specifications of the OnePlus Buds Z.
TIME TO TRANSFORM YOUR AUDIO:
It's time to take your audio experience to the next level with the OnePlus Buds Z. This headphone comes with a Dynamic 3D stereo and Dolby Atmos that produces a panoramic sound fidelity surrounding you with music from everywhere. This makes you feel like you're in the middle of it all, letting you completely immerse into it. The Dirac Audio Tuner digital technology built into the earbuds has the power to make you forget about this world.
THE DYNAMIC DRIVERS:
Each earbud comes with an advanced 10mm dynamic driver, defining the true meaning of deep bass. With its Bass Boost, you can experience a newly enhanced depth and detail to your favourite songs. It dissects multiple layers and enhances each and every one of them. You may be able to hear new background sounds, even on the songs you've been listening to for years.
JUST PRESS AND PLAY EVERY DAY:
On a full charge, the earbuds gives you about 20 hours of battery life. Each earbud comes with a 40mAh vattery and the Charging case has a 450mAh battery, which means you can replenish your battery capacity easily with the case. With this headphone, you get to stream your favourite playlists, non-stop, for an entire day without a hitch.
Just 10 minutes of Fast Charging allows you to connect with your audio for 3-hours. Plug it on and chill-out effortlessly.
EARBUDS WITH A SUPER COOL PATTERN:
This contemporary styled headphone comes in a seashell design to be your fashion companion, stands out every time you step out in the public.
Let's talk about a scenario: You are in a hurry to get somewhere. You slip your wired headphone into your backpack to use it after a while. Later, when you really need it, you pull it out, along with a few other items that have got entangled in its wire. This is the usual everyday scenario when you own a wired headphone. But you won't be facing the same embarassment when you have a True Wireless Earbuds.
True wireless earbuds has no chance of getting tangled with anything as it has no wires connected to the earbuds. It's complete and pure freedom. It also comes with a compact little charging case. So, you can just slip them into the case and carry them around wherever you go (You don't even have to worry about a dead battery, your earbuds will get charged automatically whenever they're in its case).
FREEDOM TO RUN WITH YOUR ONEPLUS BUDS Z:

Each earbud weighs only about 4.35 grams. It's as light as holding a tiny almond. You get to explore your music free of interruption; you won't feel the presence of the OnePlus Buds Z inside your ears, it's that light. These earbuds come with a refined in-ear ergonomic design that ensures a perfect fit for supreme comfort and freedom.
WATER-RESISTANT EARBUDS:
Whether you are running or sitting in a complicated Yoga posture, these earbuds will sustain sweat. These earbuds come with an IP55 certificate, providing great sweat and water resistance. The hydrophobic nano-coating protects your earbuds from wear and tear. You can take this anywhere and everywhere. You get 0 reasons to worry about with the earbuds.
IT'S TIME TO CALL YOUR BUDDIES WITH YOUR ONEPLUS BUDS Z:
These earbuds come with the latest and advanced Bluetooth 5.0 technology that provides a range of upto 10 meters. You can connect with your friend uninterrupted with its 2 in-built microphones, and the OnePlus comes with noise reduction algorithms to provide exceptional signal clarity and stability. The OnePlus Earbuds make sure there aren't any unnecessary noises, wind or background disturbances when you're on a call. It provides complete serenity and blockage of noises.
The device has the Quick Pair10 technology. It lets you pair automatically with your designated device. When you open the case, the Quick Connect programming on the earbuds instantly connects with your phone to ensure an uninterrupted and flowing music experience.
YOUR AUDIO YOUR CONTROL:
These earbuds helps you stay in control of the audio you hear; you can pause your track, switch tracks, answer a call or reject calls. With just simple taps, everything will be under your control.
IF YOU ARE A GAMER, THEN THIS HEADPHONE IS FOR YOU:
The OnePlus Buds Z is equipped with Ultra-low latency exclusively available for gamers. The industry-leading Low Latency technology puts you in real-time sync with your on-screen mobile action.
ONEPLUS BUDS Z WITH VOICE ASSISTANT SUPPORT:
Heading off to the office with a thirst to update yourself with today's schedule? If yes, You just need to plug this headphone into your ears. Yeah, this headphone supports Google Assistant. Just tap on your headphone to connect with your Google Assistant. With a double-tap, customise it's responses and functions for a personalised experience.
Click this link to know the OnePlus Buds Z price in India.

Please make use of our prompt 2 hours delivery service when you opt for the 2 Hour Delivery option as you check out.
Happy Shopping! 🙂

Click here to check out my other blogs to stay on top of Upcoming Smartphones, Earphones, and many more gadgets. Get the Latest Tech News and Updates, all in one go!