19 Apr 2021
Fastrack Reflex 3.0 – Best Price, Specs and Reviews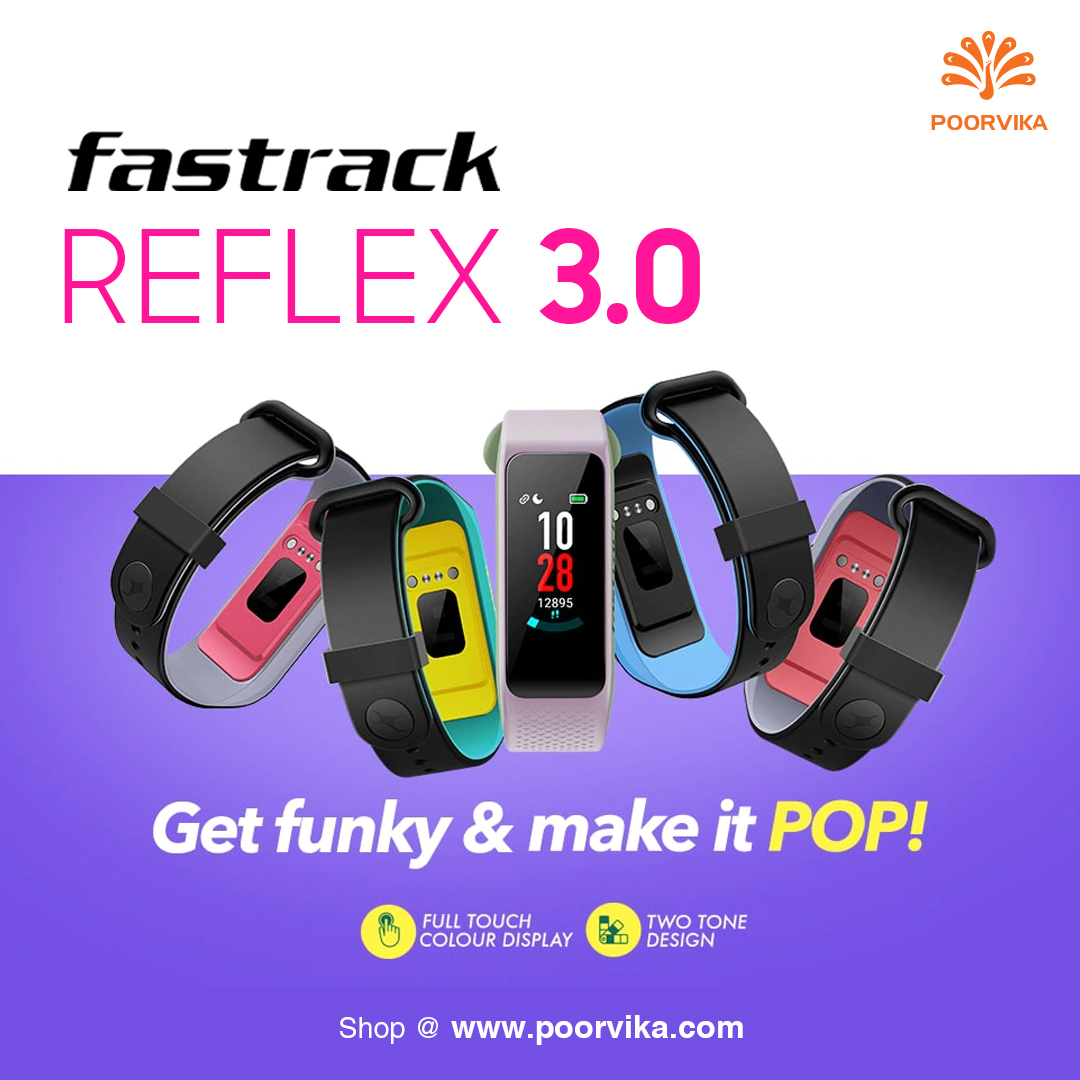 Your mirror expects you to flex your biceps and expose the curves today! Yes, Fitness is a never-ending motivation we all wake upto every day. There is always a whole new satisfaction when you measure every step you take, every calorie you burn and see if you made an improvement.
Smart Bands are the recent trend, Gen Y and Gen Z audience go for! Our famous and native brand for years, Fastrack, has never failed to inspire us with their exclusive collection of Wearables targetting the low to mid-budget category! And their entry into the Smart Wearables, Fastrack Smart Bands, has widened the options for us to pick the best one.
Reflex 2.0, the entry-level Smart Band by Fastrack, was undoubtedly the best-selling one offering maximum features at its price. Their next upgraded version, Fastrack Reflex 3.0, is out now with extra style and extra technology!
DASHING DESIGN AND DISPLAY:
Slaying with dashing design and style, Fastrack grabbed every fashionistas' attention out there with its Dual Toned Band Design. A Rounded Rectangle case with Full Touch Color Display sitting on a funky band design; it sums up all the fashion you can ask for. The stylish Band Faces on the 160*80px Resolution Display enhances vibrancy and clarity, even on a bright, sunny day.
TRACK YOUR HEALTH:
The Heart Rate Monitor with accurate high-signal sensors listens to every beat of your heart to ensure a hale, hearty and safe living. Sound sleep after a tiring day is something mandatory for your entire health! Fastrack ensures proper sleep patterns with its Sleep Tracker that tracks the quality of your sleep for a healthy lifestyle.
ACTIVITY TRACKING:
Run Fast in your tracks with the Fastrack! The 10+ Sports mode, including Running, Hiking, Walking, Yoga, Cycling, Spinning, and Elliptical on the Reflex Band 3.0, lets you stretch your body and measure every calorie you burn. Whether you're in the mood for a quick run or an intense HIIT, wrap it on your wrist and outdo yourself. Furthermore, the IP68 Water Resistance on the Smart Band resists dust and sweat, extending your extremes.
OTHER FEATURES:
Fastrack also has something for your never-ending love for music. Connect your smartphone with the 'Fastrack Reflex World' fitness app and control the music on your playlist with a tap and click better pictures with the Camera Control on the Smart Band.
Fastrack overheard you asking, 'Where's my Phone?' at least twice a day. Now, find it with the Phone Finder feature on your Smart Band. The Smart Band also alerts you when you sit idle for a longer time. As they say, a Smart Band's compatibility is the most important concern of all and this Fastrack Smart Band is compatible with Android 4.4 and above versions and also with iOS 9.0 and above versions.
BATTERY:
Refill your Smart Band for just 2 Hours and get uninterrupted usage for upto 10 days. Black/Blue and Black/Grey are the 2 colour variants available for you.
AVAILABILITY & PRICE:
The Fastrack Reflex 3.0 price in India is just Rs. 2,495. Wait no more and visit your nearby Poorvika Showroom or the Poorvika website today to buy the Fastrack Reflex 3.0 Online. Order your gadget and get it delivered to your doorstep in just 2 hours with our 2 Hour Fast Delivery option.