19 Apr 2021
What are the pros and cons of Asus' ROG Zephyrus G14?

If you are looking for a product to quench your Gaming thirst, then a gaming laptop is the best choice. As they offer top-notch performance in a very convenient manner. This blog will be explaining the pros and cons of the ASUS ROG Zephyrus G14 laptop.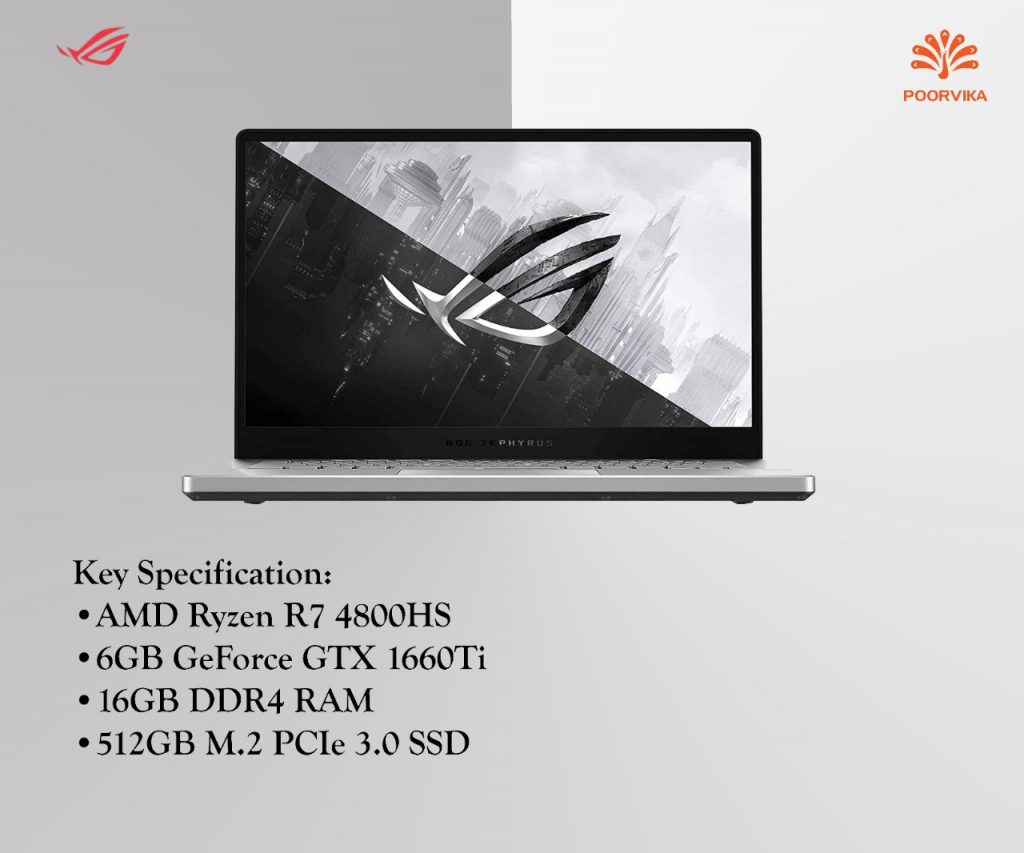 Many of us assume that Games play a vital role in ruining our kids' physical and mental health. What if we say playing Games enhances your cognitive ability? Most of you will surely disagree.
A recent study says that Surgeons who play games perform a lot better than those who don't.
Chipset of the ASUS ROG Zephyrus G14
Since we are talking about the Pros of a gaming laptop, it is essential to mention the two vital components. Under the hood, two components need to be efficient and powerful. The muscle of these two components defines the performance of a laptop.
Generally, gaming laptops do not need the raw power of the CPU because it is the role of GPU to process and render graphics.
The ASUS Zephyrus G14 laptop uses AMD Ryzen 5 4600HS CPU. It is a Hexa core processor consisting of 12 virtual threads. It has a base clock speed of 3 GHz, and by using turbo boost, it can achieve a clock speed up to 4 GHz.
TSMC uses Extreme Ultra Violet technology to manufacture this 7-nanometre chipset for AMD.
The Ryzen 5 4600HS chipset offers two times better performance than the previous generation processors. The CPU has a total score of 8934 points in the Cinebench R23 Multi-Core benchmark test.
Gaming laptops are born to offer top-notch gaming performance. And to meet this demand, the laptop must have a very robust GPU. Only then the system will be able to run intensive games smoothly.
TSMC manufactures NVIDIA GeForce 1650Ti Graphic card using 12 nanometre lithography and Turing Shaders architecture. It is the most powerful and efficient GPU architecture NIVIDIA has made to this day.
Pros of ASUS ROG Zephyrus G14
In this section, we will be mentioning about pros of the Zephyrus G14 laptop.
Since this is a gaming laptop, you will expect an outstanding gaming performance, and hence, the manufacturer will primarily focus on the graphics card.
Graphics Card of ASUS ROG Zephyrus G14
In addition to a sturdy graphics card, a gaming laptop must have a good display and keyboard as gaming requires attractive visuals that please our eyes.
While playing graphically intensive games like The Witcher 3: Wild Hunt and PES 2021, the GPU utilization of the Zephyrus G14 was constantly hitting above 90 per cent. Even then, the laptop didn't get heated up.
On average, the laptop was able to deliver around 70 frames per second. Even while playing games continuously, the laptop didn't droop.
The noise of fans under the hood of the Zephyrus G14 is audible but not loud. The Zephyrus G14 is a live example of packing a monster inside the 14-inch magnesium aluminium alloy chassis.
ASUS deserves appreciation for manufacturing a gaming laptop that weighs just 1.60 Kilograms. The CPU performance of the Zephyrus G14 is awe-inspiring. We were able to render a 10 minute 4K video in just 6 minutes.
The 14 inches Full HD display Anti-glare IPS display with 120Hz refresh rate supports a screen resolution of 1920 x 1080 Pixels with 100 per cent SRGB certification.
Presently the colour accuracy of products like Digital Camera and Printers are determined using SRGB colour gamut.
Additional Features of ASUS ROG
Though the AniMe Matrix of the ASUS Zephyrus G14 is not groundbreaking, it is pretty interesting while using the laptop.
The ergo lift hinges slightly raise the keyboard from the surface level, which is very comfortable to view contents on the screen.
Keyboard & Battery Life
Audio output from the 2.5W speakers and 0.7 Watt tweeters is crisp, and the highs were clear. Even while listening to heavy metal songs at maximum volume, there was no kind of distortion. Hence the equalizer settings of Dolby Atmos lets you customize music according to your taste.
There are also separate buttons for volume control, muting the audio and a button called ROG Armoury Crate, which allows modifying default settings of CPU, GPU and cooling fan.
The battery life of gaming laptops has never been good. But the Zephyrus G14 seems an exception. It has a 76 Watt Hour, 4S1P, 4-cell Li-ion battery with enough charge to keep the laptop alive for more than 11 hours of normal usage.
Despite playing games continuously, the laptop was able to last for 6 hours.
Cons of the Zephyrus G14
The laptop doesn't have an inbuilt web camera which is very disappointing. Since laptops lack a vital component, we cannot wholeheartedly affirm that laptops are an impeccable product.
But still, Zephyrus G14 is one of the best gaming laptops currently available in the market. Please don't fail to read our blog about ASUS ROG Zephyrus G14 R5 Laptop.
Verdict
The laptop is for people who wish to Game on the Go! The actual price of the laptop is Rs.123,990. But you can buy it for just 90,990 from our website Poorvika.
Avail our 2 hour delivery service to get Zephyrus G14 instantly to your doorstep.