20 Apr 2021
Amazfit Bip U Pro Smartwatch with Alexa Built-in launched!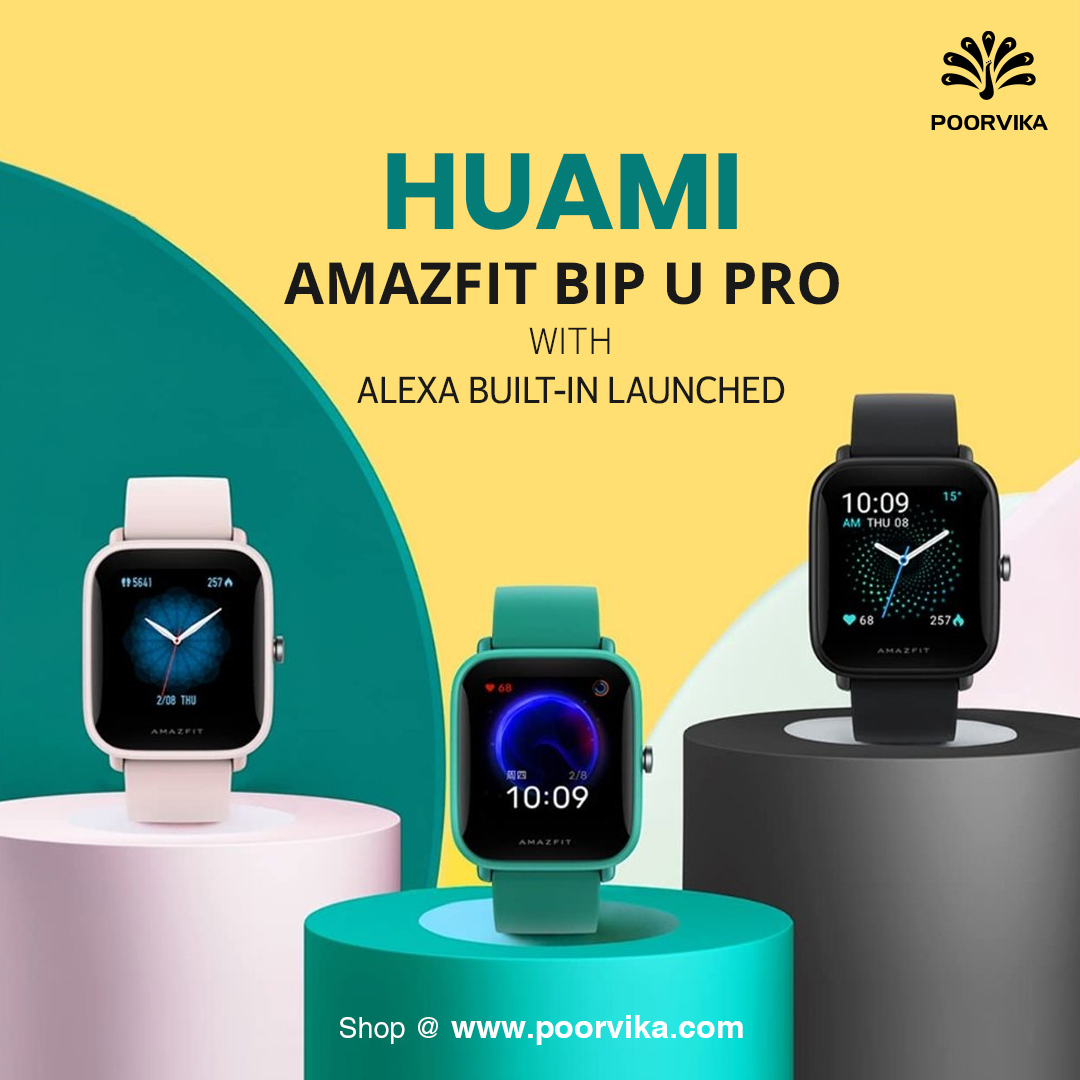 If there was one brand known for budget smartwatches with features that can rival the likes of the big boys on the playground of wearable tech, that would be Huami. Their latest drop on the market, the Amazfit Bip U Pro, is a device capable of giving you the best of features at just a fraction of the price.
DESIGN AND DISPLAY:
The Huami Amazfit Bip U Pro comes with a 1.43 Inch Color display boasting a screen resolution of 320x302pixels. The colour vibrancy in the watch is excellent; its large screen size makes sure it displays all the information on your device very clearly. The screen brightness is also high, allowing for visibility even under strong lighting conditions.
The outside of the watch is made out of high-grade plastic that has quite a premium hand-feel. The device may have a slim silhouette but is very sturdy and light. The surprise, however, is in its weight, an ultra-light 31g. You wouldn't even feel it while wearing it, making it ideal for times you plan to have an intensive workout session.
The display is customizable, with over 50 watch faces designed to suit any mood or occasion. What's more? It even supports animated watch faces making it more eye-catching. When Huami mentions customization, they really mean it.
The brand provides the option to pick and highlight the information that is important to you on display, such as time, heart rate, weather. It also has interchangeable straps that allow you to change straps as you please.
The interface is pretty good, with the watch having various gestures to access different features. We can access the notifications by just swiping upwards on the watch while swiping down opens up the shortcut draw. Swiping left and right on the screen helps access the other applications such as the PAI system.
ACTIVITY TRACKING:
Apart from the number of customizable options, the Amazfit Bip U Pro also comes with more than 60 sports modes and GPS making it a dream device for the avid sports enthusiast. The Bip U tracks your exercise data to help you work out at a higher level by checking your walking distance, speed, heart rate changes, calories burned, and many other aspects.
HEALTH TRACKING:
It even tracks activities based on your heart rate, such as whether you are exercising in your fat-burning zone or cardiopulmonary strengthening zone; and providing instant alerts when your heart rate gets too high.
Blood Oxygen level monitors are incredibly vital, especially during the pandemic. The Amazfit Bip U Pro comes with biological optical tracking sensors, the BioTracker 2. Be it Cross Fit or intensive workouts, no matter whatever activity you are involved in, you can easily measure your blood oxygen levels
SLEEP MONITORING:
The device can even track your sleep and monitor your sleep cycles, including REM, Light sleep, waking times and even your afternoon naps. All this data is collected by the device and compiled into detailed reports that get displayed on the screen to give you a better idea of your overall health and sleeping patterns.
The Amazfit Bip U Pro has a PAI system that uses algorithms to transform complex information such as heart rate data, activity duration, and other health data. It presents this data to users in numerical values. We cannot limit the PAI's functionality to the time, place, or exercise. In addition to this, based on each user's unique health data, it creates a customized health evaluation system, offering everyone a unique experience.
Stress is something that comes across in everyone's lives, and we are more likely to miss out on ways to deal with it or take the time to de-stress. The Bip U Pro has you covered here, as well as its algorithm calculates and assesses data to detect signs of stress in your body while providing you tips on breathing exercises to help balance your stress levels for a much healthier lifestyle.
We can see Huami's attention to detail in heath monitoring as the Bip U Pro also has a Menstrual cycle tracker that allows women to track their ovulation cycles with alerts and notifications. It is an excellent feature as it helps women keep a detailed record of their cycles, allowing them to check for abnormalities while also planning ahead and not getting caught off guard.
The device has another little surprise that comes in the form of Alexa inbuilt. You can set everything from alarms to reminders and even check the weather with voice commands as the device has an inbuilt mic. Controlling your Smart Home devices and more is easy with the help of the device, giving you absolute remote freedom.
BATTERY LIFE:
The battery life of the Bip U Pro is outstanding, as they mention it to be. It has up to 5 days of battery life with heavy usage but can last up to 9 days with typical use. Overall, the watch is the perfect value for money with loads of features and sensors at just a fraction of the price.
AVAILABILITY & PRICE:
You can get the Huami Amazfit Bip U Pro right here on the Official Poorvika website. Check out our extensive range of smart devices and other products, along with loads of cashback offers and discounts that have been curated to fit your budget and needs.
The Huami Amazfit Bip U Pro price in India is Rs.4,999. We even have an amazing 2 hours delivery system in place to have your device delivered to your doorstep. Happy Shopping
To explore the other Amazfit Bip Smartwatches, read our blog here – Latest Huami Amazfit Bip Smartwatches under Rs 5000 – Full Features and Price