20 Apr 2021
iPhone – The Best Gaming Mobile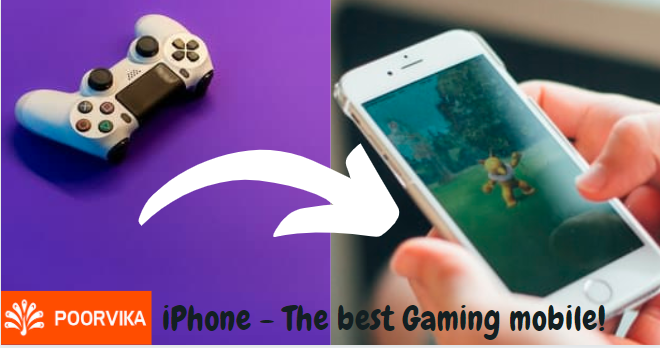 We are now living in the Gaming era, an era where manufacturers design the best gaming mobiles and laptops.
Apple is a premium brand that considers all kinds of users. Whether you are a photographer, gamer or a business person, Apple never fails to impress you with its unique features that meet your requirements.
The specifications and the features of the iPhone are such that even a Professional gamer would fail to believe that Apple did not design the iPhone specifically for gaming.
So, which iPhone is the best gaming mobile?
Right now, three iPhones models are suitable for gaming.
the iPhone 11; iPhone 12 Pro and the iPhone 12 Pro Max
What makes iPhone 11, the best gaming mobile?
Processor:
The iPhone 11 comes with an A13 Bionic Chip that is equipped with an AI engine and advanced neural engines. The Dual-cluster Hexa-core CPU and the Quad-core GPU, designed by Apple, provides an ultra-smooth and rich gaming experience. Since the CPU comes with four efficient cores, it possesses a better battery life which is also a prerequisite for the best gaming mobile.
Display:
A phone with a large display will most definitely be comfortable to play games, and iPhone 11, with its 6.1″ Liquid Retina Display, makes gaming a pleasure.
Battery:
Who wouldn't get irritated when the mobile gets switched off due to lack of power during the game's crucial moment?
Apple provided the answer to this much-required need by developing a highly efficient mobile battery for an improved gaming experience.
It has a long-standing battery life of up to 8 hours and 29 minutes, which come as a boon for a professional gamer and other gaming freaks.
Now you can keep the game going without disruptions!
Storage:
A phone that possesses at least a 64GB storage option will provide a better user experience while gaming.
Ample mobile storage and disk space are directly proportional to mobile performance as lack of storage will not permit the phone's software to perform at its maximum capacity.
Having understood this, the iPhone 11 comes with three different storage variants: 64GB, 128GB and 256GB, with 4GB of RAM ensuring a gaming performance without any lag.
Price:
The price of the iPhone 11 in India is around Rs.59,900. Whereas, at Poorvika, we are providing it at a 1000 INR discount – Rs.58,900/-
The iPhone 12 Pro and the 12 Pro Max:
The recently launched premium model of mobiles from the iPhone 12 series – the iPhone 12 Pro and the Pro Max also suit gaming.
Let us check out its upgraded specifications and functionalities in detail.
Processor:
The processor is like the brain of a mobile. Only with the upgraded and up to date processor can the mobile can function to its utmost capacity.
One of the main reasons that make these two mobiles the best for gaming is their powerful A14 Bionic Chip. The A14 Bionic chip can handle around 11 Trillion Operations per second, making it the fastest performing System-on-chip in the market.
It has a 6-core CPU that is 50% faster and a 4-core GPU that enables a tranquil gaming experience than any other smartphone out there.
Display:
Gaming gets better with a large display.
The iPhone 12 Pro has a 6.1″ Super Retina XDR Display, while the iPhone 12 Pro Max comes with a much larger 6.7″ Super Retina XDR Display.
There is no difference in the display feature of these two mobiles other than the size, as the display technology between the iPhone 12 series's mobiles is no different.
One significant advantage of choosing the Pro Max over the iPhone 12 Max is the wider screen due to its larger display size.
It would be refreshing to game on a larger screen than on a small, itsy-bitsy display.
So preferring the 12 Pro Max over the 12 Pro has got its advantages!
Battery:
There is a difference in the battery capacity of both mobiles.
The iPhone 12 Pro Max has a 3,687mAh battery, whereas the iPhone 12 Pro comes with a slightly smaller 2,815mAh battery.
As a result of this difference, the iPhone 12 Pro Max can keep going for 11 hours on a single charge, while the 12 Pro can do the same for around 9 hours.
Though 9 hours of battery is not exactly less for its performance, the difference of two hours in battery life between both the models is something to be considered.
Also Read: Will iPhone 12 be the best Apple phone?
Storage:
Both iPhone 12 Pro and the 12 Pro Max offer three different storage variants: 128GB, 256GB, and 512GB.
Since these mobiles come with a broader range of storage options, they will support the overall mobile gaming experience positively.
Also, any sort of lag in gaming performance is out of the question due to its comprehensive 6GB RAM option.
With the above features and specifications in mind, the iPhone 12 Pro Max would be a better gaming mobile, though both these models are top-notch. The Display size and extensive battery life keep it going!
Price:
The price of the iPhone 12 Pro in India is around is Rs. 1,19,900/-
However, at Poorvika, it is just Rs. 1,18,900/- You can save around Rs.1000/- by purchasing it online from our official website.
Likewise, the price of the iPhone 12 Pro Max in India is around Rs. 1,29,900/- However, at Poorvika, it is just Rs. 1,28,490/- You save around Rs.1,450 by purchasing it online at Poorvika.
Best gaming mobile – Access to best games:
Hardcore gamer or a casual gamer, it makes no difference, as the Appstore offers you all types of games.
The expert team at Apple personally handpicks the Apps and games on the Appstore, and hence most of the best Gaming Apps reside in Appstore.
With that being said, iPhones are your go-to option to get the best games from the world's best game developers.
Conclusion:
All of the discussed iPhone models are best for gaming, and if performance is what your need, then look no further.
Personally, we would recommend you to go for the iPhone 12 Pro Max due to its larger display size and better battery life. However, it all boils down to a matter of personal preference.
You can get any of these three iPhones from the official Poorvika website.
Why should you get them from Poorvika?
Well, there are many reasons that make it the one-stop-shop for all your tech needs:
By ordering these devices from Poorvika, you will get the products at a discounted price.
You will get these products delivered fast by opting for our 2 hour delivery option.
There are tonnes of offers available for these products.
The extensive range of products we have is sure to keep you in awe and so much more.
So, what are you waiting for? Log on to Poorvika's official website and place your orders without any delay.