20 Apr 2021
Lenovo Yoga Slim 7 Ryzen R7 4800U Windows 10 Home Laptop 82A2008VIN Everything you need to know!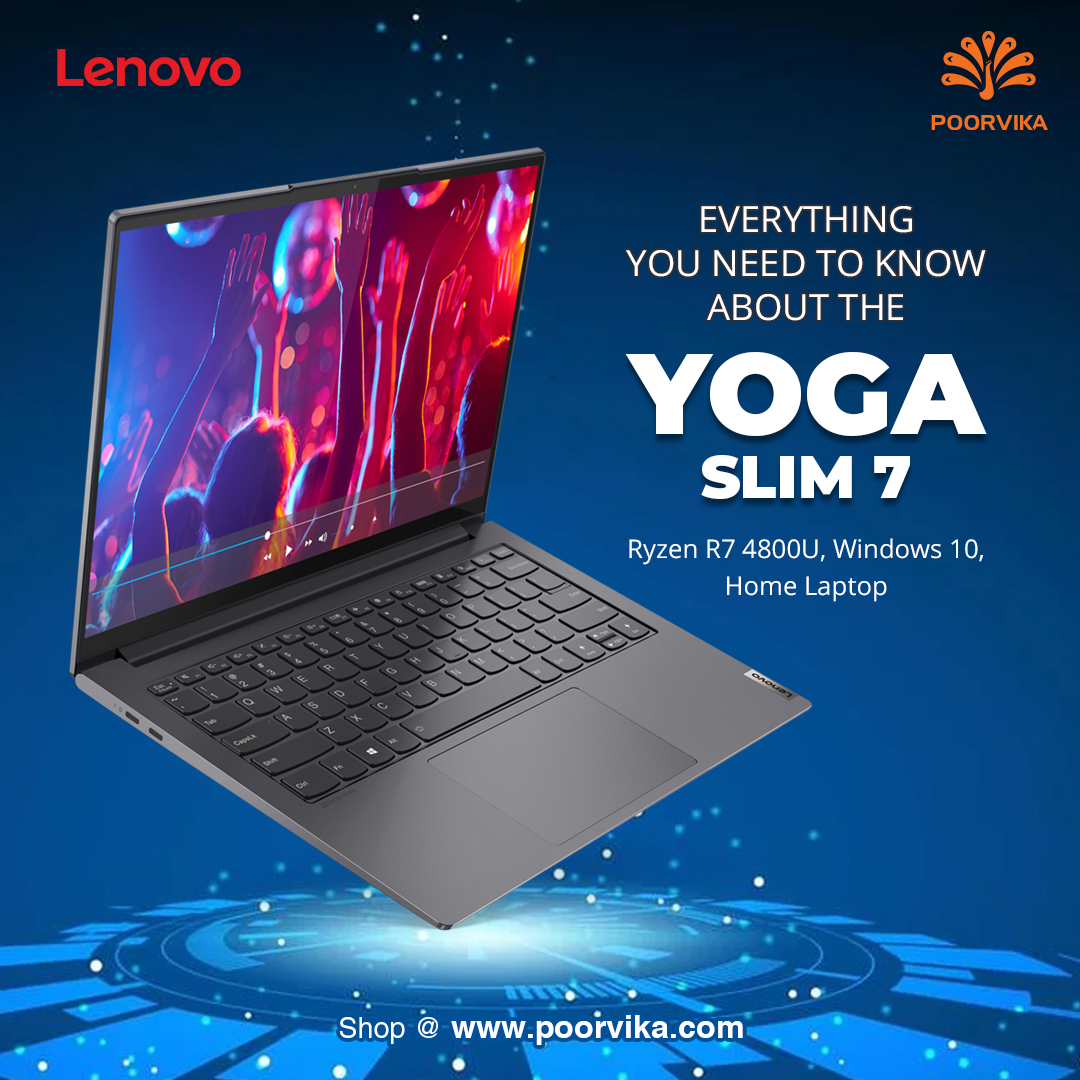 Despite tough competition, it seems like nothing is there to bring down the sceptre of Lenovo. Because Lenovo is known for industry leading innovation and outstanding quality. Commitment of Research & Development, Engineers working at Lenovo has brought them to this level. From humble beginning to 20 percent of global PC sales, Lenovo has come a long way. This blog will be discussing about Lenovo Yoga Slim 7 laptop.
Chipset of Lenovo Yoga Slim
Since the role of chipset is inevitable, we can safely affirm that chipset is the most important component of a laptop.
The motherboard of Lenovo Yoga Slim laptop hosts AMD Ryzen R7 4800U processor. It is a monster which is born to handle all kind of intensive tasks and applications. The Hyperthreading support allows each physical core of the laptop, to do two things simultaneously. It also helps user to increase their productivity to a great extent.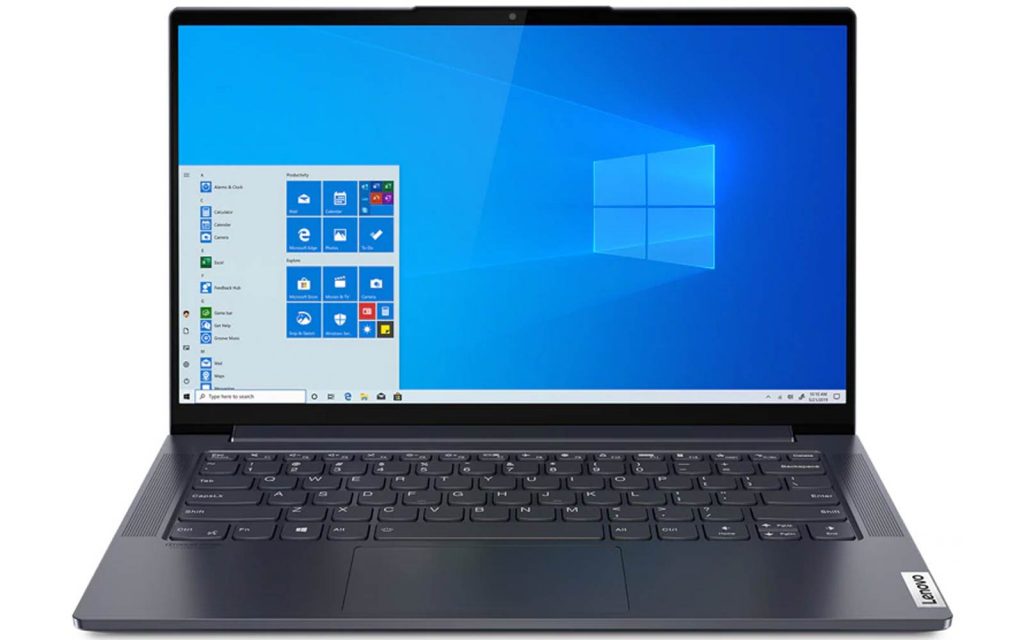 For a long period AMD could not compete with industry leader Intel because of their feeble microarchitecture. But after introducing Zen microarchitecture AMD began to grow like never before.
Because Zen microarchitecture took all the responsibility in its shoulder. And the performance of AMD chipsets got better only because of Zen microarchitecture. In addition to microarchitecture, Extreme Ultra Violet manufacturing process of TSMC brought AMD back to the game.
The Ryzen R7 4800U chipset has a base clock speed of 1.80GHz and using turbo boost, the processor has the ability to reach up to 3.20GHz.
This kind of speed can be explicitly seen in both benchmark tests and real life too. In Cinebench R23 Multi Core benchmark test, the processor has a total score of 10156 points.
It does an exceptionally good job in real life too. While opening tons of tabs on Google Chrome, the CPU utilization did not go beyond 11 percent. Raw processing power of Ryzen R7 4800U is very commendable.
You can feel it especially while working on pretty heavy applications like Photoshop. Regardless of the file size, the Ryzen R7 processor will make the Lenovo yoga slim laptop work like a charm.
Lenovo's decision to use Ryzen R7 48000U chipset makes Yoga Slim one of the fastest laptops available in the market.
Graphic Card
It is the responsibility of Graphics card to process and render graphics. If a laptop has a robust GPU, it will allow user to run graphically intensive games without any kind of frame drops or stutters.
Not just gaming, role of GPU is very vital while user is working on Adobe applications. This is why we will recommend customer to look for the graphic card before buying a laptop.
Motherboard of the Lenovo Yoga Slim laptop consists of AMD Radeon Graphics card. It is definitely not as powerful as Dedicated Graphics card. But still, the processing power of AMD Radeon is very impressive. It was able to run graphically intensive games in low settings without struggling even a bit.
Memory of Lenovo Yoga Slim
In computing, memory is a wide term because it involves two major components of a laptop. And the two components belong to different categories. First category is Non-Volatile memory. RAM is the Non-Volatile memory of a laptop because data stored inside the memory module of RAM will get deleted after user turns off the laptop.
The 8GB LPDDR4X RAM of Lenovo Yoga Slim operates at 4266MHz hence user need not worry about laptop slowing down while using many applications at the same time.
The Yoga Slim laptop has a 512GB M.2 Solid State Drive. Since SSD do not have any kind of moving parts, it can work at blazing speeds. Be it read, write or transferring massive amount of data. The Yoga slim laptop can devour any kind of task effortlessly.
Display & Keyboard of Lenovo Yoga Slim
Here it is, Display and Keyboard play a pivotal role in refining user experience. Because it is through these two components, user will be assigning commands to the laptop. So if a laptop has a display with poor colour gamut. It cannot deliver pleasing visual experience. And mushy keyboard is more than enough to ruin the entire user experience.
Lenovo Yoga comes with a Full HD Anti-glare display with a supporting screen resolution of 1920 x 1080 Pixels. And the images look super sharp, thus watching any kind of content on the display of Yoga slim will be a visual treat to your eyes.
It also has 100 percent SRGB certification hence you need not worry about the colour reproduction. 100 SRGB is not a marketing term, it simply means the display is capable of producing real life colors. Since Yoga Slim has a taller aspect ratio, the laptop displays more content than regular 14 inch laptops with 16:9 aspect ratio.
Round shaped keys on the full size keyboard of Lenovo Yoga Slim laptop are spacious and responsive. Since the key travel is not deep, user need not apply much pressure while using this keyboard. And the overall touch and feel of the keyboard is phenomenal.
Build
Its plastic body may not be the best in town but the matte finish is definitely addictive and luring. Hinges of the laptop are pretty strong and there was no kind of creaking noise even after frequently opening the lid of the laptop. Slight bump on the front side of the laptop's lid allows user to open the laptop using one finger alone.
Ports
For connectivity the laptop has an array of ports which includes a 1 x USB 3.2 Gen 1, 1 x USB 3.2 Gen 1, 1 x USB-C, 1 x USB-C 3.2 Gen 2, A 3.5mm headphone jack with microphone support. All these ports must be sufficient for most of the people out there. However lack of a HDMI port can be annoying but it isn't worth complaining.
Battery
Now comes the powerhouse of Lenovo Yoga Slim, under the hood it has a 60.7 Watt hour 4- cell battery. The battery has enough charge to make the laptop stay on its feet for 11 hours before it runs out of steam.
Buy Lenovo Yoga Slim 7 Ryzen R7 laptop for just Rs.74,490 from our website Poorvika. Don't forget to opt for our 2 hour delivery service to get the laptop instantly to your doorstep.