24 Apr 2021
iPhone 12 & 12 Mini – Purple Edition: Pre-Book now!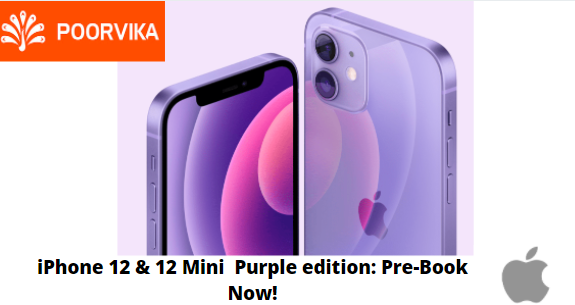 Yes, undoubtedly, Apple is all about innovation and up-gradation.
But the catch here is, Apple doesn't only improve its products on the technical front but also in the sense of fashion! That is why the iPhone 12 purple edition is introduced!
As we always say, Apple tries hard to understand the needs and requirements of their users, and as always, they never fail to astonish us by precisely incorporating their users wishes into their devices!
One such improvisation is introducing its latest iPhone 12 and 12 Mini in purple colour.
The mobile comes with the exact technical specifications as earlier, except that the purple edition comes with updated software!
The advanced Dual camera setup, the expansive edge-to-edge Super Retina XDR Display, Ceramic Shield front cover, the most powerful A14 Bionic Chip… Yes, it is all the same. The upgraded specification here is the iPhone 12 and 12 Mini now comes with the latest iOS 14.5!
All these power-packed technologies come in stunning Purple colour!
Design:

The stunning purple finish of the iPhone beautifully complements the sophisticated flat-edge design and precision-milled rear glass.
Apple has designed both the mobiles similarly, so you will not find much difference in its design.
Though the Mini is the smallest 5G smartphone globally, it completely packs every technology that the iPhone 12 possesses.
The Mini model is ultimately a beast for its size.
These Apple iPhone models come with a sleek, flat-edge design with an aerospace-grade aluminium enclosure.
Overall, the entire build of the mobile looks very trendy, especially in the newly launched purple colour.
Display size:
There is, however, a difference between both mobiles.
As the name suggests, the iPhone 12 Mini has a 5.4″ compact display, while the iPhone 12 comes with a 6.1″ widescreen larger display.
Apple has a separate fan base for its compact model mobiles. If you are one among them, then this compact purple coloured device might interest you.
If you prefer having a mobile with a broader display, then the iPhone 12 Purple edition is invariably the best for you!
The ceramic shield display protects the mobile from unforeseen drops and accidental slips.
Water, Splash and dust resistance:
Apple has equipped both the iPhones' with an industry-leading IP68 rating for water resistance for up to 6 meters for 30 minutes. It also protects the device from accidental spills like water, tea or coffee.
So, worry not and get going with your device.
Have that coffee!
Take that much-needed swimming break!
Nothing can stand in your way, as your device will stay protected from the one thing that can scare any gadget lover… water damage.
Processor:
The A14 Bionic chip acts as a brain for the whole iPhone 12 series, and its the reason you can't see any difference in performance between the iPhone 12 and the iPhone 12 Mini.
The A14 bionic, being the fastest chip to date, performs nearly 11 Trillion operations per second. It drastically improves the smartphone's overall performance by enhancing the speed of CPU and GPU, thereby enabling a console-quality gaming experience, powerful photography capabilities, and excellent battery life.
iOS 14.5:
The iPhone 12 and 12 Mini's Purple edition features iOS 14.5, the latest version of iOS to date.
This version of iOS allows you to unlock your mobile even while wearing your face mask.
It has enhanced the Apple Podcasts app to a greater extent and re-designed the show, episode page and search tab.
iOS 14.5 has updated Siri, as it doesn't come with its default voice and will include other diverse language options.
Camera:
Both the phone's share the same camera specifications.
They have a dual-camera system, bringing an unparalleled camera experience that makes you go "WOW" with the output it produces.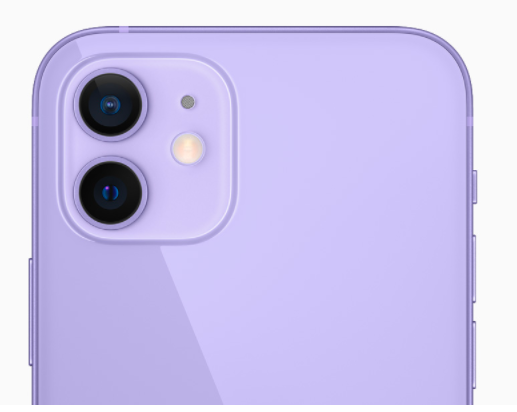 It features an Ultra-wide and a Wide camera with an f/1.6 aperture that provides 27% more light for fantastic low-light photos and videos.
The camera comes with different filters and modes, out of which Night Mode takes the limelight.
Other features include Smart HDR 3, Deep Fusion Photos, True Depth, Deep Fusion modes, etc.,
There is no doubt that its advanced camera functions and the features will make your heart go "Pitter-Patter"
Also Read: iPhone 12 vs iPhone 12 Mini
5G Experience:
Both the models support a 5G connection, thereby providing a seamless integration of both hardware and software. This feature paves the way for improved upload and download speeds for high-quality video streaming, gaming and other downloads.
Rest assured, you will enjoy a fast and secure connection allowing for uninterrupted face-timing (video call) with your loved ones.
New Accessories:
Wireless Charger:
MagSafe commits itself to provide an improved wireless charging experience. It can efficiently charge your iPhone and Apple watch as it discharges up to 15W power.
It provides two products to achieve this commitment:
MagSafe wireless charger and Duo Charger
MagSafe features an array of magnets around the wireless charging coil that perfectly connects the mobile to the charging puck for efficient charging.
Other Accessories:
MagSafe also provides protective cases for the iPhone in the following materials:
Silicon,
Leather and
Clear Cases.
It also provides a leather sleeve and leather accessories, which you can stick on the back of your mobile case, allowing you to store money or your debit and credit cards for easy access.
Storage:
The purple edition of iPhone 12 and 12 Mini is available in 64GB, 128GB and 256GB variants.
Price:
The price of the iPhone 12 Mini (Purple edition) in India is Rs.69,900/- and the iPhone 12 (Purple edition) costs around 79,900/-
You can Pre-book the purple edition from Friday, 23rd April, and it will be available from April 30, 2021.
Pre-book the all-new Purple edition mobile from Poorvika and get the product with exciting cash backs, offers and easy EMI options.
Also, make use of Poorvika's 2-hour delivery option and get the products delivered straight to your doorsteps with next to no delay.