26 Apr 2021
LG Tone Free True Wireless Earbuds: Review and Features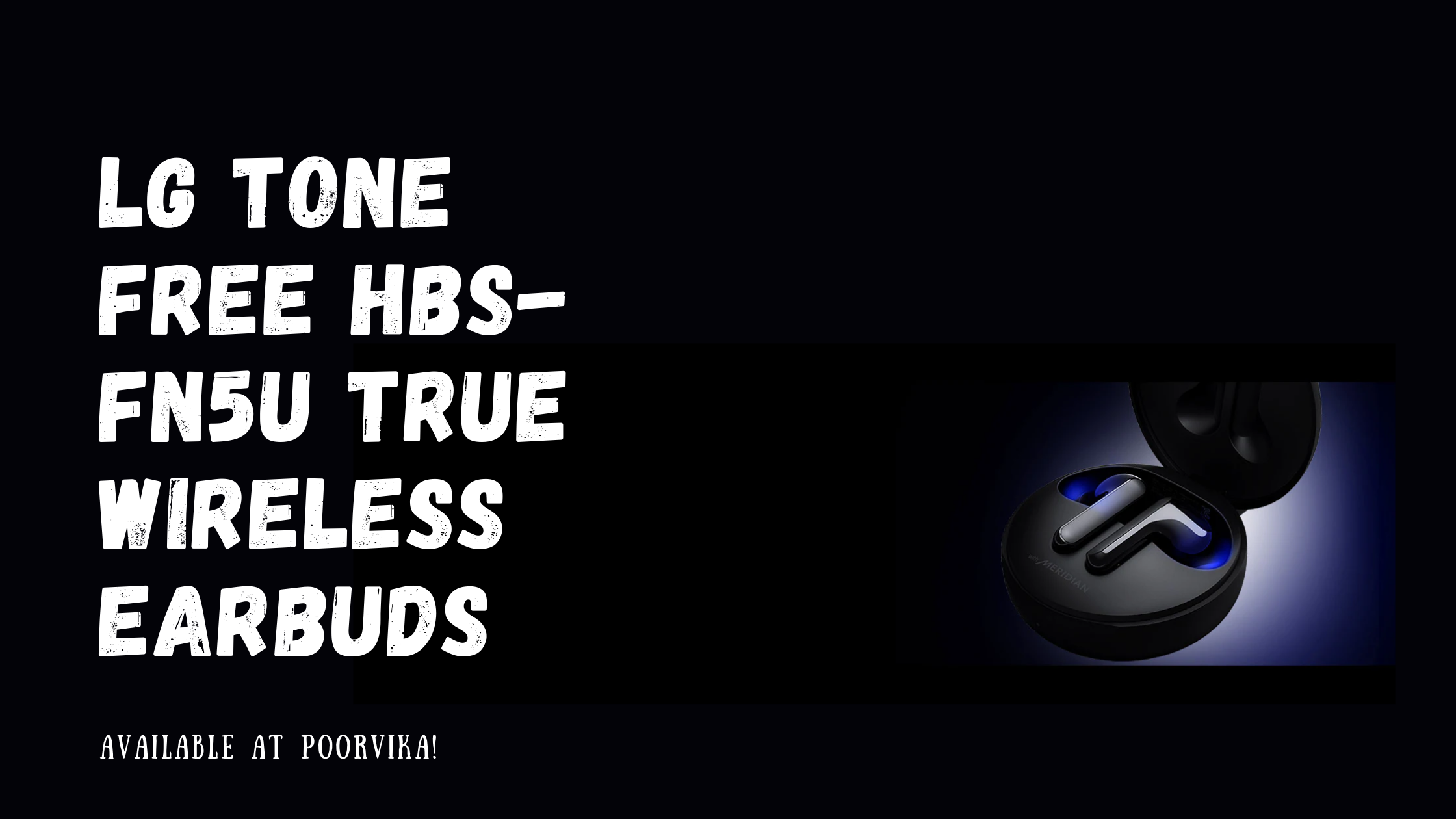 Are you someone who uses earbuds every single day but rarely clean them?
If yes, then this blog is for you. Yeah! Uncleaned earbuds sound muffled as it is jam-packed with earwax and other dust particles. Like any other smart device, it is essential to keep your earbuds clean as they collect dirt, dust, and bacteria that regularly grows on unclean earbuds. That ultimately leads to infection in the ear canal.
Even though we know about all this, our time and workload do not permit us to clean our earbuds regularly. However, the South Korean Giant LG understands our struggle and introduced India's first Bacteria free earbuds, the LG TONE Free HBS-FN5U True Wireless Earbuds. They introduced these earbuds for you to maintain your personal hygiene as well as to enjoy your music uninterrupted.
ABOUT LG:

LG Electronics was established in South Korea in 1958 under Goldstar's brand name, and since then, LG has been leading the advanced digital era by producing relevant products for their customers. LG Electronics has manufactured many new technologies, like digital TVs and mobile devices in the 21st century to keep with the trend. They are now on a path to advancement to reinforce their status as a global company.
HOW CLEAN ARE YOUR EARBUDS?

The CNET states that an earbud can shelter around 119,186 colony-forming bacteria units. It is actually 2,700 times the bacteria than a regular cutting board from our kitchen; this leads to in-ear infection or any other serious illness. LG understood the need for safe and healthy options and introduced these Bacteria free earbuds at an affordable price.
INDIA'S 1ST BACTERIA FREE EARBUDS: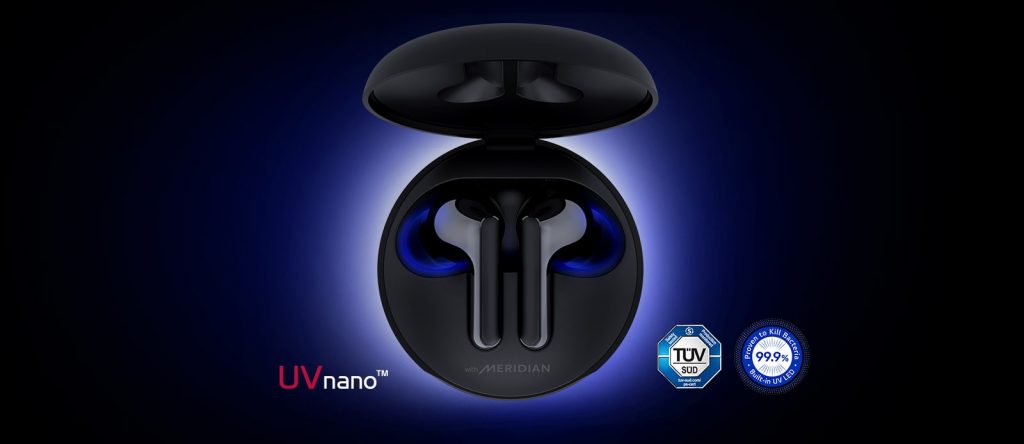 Yeah! the LG TONE Free HBS-FN5U True Wireless Earbuds are India's 1st 99.9% Bacteria free TWS headphone. All you have to do is, charge your earbuds in the chargting case, and when they are in the charging mode, the UVC flashlight kills up to 99.9% of bacteria. It is a brilliant and much-needed innovation, especially these days when everyone is more concerned about personal hygiene.
BACTERIA-FREE COMPACT CASE:
This innovative UVnano charging case conveniently stores your earbuds fresh for everyday wear. LG's Ultra Violet UVnano technology is the first technology to receive UL verification for bacteria reduction.
Independent testing also confirms that the UVnano charging case kills 99.9% of Escherichia coli and Staphylococcus aureus bacteria on the speaker web of the earbuds in just ten minutes while charging.
HYGIENIC EARBUDS:
To ensure your safety from bacterial infections, LG created non-toxic, hypoallergenic silicone earbuds. These silicone earbuds protect your ears from bacteria and safeguard your personal hygiene.

ADJUSTABLE FIT TO MAXIMIZE YOUR COMFORT:
This headphone comes with a new adjustable fit to maximize Active Noise Cancellation (ANC), cancelling out unnecessary noises in your environment. The LG TONE Free FN7 ear gels come with a new spiral design that provides convenience and delivers the best Active Noise Cancellation in the Market.
This unique construction in these LG Earbuds gives even pressure distribution, letting them accommodate all ear shapes and drown out any extra noise entirely. So, get ready to get an immersive listening experience.
Get ready to experience Clear and Spatial Sound with the LG TONE Free HBS-FN5U True Wireless earbuds.
PRESTIGIOUS BRITISH AUDIO:
If you are a fan of Britain based products, then these earbuds are for you. The Meridian is a British company crafted by John Robert (Bob) Stuart and Allen Boothroyd in 1977. They were made with the sole intention to provide innovative, classy, and high-performing audio solutions.

Meridian is also a leading authority for Digital Signal Processing (DSP) that transforms your lifestyle by providing hi-fi audio at its best.
You no longer have to suffer through distracting distortions and random noises. The Hi-Res Audio produces the best possible listening experience.
When you listen to High-Resolution Audio, you get to explore songs from many genres, hear every single note and experience every tiny part of your beloved artist's original studio performance.
LG TONE FREE HBS-FN5U TRUE WIRELESS EARBUDS WITH SPATIAL PROCESSING:
Meridian's Headphone Spatial Processing (HSP) is the backbone for these earbuds. It connects the left and right channels to create realistic sounds.
Even though it is a compact-sized headphone, these earbuds simulate the best audio with the help of accurate loudspeakers.
THUNDERING BASS IS AVAILABLE IN LG TONE FREE HBS-FN5U TRUE WIRELESS EARBUDS:

The earbuds were engineered and re-engineered to deliver Thundering bass. This ultra-enhanced headphone produces thundering beats that get you on the dance floor.
The in-built 6mm custom driver lets you experience authentic Meridian sound. This powerful compact unit gives you clear-cut audio for you to enjoy your music without interruptions.
ACTIVE NOISE CANCELLATION FEATURE:
This hygienic headphone comes with an excellent LG TONE Free FN7 ear gels Active Noise Cancellation(ANC). LG engineered this headphone in a way that reduces high-frequency noises and blocks out hustling street noises so you can enjoy your personal private concert wherever you go.
NOISE ISOLATION FEATURE IS AVAILABLE IN LG TONE FREE HBS-FN5U TRUE WIRELESS EARBUDS:
The close in-ear fit provides an exceptional seal that helps you bar out external noise while you are in a bustling cafe, a boisterous workspace, or a crowded bus.
AMBIENT SOUND MODE:
This mode allows you to listen to your outside environment based on your requirements. Just a single tap on your earbuds makes you entirely aware of your surroundings. This mode ​will be beneficial if you want to have a quick chat, pick up an announcement on the train, or cross a road and then you can go right back to your own world. It's a helpful feature and a safer way to enjoy music.
HOOKS YOU INTO YOUR FAVOURITE GAME:

LG TONE Free FN7 TWS delivers sound with little to no delay. It provides a fantastic gaming experience, and you also get to play or stream your favourite video seamlessly.
This headphone's design is really sleek. LG engineered this headphone to fit snugly inside your ears with head-centred weight distribution that supports them to stay snug and secure. It is incredibly comfortable to wear. You can get these earbuds in Stylish Black and Modern White colours.
MANUFACTURING WARRANTY FOR THE LG TONE FREE HBS-FN5U TRUE WIRELESS EARBUDS:

The LG Tone Free HBS-FN5U True Wireless earbuds come with 1 Year of Manufacturing Warranty. There would be no need for you to worry about your headphone, as the manufacturer got your Boat Rockerz 238 Bluetooth Headset covered.
PRICE OF THE LG TONE FREE HBS-FN5U TRUE WIRELESS EARBUDS:

Click this link to know the LG Tone Free Price in India.
Order the all-new LG TONE Free HBS-FN5U True Wireless earbuds from Poorvika to get exciting cashback, offers, and EasyEMI benefits.
Also, make use of Poorvika 2 hour delivery option and get the TWS delivered straight to your doorsteps with next to no delay.

Click here to check out my other blogs to stay on top of Upcoming Smartphones, Earphones, and many more gadgets. Get the latest Tech News and Updates, all in one go!