27 Apr 2021
Apple AirTags: Pre-book now!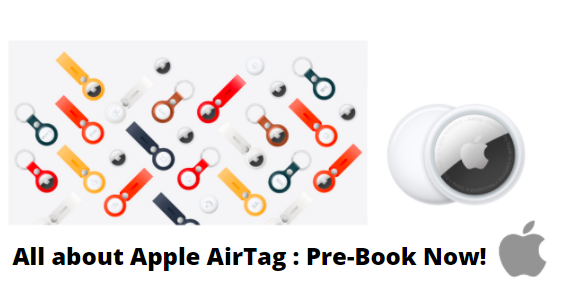 Are you someone who loses things on the go?
Or, are you used to misplacing your valuables?
Whatever be the case, you need not worry anymore!
Apple has the solution for you and is called an "AirTag".
After a long wait and many rumours, Apple finally unveiled the Apple AirTags in April 2021.
Well, what is this AirTag? What are its uses?
What exactly is Apple AirTag?
You no longer need to worry about losing or misplacing things as the AirTags has come to your rescue.
All you need to do is attach the AirTag to the things you generally misplace or lose, like your keys, handbags or wallets.
The AirTag keeps tracking your stuff, and once you lose it, you can find that item through your "Find My" app!
Finding your lost belongings has become this simple now! Thanks to this technology!!
AirTag Design:
It is a small, round-shaped tracking device with the Apple logo on the front and measures about 1.26 inch in diameters and has a height of 8mm. A lightweighted device, as it weighs just around 11 grams.
You can engrave any text or emoji on the other side of the AirTag as long as the content comes in terms with Apple's content filtering.
Also Read: Accessories for iPhone 12 series
Features of the AirTag:
With the introduction of AirTags, Apple has expanded its ecosystem and is becoming bigger and better with each passing day.
"Find My" app:
You can manage the newest addition to the Apple accessories, the AirTags, via the "Find My" app. Under the "Items" tab of the app, you can find all your tags displayed on the map. So, it is easy for you to track the exact location of each of your tags.
U1 Chip:
The AirTags come with an inbuilt U1 Chip that helps find the precise location of each of the tags. You can either ask Siri to find the Airtag with a sound or play music in the Find My app to find the lost AirTag. Only iPhone series 11 and series 12 mobiles support the precision tracking technology.
Find my Network:
If your Airtag is stolen or lost, then the Find my Network feature can help you find the device. This feature takes the help of hundreds and thousands of iPhone, Mac and iPad devices to help you locate your Tag.
Lost mode:
When this mode is activated, the Tag itself sends out a notification to the owner when a random Apple device detects it in the Find My Network feature. Then, by adding your contact info, you can contact the person whose device spotted your AirTag. Hence, you can retrieve it easily.
Water Resistance:
The Apple AirTags features an IP67 water-resistance rating. It means dust, minor liquid spills and immersing the device underwater for up to one meter for 30 minutes would not harm this accessory in any way.
Battery:
Apple has powered its AirTag using a CR2032 battery. It has a shelf life of one year, and you will have to replace it every year. It is simple to replace the battery as all you have to do is twist the AirTag and snap the battery out.
If the AirTag runs low on battery, you will receive a notification stating that it is time to replace the battery!
AirTag Range:
Though Apple has not yet officially commented on the range details, we can safely assume that it will cover the maximum Bluetooth range of around 100 meters. We would, however, require lots of facts and information to determine the exact degree of coverage for this device.
AirTag Setup:
The speciality of Apple is such that it keeps things simple. You would not require any complex steps or procedures to be followed.
In the same way, setting up this tool is relatively easy, as you can do it with a single-tap gesture on unboxing it.
AirTag Ownership Limit:
A single Apple user ID can associate as much as 16 AirTags. That means you can simultaneously track around 16 Tags.
Security and Privacy:
Apple is known for its security & privacy settings, and AirTags are no exception. Apple links each of your AirTags to your Apple ID so no one other than you can track your AirTag.
Even Apple cannot see where your AirTags are due to the end-to-end encryption.
Also, Airtags comes with unique Bluetooth identities that ensure that you are not being tracked from place to place.
Accessories for AirTag:
Yes. You read it right. The AirTag comes with accessories.
If you feel like attaching it to your key, then you can buy the Herme's Key Ring, which looks like a keychain with a classy look.
This Herme's Key Ring can also be attached to the luggage or can be placed in your handbag or backpack. It safely carries your AirTag and gives a rich, classy and professional look.
It comes in three Colours: Fauve, Bleu Indigo, and Orange.
Price:
The price of a single AirTag in India is around Rs. 3,190/- and a pack of 4 AirTags costs around Rs.10,999/-
Pre-Booking:
You can Pre-book this fabulous Apple accessory, the Apple AirTag from 23rd April, 2021 and will officially be available from 30th April.
So, what are you waiting for?
Pre-Book now, and reserve this much-needed product before it goes out of stock.
Check out the official Poorvika website and order online to avail exciting discounts, cash backs, and exchange offers. Also, you can obtain easy EMI options when you choose to purchase with Poorvika.
Above all this, you need not wait long for the delivery of your products as you can get it delivered within 2 hours by opting for our 2 hour delivery service.