28 Apr 2021
Dell New Inspiron 5406 Intel Core i5 11th Gen Windows 10 Home 2 in 1 Laptop D560368WIN9S: Everything you need to know!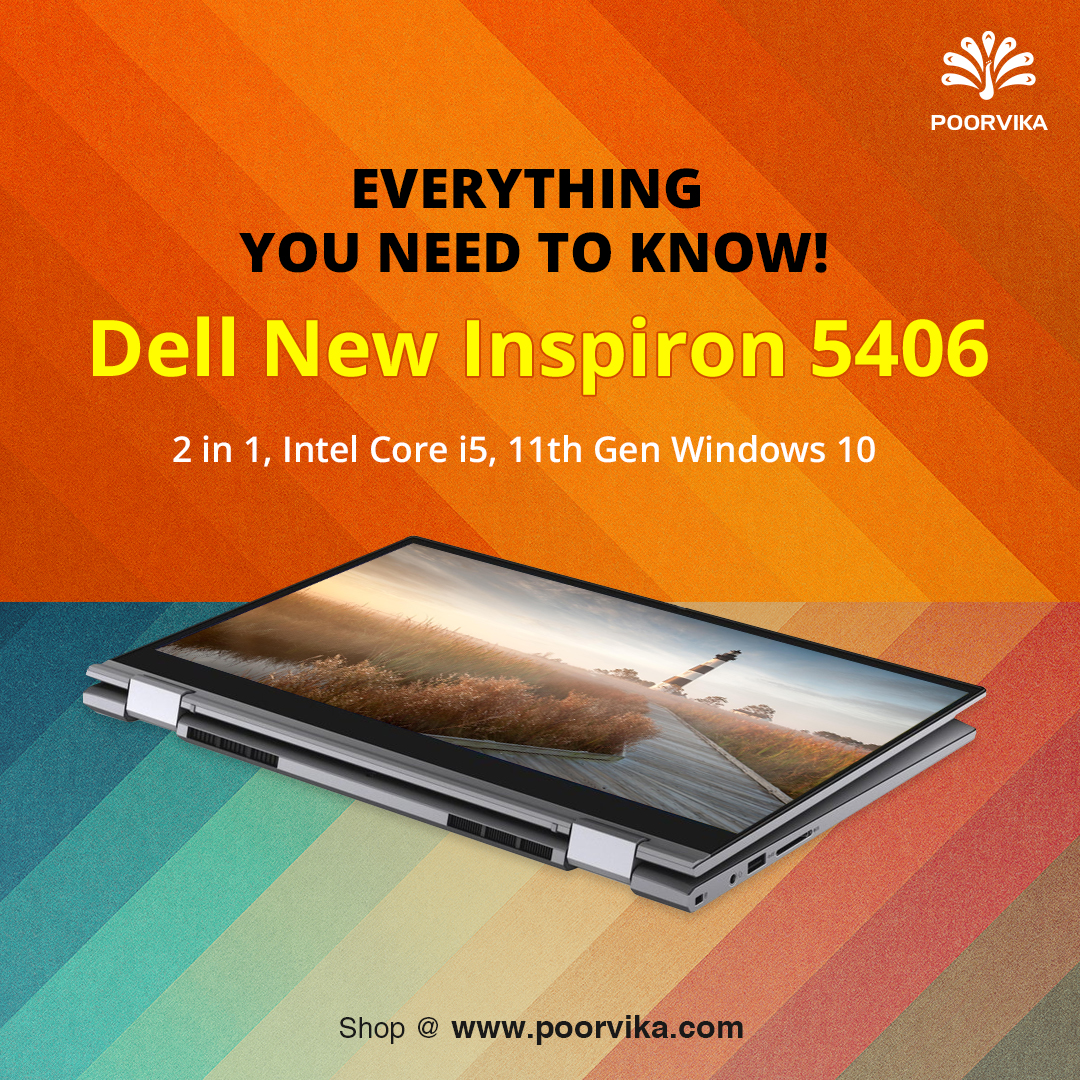 All these days, people have been doing so many great things. But now the COVID-19 has put all of us into great trauma. And we cannot let it simply overrule us. We need to put an end to this, till then we ought to stay safe. This blog will be presenting about a product from the consecutive winner of India's trusted brand. It is none other than Dell Inspiron 5406 Laptop.
The moment we hear the word laptop or computers, Dell is easily one of the companies that comes to our mind. This shows their popularity, in the computing field. One of the main reason behind their success is, the efforts of research and development team. They examine a product very closely and look for all possible ways to make a product better.
The Dell Inspiron 5406 laptop is not a regular laptop but a 2 in 1 laptop. While you buy a convertible laptop, you don't buy one product but two products. Because they do the work of two products. The 180 degree hinges of convertible laptops allows user to fold the laptop into two halves.
Chipset of Dell Inspiron 5406
This is the most important component of a laptop because CPU controls the entire functionality of the laptop. The Motherboard of Dell Inspiron consists of Intel Core i5-1135G7 11th Generation processor.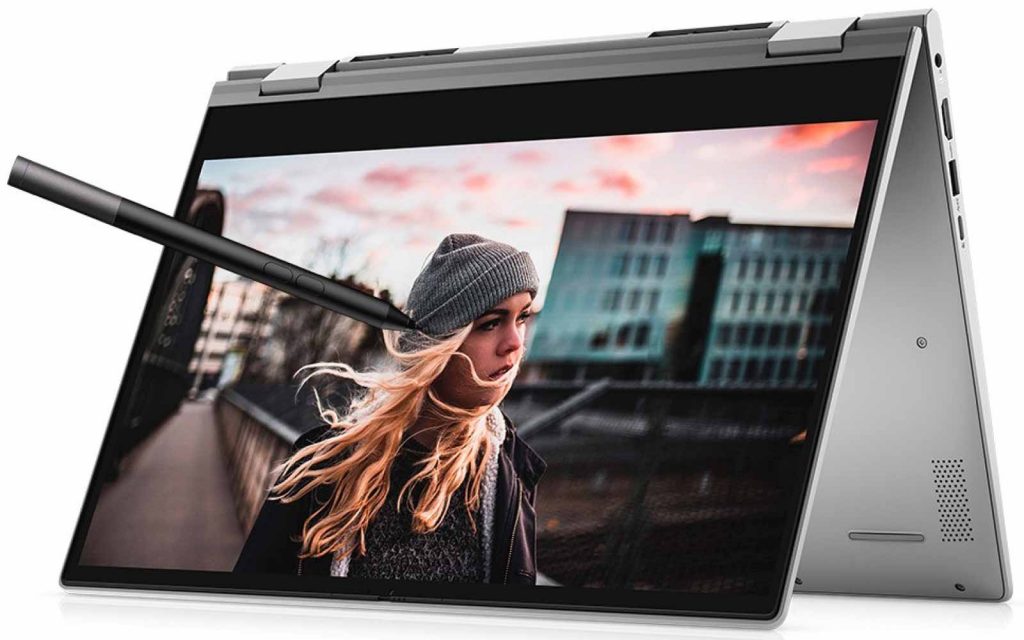 This processor took the popularity of Intel to another level. It is built on the same x86-64 bit Instruction set architecture like other processors in the industry.
And the Tiger Lake U microarchitecture became popular through its brilliant power efficiency and incredibly strong performance. It consists latest Willow Cove Cores which is 20 percent faster than the older Sunny Cove cores.
Inside the Willow Cove cores of the processor, there are 2 virtual thread per core. So in total, the chipset has 8 threads. It has a base frequency of 2.40GHz and can achieve maximum clock speed of 3.80GHz. Most of the times, you will be able to witness the swiftness of the processor.
Because of this processor's swiftness, the laptop remains light on its feet. Even after opening around 21 Google Chrome tabs on three windows. The CPU utilization didn't exceed beyond 19 percent. Also the scores of single and multi core benchmark tests are really impressive.
The processor has a total score of 1343 points in Cinebench R23 Single Core benchmark test. Single core benchmark test is one of the best way to calculate the raw processing power of a chipset. Because it doesn't involve Hyperthreading support.
Meanwhile in Cinebench R23 Multi Core test, the i5-1135G7 has a total score of 5913 points. Since Multi core test uses all cores of the processor and Hyperthreading supports the chipset to a great extent. Thus scores of multi core benchmark test is lot higher than single core test.
Graphics Card of Dell Inspiron 5406
There is one more which we need to mention about the chipset of the Dell Inspiron 5406. It is none other than Graphics Card or GPU.
It is the responsibility of a laptop's GPU to process, render graphics. The 2GB NVIDIA GeForce MX330 of Dell Inspiron 5406 does a perfect job. Though it is an entry level Graphics card. Its performance doesn't seem like it belongs to that category.
The 14 nanometre GPU consists of 384 CUDA cores. We were able to play games like Call of Duty without any kind of frame drops and stutters.
While playing FIFA 21 in high resolution, the Graphics card was able to seamlessly deliver 75 frames per second without any kind of latency. Designing posters, feature images on the Dell Inspiron 5406 laptop was absolutely blissful experience.
Because of the robust CPU and Graphics card, doing any kind of task on Dell Inspiron 5406 laptop is very comfortable.
Memory of Dell Inspiron 5406
Two components namely RAM and ROM help the chipset in order to enhance the performance of the laptop. 8GB DDR4 RAM of Dell Inspiron 5406 ensures user doesn't face any kind of discomfort while toggling between multiple applications simultaneously. It is quick enough to handle all kind of regular and even heavy tasks effortlessly.
For storage, the Dell Inspiron 5406 has the best component in the segment. It has a 512GB M.2 PCIe NVMe Solid State Drive which works as quick as a flash. You can store tons of documents, photos, videos and still the laptop will not either run out of space or slowdown at any cost.
Display & Keyboard
Here comes two components which plays a very prominent role in shaping the user experience of a laptop. The 14 inch Full HD WVA LED Backlit Touch display of the Dell Inspiron 5406 has a supporting screen resolution of 1920 x 1080 Pixels. Because of the dense pixels, all kind of content on this display looks phenomenally good.
Colour reproduction is also very accurate. Which is really useful for content creators. Using Dell active pen you can do so many amazing things. Slim bezels on both sides offer an immersive viewing experience.
Keys on the English International Backlit keyboard has a light responsive key travel. Since the keys are very responsive, user need not worry about manually typing lengthy content.
Build
Ceramic finish body of the Inspiron 5406 is pretty strong and looks premium. There was no kind of creaky noise even after constantly opening and closing the lid of the laptop. As Inspiron 5406 is a 2 in laptop, its hinges ought to be very robust.
Camera
While speaking about the front camera of a laptop, we must remember that laptops are not meant for taking selfies. But the image clarity of Inspiron 5406 is exceptionally good. Even in poor lighting conditions, clarity of Skype video call is exceptionally good.
Ports
On both sides Dell Inspiron laptop has several ports for media and connectivity and the list includes a separate slot for SD Card Reader, 2 x USB 3.2 Gen 1 Type A, 3.5 mm headphone jack with microphone support.
A Wedge-shaped Lock slot to protect the laptop even in worst scenarios, through HDMI port you can share content from your laptop to an external device, USB 3.2 Gen 2 Type-C port.
The Dell Inspiron is available in Titan Grey colour. You can buy Dell Inspiron 5406 Windows 10 laptop for Rs.72,999 from our website Poorvika.
Avail our 2 hour delivery service to get it instantly to your doorstep.