30 Apr 2021
Everything about the Philips 7-in-1 Multigroom Beard Trimmer MG3721/77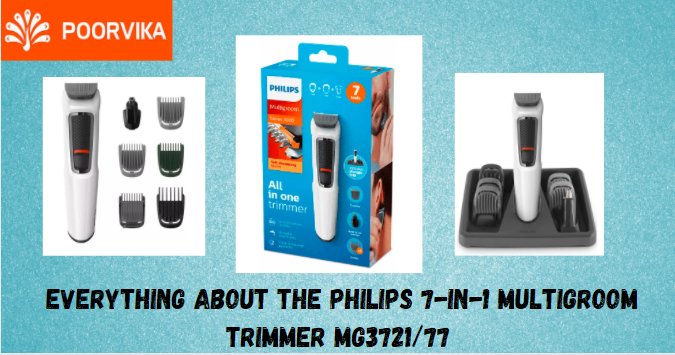 Having a luscious beard is now the trend, and guys are going crazy for it.
While a set of people are struggling to grow a beard, another group of people are struggling to maintain it.
You can't keep running to the parlour every time to maintain your beard as it involves a lot of time and money from your end. Moreover, styling becomes interesting when you do it all by yourself!
To be honest, maintaining a beard is no more a problematic task as, manufacturers have improved the trimmers to a higher degree with the latest advancements in technology.
One such highly advanced beard trimmer available in the market is the Philips 7-in-1 Multigroom Trimmer MG3721/77.
In this blog, you will understand why the Philips 7-in-1 Multigroom Trimmer MG3721/77 will suit the best for you.
You can use this 7 in 1 trimmer for your face, body and hair. It lets you try out different styles every time, as Philips has equipped it with enough tools to create the exact style you look for.
Also Read: The best Beard Trimmers from Philips 2021
What is actually in the pack?
This Philips Beard Trimmer pack comes with the following 7 tools:
A beard comb
1 body comb
A hair comb
2 stubble combs
Trimmer
Nose and ear trimmer
Storage stand
Cleaning brush.
Undoubtedly, this is precisely the set of tools a guy can ever ask for when looking for an effective beard and a hair trimmer.
This all-in-one trimmer is inclusive by all means, and its no doubt as to why everyone will need this!
Advanced self-sharpening technology:
The blades of this Philips Beard trimmer brush against one another and self-sharpens it every time to give a perfect trim. The self-sharpening is so effective that the blades are as sharp as they were on day 1, even after 3 years of usage!
Get a clean trim:
This all-in-one trimmer can trim through the edges to get a clean and sharp line around your neck and beard hairline. You can conveniently style your hair and beard even without using a comb due to its precision cut.
Nose and ear trimmer:
This trimmer makes sure you even trim your nose and ear hair. If you are constantly diverted or irritated with the hair in your nose and ear, you can get it fixed easily now!
5 Combs:
This pack comes with five combs to address your requirements precisely. Whether you concentrate on styling your stubble, beard or hair, you can do the best with the precision combs available for each of them.
Power:
A Ni-MH battery powers this trimmer, and it supports an automatic voltage of 100-240 V. On charging the trimmer for 16 hours, you get 60 minutes of cordless run-time. You can use this device both with the corded or cordless meaning, if it is low on battery, you can still use it while it is plugged into the charger.
Ease of use:
This Philips 7-in-1 Multigroom Trimmer MG3721/77 can be used easily as cleaning and maintaining it is not a big deal.
You can clean its blades and brush by removing it and rinsing it in water. Also, you will not require oil to maintain this trimmer. No oil, No mess!
Accessories:
This 7-in-1 Multigroom Trimmer comes with a cleaning brush and storage stand as accessories to it.
Obviously, the cleaning brush can be used to clean your blades, comb and trimmer. You can use this storage stand to organize the complete trimming equipment set and make sure it doesn't get lost elsewhere.
Warranty:
You get a 2-year worldwide manufacturing warranty with this Philips . You can, however, opt for a one year extended warranty on registration. However, physical damages are not covered in the warranty. Any technical fault, and you are covered!
The price of this Philips 7-in-1 Multigroom Trimmer MG3721/77 in India is Rs.1,795. However, at Poorvika, it is just Rs. 1,699/- saving you about 5% by just purchasing this trimmer online from Poorvika.
You can get amazing discounts, cash backs and exchange offer at Poorvika.
Also, we deliver your products within 2 hours, when you opt for our 2-hour delivery service at the time of ordering.