30 Apr 2021
Which is the Best Smartwatch under 20,000 in India?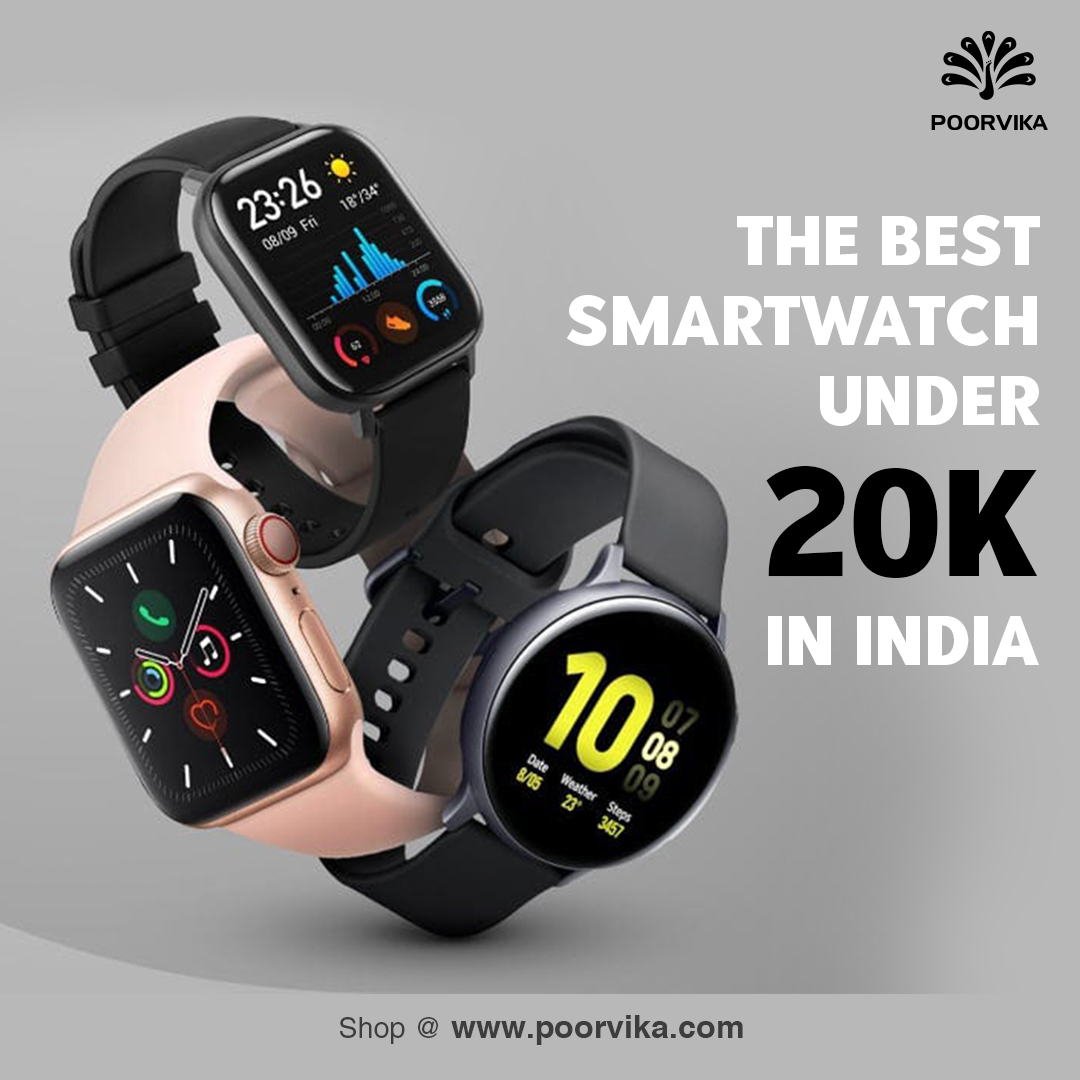 Call it a trend or a want that is gradually becoming a need; smartwatches are here to stay. These devices have come a long way from being a fancy bit of technology that showed you call and message notifications to a full-fledged wearable device; just as independent as your phone. With the updated features and functionalities, your Smartwatch can even outperform your phone.
However, with the vast array of devices in the market, many of them come at various price points. Yes, they are expensive, but you need not have to break the bank to acquire one.
This blog takes a look at some of the smartwatch options for under Rs.20,000
The Oppo Smartwatch is one of the premium watches on our list, with a price tag of Rs.19,490.
OPPO SMARTWATCH:
With a 4.85cm Flexible dual-curved AMOLED display and a pixel density of 326 dpi, the Oppo smartwatch catches your eye at the very first glance.
FEATURES:
The vibrancy of colour is evident due to its 100% DCI-P3 colour gamut; and looks even better with the extensive range of customizable watch faces. It even includes an AI algorithm that can analyze the picture of your outfit and generate a watch face to match it.
The customization options are endless on the watch as it has multiple watch faces; which you can personalize, along with the easily detachable straps that allow the user to change them to suit the occasion.
The dual-chip endurance system makes sure that the device can last up to 21 days; even with the high powered Qualcomm Snapdragon Wear 3100 due to Ambiq micro's efficient Appolo 3's wireless SoC. Two endurance modes work side by side to optimize its battery life as well as performance.
BATTERY:
The VOOC Flash charging feature on the watch allows it to have a whole day's charge in just 15 min. Changing the device from 0 to 100% is super quick, taking just a little over 70 minutes.
It has various sensors that include an Ambient light sensor, a Geomagnetic sensor, a triaxial acceleration sensor barometric sensor. The device also has a heart rate sensor that measures your heartbeat for irregular patterns and abnormalities. It comes with a vibrating sensor to notify you in case of any emergency.
FITBIT VERSA 2:
The Fitbit Versa 2, priced at Rs 13,999, is another fantastic smartwatch that comes loaded with features and doesn't burn a hole in your pocket.
FEATURES:
The device has a 1.4 inch AMOLED Always-On Display that is pretty useful as you don't always have to wake the watch with wrist gestures every time you need to look at the time. The display is bright enough to view even in strong lights making the always-on display something practical.
On the outside, the Versa 2 has a Squarish design with rounded corners with bezels that are a bit smaller, thus giving you more display area. On the left of the device, the Versa 2 has a single button that serves both as a Select and a Back button. You can control the rest of the functions using the touch screen. The device has a fantastic battery life of 6 days with typical use.
The Versa 2 has a heart rate sensor that monitors your heart rate and heart rate zones in terms of health-related features. It also has 15+ goal-focused exercise modes that one can choose from, like running, swimming, biking, and Yoga, to mention a few.
Sleep tracking is another feature the device offers to help track your sleep patterns, assess sleep quality, and give you a personalized score. The Smartwatch also tracks your light sleep, deep sleep and REM sleep cycles. And gives you insights on your sleep quality based on benchmarks on the FitBit App.
It also has an all-day motivation feature that gives you reminders to move; keeps you updated with various health insights trends and even on-screen workout videos to keep you focussed. It is water-resistant up to 50m, and the Swim Tracker on the device holds a record of your workout data every time you enter the pool.
The device displays all your notifications from calendar events. You can control your music via the watch and even reply to texts through it. Alexa comes built-in and is a boon for users who have many smart home devices as it helps control them remotely; if the user has an active Alexa account.
HUAMI AMAZFIT SMARTWATCHES:
Huami Amazfit Smartwatches has a range of four smartwatches that fall within the 20,000; with the GTS 2e and GTR 2e priced at Rs.9000. While the GTS 2 at Rs.12,999. The GTR has two variants priced separately, the GTR Sports edition costs Rs.12,999; and the Classic edition with the leather strap is a slight bit pricier at Rs.13,499.
GTR 2 AND GTS 2:
The GTR2 and the GTS2 both have an AMOLED display. However, one has a 1.65-inch square-shaped display with a pixel density of 341ppi, while the GTR2's 1.36-inch circular display with a pixel den20sity of 346ppi.
The circular screen looks slightly prominent, although this is just an illusion due to the shape. Both come with a 3D Curved Glass on the display that makes it aesthetically pleasing and has a scratch-resistant coating to prevent damage.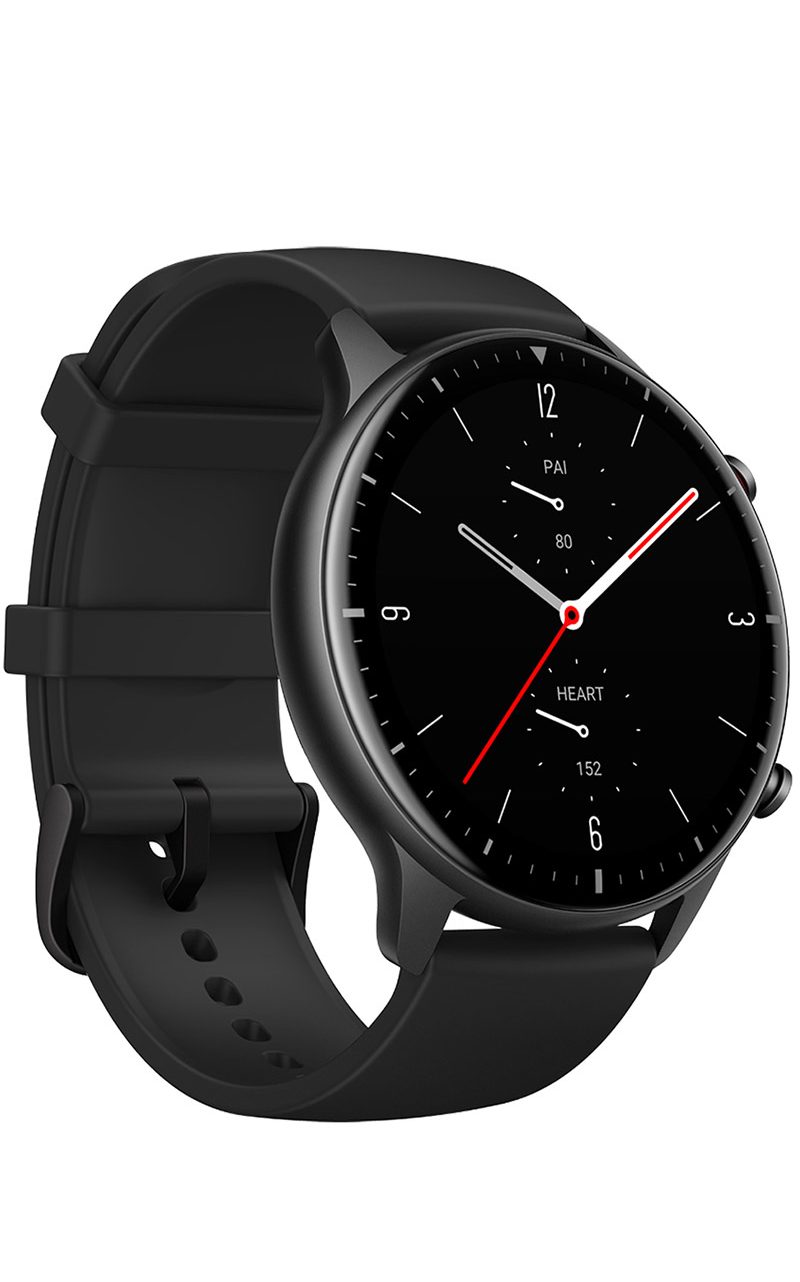 Both the GTR2 ad GTS2 are made of premium Aluminium Alloys; while the GTR2 has a different classic variant in Stainless Steel. The GTR2 has two buttons on the side, and the GTS2 has just one button on the side that helps navigate through the menu. And also help in selecting functions or act as the back button.
Both devices come with an inbuilt microphone and speaker, making it possible to answer calls via the watch now. Playing music through the speakers is not much of a hassle as both smartwatches come with 4GB of inbuilt storage space.
Both the GTS2 and GTR2 feature 90 sports or exercise modes with smart recognition of exercise modes that help with your daily workout routines. And it even includes a mode for swimming as they both have up to 5ATM of water resistance. The devices have a SpO2 and heart rate sensor on the back of the watch that allows you to measure your Blood Oxygen Level and your Heart Rate.
It can even perform sleep and stress tracking, assessing your sleep quality based upon data collected from sleep patterns such as light, deep and REM sleep. The stress level management feature monitors your stress level and notifies you when levels get too high, along with guides on how to reduce it.
In terms of battery life, the GTS2 with its 246mAh battery can keep the device running for up to a week with typical usage. While the GTR2 has up to double that, boasting a battery life of 14 days with typical usage owing to its almost double 471mAh battery.
GTR 2e AND GTS 2e:
The GTS2e and GTR2e are not very different from their older siblings, the GTR2 and GTS2. The main difference in both the GTR2e and GTS2e is the absence of 3GB internal storage available on the other two. Another difference between these is the lack of the speaker module. This difference is entirely understandable as there is no internal storage to play any music.
The lack of the speaker is also the reason for not being able to answer calls directly on both the GTS2e and GTR2e as they do not connect to your phone via Bluetooth. Hence, you can only choose to answer or decline calls via the notifications rather than answer them directly on the device line on the GTR2 and GTS2.
Both devices, however, make up for the lack in terms of extended battery life. The GTS2e provides up to 14 days of usage compared to just a week on the GTS2. At the same time, the GTR2e offers up to 24 days of usage compared to GTR2's 14 days.
Also read about our detailed blog about the Best Smartwatches from Amazfit Series – Best Smart Watches from Huami Amazfit Series
MI WATCH REVOLVE:
The Mi watch Revolve is another Device that falls under the price bracket of smartwatches priced under Rs.20000. At a price tag of Rs.9999, every bit of this device is "bang for the buck". A Premium Metallic frame and a bright Always On AMOLED display allow you to see the screen even under strong sunlight. The Corning Gorilla Glass 3 protects the device from scratches and damage.
Its First Beat Motion Algorithm helps to monitor your wellness based on analytics of key metrics, allowing you to track your fitness like a pro. It also has Heart Rate monitoring and Body Energy monitoring that uses the combination of sleep data, workout and heart rate variability based data to provide readings.
The device has 10 sports modes to help keep you in shape, including a mode for open water swimming owing to its 5ATM water resistance. The device's battery life is brilliant as it can last for up to two weeks on a single charge with typical use.
The Mi Watch Revolve comes with various customizable options, from a plethora of watch faces; to many options in the market for easily interchangeable straps making this, an option one should consider.
REALME WATCH S PRO:
The Realme Watch S Pro is also an option one should definitely look into for smartwatches under Rs.20,000. The Watch S Pro is priced at Rs.9499. It comes with a 1.39-inch circular Always-On display with a 454×454 pixel screen resolution and a pixel density of 326 PPI. It has 450 nits of brightness with a contrast ratio of 100,000:1.
The device's chassis comes in stainless steel, and its display is protected by Corning glass; making the entire device quite sturdy against scratches and damages. You get customization options as the watch has more than 100 watch faces to choose from, including an extensive array of straps to suit any outfit and occasion.
FEATURES:
The device has 15 sports modes that even includes a swimming mode; also the device is water-resistant for up to 50m allowing for activities underwater and even has SWOLF tracking to monitor your swim activity data.
The device has a Blood Oxygen Sensor and heart rate monitor that can take accurate blood oxygen readings; monitor your heart rate rhythms while looking for abnormal heartbeat patterns due to its advanced PPG biosensors.
It even has a sleep tracker, a drink reminder that reminds you to stay hydrated at regular intervals and a meditation mode. And a sedentary reminder to make you active after being idle for a while.
The battery life of this device is brilliant. Its 420mAh battery can go up to 14 days on a single charge with typical use. Overall the Realme Watch S Pro is a must-have device if you are considering the Rs.20000 range of smartwatches.
BUY ONLINE:
All the mentioned smartwatches and more are available on the Official Poorvika Website.
We also have loads of cashback, offers and discounts that you will find most appealing. Also, don't forget to opt for the 2-hour fast delivery option to experience our fast delivery service.