03 May 2021
Amazfit Bip U Pro vs Bip U – The Differences!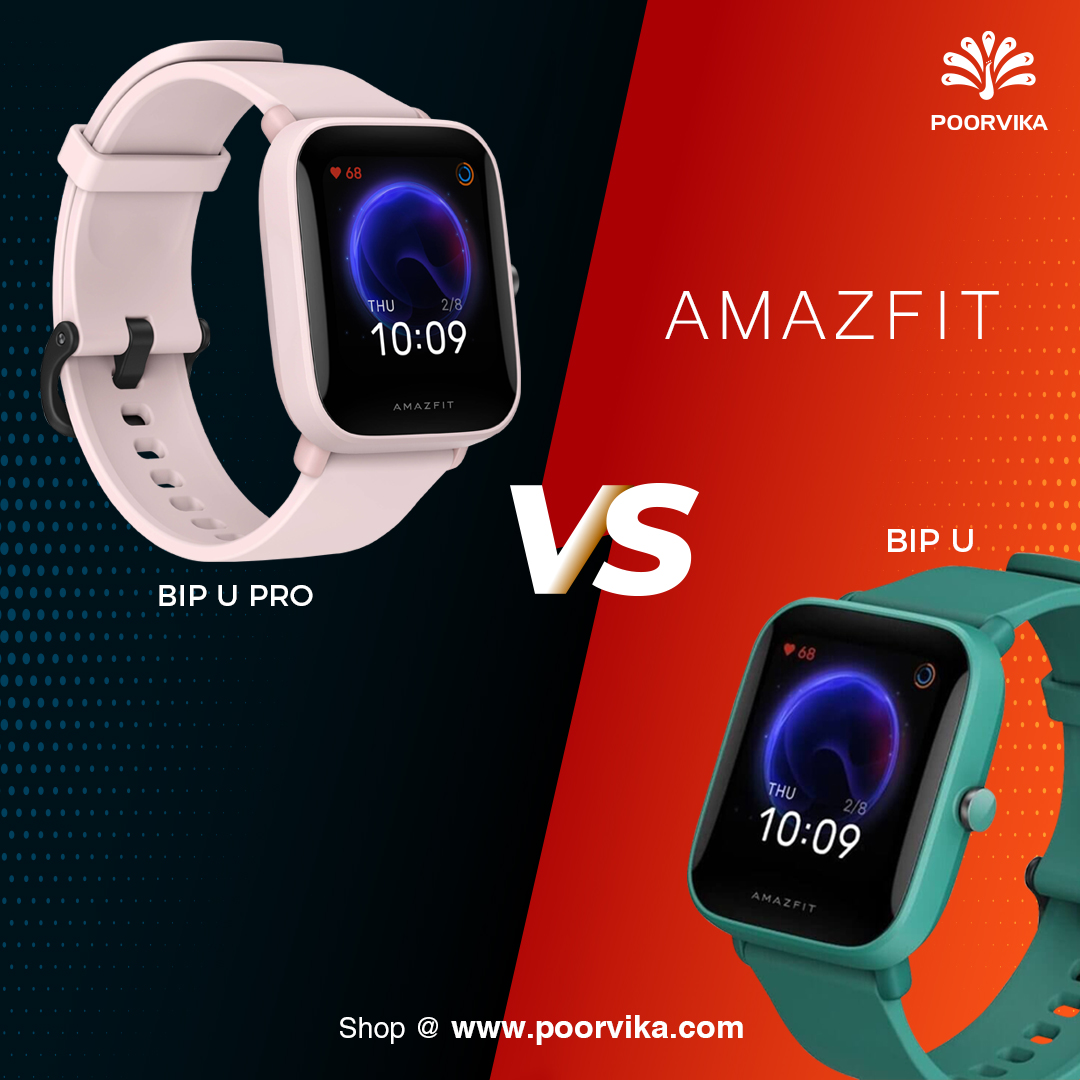 Huami, backed by Xiaomi, is a partner brand for various companies and is very well known for producing smart wearable devices.
The globally renowned Chinese brand has a solid foothold in India with its affordable range of smartwatches. In the last quarter of 2020, they released the Amazfit Bip U and then the Bip U Pro later in April 2021.
Both these smart wearable devices fall under Rs.5000 range category of smartwatches.
Considering that there is now a pro and a non-pro version, the question remains as to what are the differences between both and which one would suit you better. To help you with that, we take an in-depth look into both the Amazfit Bip U and the Bip U Pro.
THE DIFFERENCES:
At first glance, both the devices are the same, and by that, we mean ditto, no external difference whatsoever. Both devices come with a rectangular 1.43 inch IPS TFT Colour Display boasting a resolution of 320×302 pixels. The large screen makes sure all the information displayed on it is crystal clear, bold and vivid. Both devices feature 2.5D Glass with a fingerprint-resistant coating.
Personalizing the watch is no hassle as both devices come with around 50 watch faces that can be personalized, including a feature that allows you to set your photographs up for a much more personalized watch face. They even support animated watch faces that make the device even more appealing.
In addition to this, the device even has a Customizable Watch Face Modular Highlight feature. This feature allows you to display specific information on the screen that is important to you, such as the weather, calendar, heart rate and even reminders.
Although the watch weighs just 31g, the device's build quality feels extraordinarily sturdy and premium. The devices' external chassis is made of a Polycarbonate material, while the straps out of soft silicone. Though the straps and the body of the devices are colour coordinated, the straps are easily interchangeable to suit your outfit or mood. Here, the exciting attention to detail is that even the button on the side of the watch is colour coordinated with the original colour that the device comes in.
The only noticeable difference in both the devices becomes evident when we flip both devices. However, the Amazfit Bip U Pro has a tiny inbuilt microphone back, unlike the Amazfit Bip U that does not possess a microphone. Both smartwatches have heart rate sensors and spo2 sensors located right on the back of the device.
One might wonder why does the Bip U Pro possess a microphone but no speaker?
Does this mean that one cannot answer calls using the device itself? The answer is yes; you cannot answer calls using the device itself. The microphone facilitates interacting with Alexa that comes inbuilt with the Huami Amazfit Bip U Pro.
When we think about Alexa, the first thing that comes to mind is giving out a voice command requesting Alexa to play music. However, this command is not functional on the Bip U Pro as, once again, if we recall, the device does not possess a speaker that can play music.
One can, however, interact with Alexa to engage the smart assistant in helping you out with various other tasks that include controlling your Smart home devices. You can even ask Alexa various queries, which it will readily answer, including arithmetic operations and calculations that it will perform on demand.
Both the Smart Devices are compatible with Android and IOS smartphones, and you do not lose out on any features, whether connected to an iPhone or an Android-based phone. However, there is just one tiny difference where if you get an incoming call, there is a feature via which you can reply with a pre-fixed SMS on Android devices but not on iOS device.
ACTIVITY AND FITNESS TRACKING:
Both the Bip U and Bip U Pro come with 60 workout and sports modes that help you engage in any fitness activities. The device also creates detailed fitness and health reports via the PAI health assessment system that transforms complex health data and fitness information using algorithms into simple scores, which you can understand easily.
The Bip U Pro has one advantage in this area over the Bip U. It comes with GLONASS and GPS that is useful when engaging in activities like running, jogging, cycling, or hiking that involves moving from one point to another. It keeps track of your route and how long you have travelled during your workout.
Both devices have a water resistance of up to 50m allowing the user to wear the watch in the pool or engage in activities underwater. The water resistance, combined with the swimming sport mode, will enable you to track your movements and fitness achievements in the water with no worries in regards to the device being affected by water damage.
The Huami Amazfit Bip U and Bip U Pro feature a heart rate monitor and a SpO2 monitor. The Biotracker-2 ppg biological optical sensor developed by Huami is highly advanced and gives very accurate readings. The heart rate sensor can measure your heart rate and give you real-time readings while also looking out for abnormal heartbeat patterns or atrial fibrillation, which will notify you if the device detects any.
The spo2 sensor on the device does the same by measuring the level of oxygen saturation in your bloodstream; which is very useful when indulging in high-intensity activities. And involves places that are of high altitude and hypoxic conditions.
It is also instrumental in detecting abnormally low oxygen levels during the night, alerting the wearer before experiencing Sleep Apnea symptoms.
Using both these sensors, the Bip U and Bip U Pro can also detect stress levels, alerting you when they get too high. It also suggests various breathing exercises that help you relax bring your stress levels down to an average level.
The inbuilt Sleep Monitoring System on both devices help in keeping your sleep patterns in check. They collect data based on your various phases of sleep, such as light sleep, deep sleep, REM sleep, wake time, and other characteristics to help give a qualitative report on your sleep patterns along with suggestions to improve them.
Inclusive of all these sport modes and health trackers, Huami has also not left women's health behind. They have included a Menstrual Cycle Tracker that allows women to monitor their ovulation period with alerts, reminders and notifications. So, when the date draws near, you can be prepared mentally and physically.
Both devices come packing a 230mAh Lithium-ion Polymer battery allowing them to have an amazing 9-day battery life with typical usage on just a single charge. Fully charging the device generally takes up to 2 hours.
AVAILABILITY & PRICE:
The Bip U and Bip U Pro are amazing smartwatches in their own right. The only difference being the inclusion of a microphone, Alexa inbuilt, a GPS and GLONASS feature for fitness tracking on the Pro version.
If not having Alexa and GPS do not make much of a difference to you, then going in for the Bip U variant priced at Rs.3999 will be more than enough.
However, if you are a fitness enthusiast who could use a smart assistant or extend your budget by another thousand rupees, the Bip U Pro priced at Rs.4999 is your best bet. It all boils down to your personal choice and what your needs are.
You can buy Huami Amazfit Bip U Pro Online right here on the Official Poorvika website or step into one of our stores to have a live demo.
Or you can also Buy Amazfit Bip U Online, if you think it amazes you!
We also have loads of offers, cashbacks and easy EMI's curated just for you. Also, don't forget to opt for our 2 hour delivery service when you order online to have your product right to your doorstep.
To read the detailed specifications and features of the Amazfit Bip U Pro, read our blog here – Amazfit Bip U Pro Smartwatch with Alexa Built-in launched!