05 May 2021
Best Features of the Lenovo Yoga Slim 7 Intel Core i5 11th Gen Windows 10 Home 82A3009RIN Laptop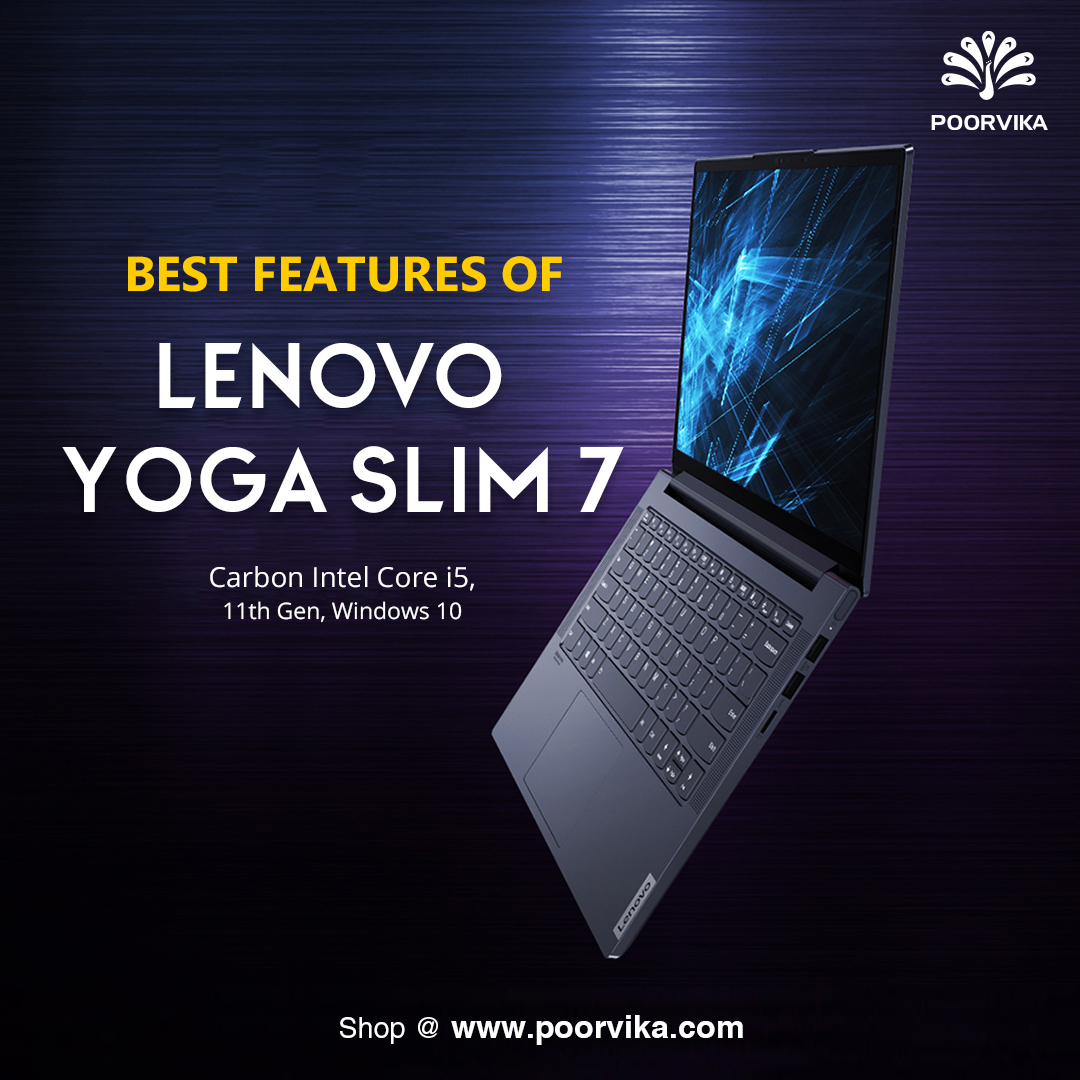 Lenovo's Yoga series laptops have always been our favourite since their debut. Its design and sleek build looks phenomenal and doesn't show age with the time. Yoga series laptops not just known for their stunning looks but also for their fantabulous performance. Anyone will be drawn by the luring aesthetics of the Lenovo Yoga Slim laptop.
Because it defies time to a great extent. And the present scenario is not in our favour. So we need a laptop not for show but for the go.
This blog is bringing you Lenovo Yoga Slim laptop, which is made for action doers. On paper specification of the Lenovo Yoga Slim laptop looks very impressive. But an in depth analysis of the performance is requisite. Only then user will have a clear idea about the laptop.
Anyone will agree that laptop is one of the best invention of the 20th century. Because after the advent of laptops, our lives became more convenient. Because people were able to do so many things from their home.
Chipset of Lenovo Yoga Slim
Intel Core i5-1135G7 chipset powers the Lenovo Yoga slim laptop. This chipset is born to deliver seamless performance even during tough conditions. What makes the chipset unique among other chipsets? There are several reasons behind it? Wait for a moment, we will revealing all the reasons shortly.
Each Core of the Quad Core chipset consists of 2 physical threads with Hyperthreading support. Hence the laptop can comfortably handle any kind of intensive tasks without trouble.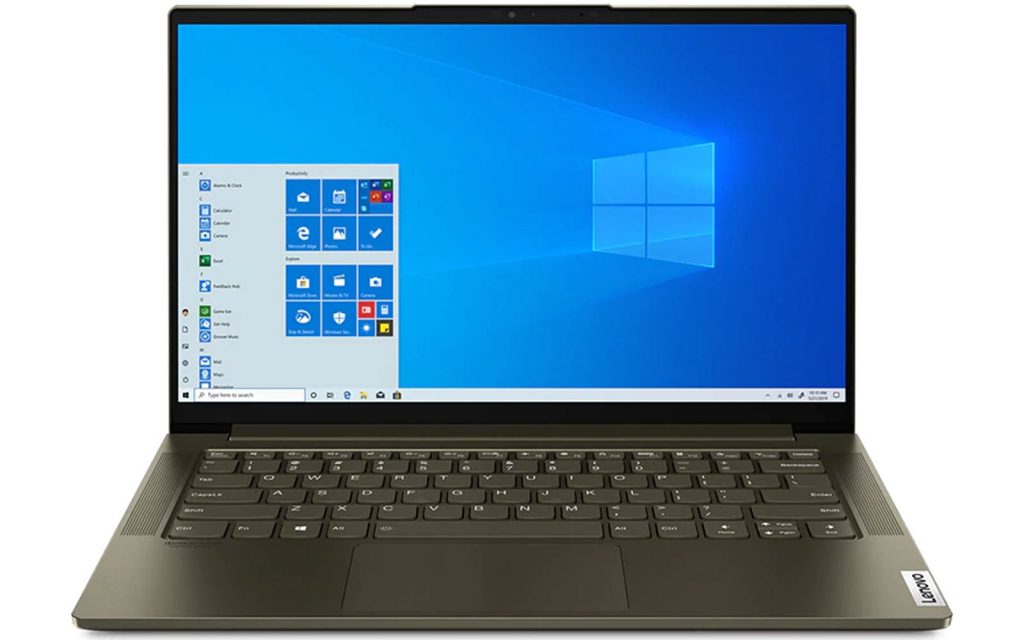 It has a base frequency of 2.40GHz and using the turbo boost technology of Intel. The processor was able to achieve a maximum clock speed of 3.80GHz. This kind of speed is actually more than what we actually need to do our official work.
It is through higher clock speed, we can determine swiftness of the laptop. And chipsets which operate at higher frequency will get things done in a nimble manner.
CPU architecture of i5-1135G7 chipset is also the main reason behind the aggressiveness of the laptop. Only the microarchitecture of Intel Core i5-1135G7 is very different from other laptop processors in the industry. This chipset uses Intel's Tiger Lake U microarchitecture which is known for its incredible single core performance and amazing power efficiency.
The chipset has a whooping 1343 points in Cinebench R23 benchmark test. It is really hard for a processor to score beyond 1000 points. As single core doesn't involve Hyperthreading capability of the processor.
Only the raw processing power of the processor will be tested. Curious to know how it is tested? Benchmark test uses Cinema 4 Suite software through which three dimensional forms are created. And points are based on the time taken by the processor to render the forms.
Meanwhile in Multi Core benchmark test of Cinebench R23, the chipset has a total score of 5913 points. Since multi core uses all 4 cores and Hyperthreading support of the processor, this is why there is a surge in score between single and multicore.
Graphics Card of Lenovo Yoga Slim
The muscle of Intel Iris Xe Graphics is no match against the big boys like NVIDIA GTX and RTX series Graphics card. But its processing power must not be underestimated. Real potentiality of the integrated GPU of Lenovo Yoga Slim laptop is amazing.
It has sufficient energy to allow the user do tasks like designing poster on Adobe Photoshop and playing graphically intensive games in medium graphic settings. Not just posters, you can also edit videos on Adobe Premiere Pro.
Even while playing Intensive games like Far Cry 5, the laptop was able deliver more than 70 frames per second. The impeccable performance of Intel Iris Xe Graphics in all field makes it one of the best integrated GPU currently available in the market.
Memory of Lenovo Yoga Slim
There is a 16GB DDR4 RAM soldered directly on the motherboard of Lenovo Yoga Slim laptop. Its role is very vital and can be strongly felt while user is toggling between multiple applications simultaneously. Animation and transition while opening and switching between applications were fluid and smooth.
For storage the Yoga slim laptop has a 512GB M.2 NVMe PCIe Solid State Drive. It is a noted fact that SSD can work at lightning speed. Since M.2 type of SSD is connected directly on the motherboard, read and write speeds are unbelievably faster than conventional SSD.
Display & Keyboard
14 inch Full HD Glossy IPS Display of the Lenovo Yoga Slim laptop produces attractive visuals. Lenovo claims the display is capable of producing around 300 nits of brightness. Which means you can use the laptop even in the brightest lighting conditions. Also slim bezels on both sides ensures user watches more content within the given size.
Curved keys on the keyboard are very responsive with good amount of key travel which is really an impressive feature. And resting your palms on the spacious palm rest is very comfortable.
Build
Overall build quality of the laptop is incredible and the 180 degree hinges are sturdy. Even after slamming the keyboard, lid of the laptop didn't wobble at one point of time. Ceramic finish body and the Yoga emblem on top right corner of the laptop's lid looks lovely. It also weighs just 1.36 Kilograms thus user need not worry about carrying the laptop.
Battery
Battery stand by time of the Lenovo Yoga Slim laptop is roughly around 8 hours. However battery life of all laptops are subject to change. Because battery life is partially based upon the real life usage of the laptop.
Ports
On both sides, the Yoga Slim laptop offers several ports for connectivity. And the list of ports are A separate slot for Card reader, 1 x USB 3.2 Gen 1, 1 x USB 3.2 Gen 1 Always On, A HDMI port through which you can share content of your laptop to external devices, 3.5 mm Headphone jack with microphone support , 2 x Thunderbolt ports.
You can buy the Lenovo Yoga Slim laptop for just Rs.79,910 from our website Poorvika. Don't forget to avail our 2 hour delivery service to get products instantly to your doorstep.