06 May 2021
How does Apple AirTags help to find the lost item?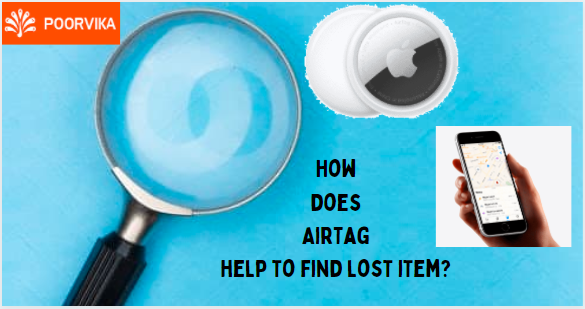 Technology is creating wonders with every passing day!
From the beginning of technological advancements, we would have more than once thought of how great it would be if there came an option with which we could readily find our lost items at the very touch of a button. Well, now it is no more a wish as Apple has already introduced the Apple AirTag, the detective who can help you find your lost items.
Apple very recently launched its AirTag to which it received an overwhelming response!
If you are used to losing or misplacing your wallet, keychain or any other valuables, then this equipment is for you!
This small, compact and cute gadget can help you track and find the misplaced or lost item using the "Find My" App, pre-installed in your iPhone.
Also, the AirTag is one of the most affordable products from Apple.
How does the Apple AirTag look?
Weighing just 11 grams, it looks more like a white chocolate disc on the front, and when flipped over, you can see the legendry Apple icon on a Stainless Steel shell.
It undoubtedly looks like a button that functions efficiently.
AirTag Battery:
Below the Stainless Steel shell lies the CR2032 battery, which fuels the AirTag. This battery requires no charging as the user just has to replace this battery once a year.
Water Resistant:
This compact device is IP67 rated water-resistant. Probably, the simple design without many moving parts made it easy to achieve an IP67 rating!
Even when dropped in a meter deep water for around 30 minutes, the AirTags works perfectly fine.
How can you use AirTag to help find your lost item?
When AirTag is within your Bluetooth coverage area:
For the Apple AirTag to function, it must be connected either with Bluetooth or Near Field Communication (NFC).
If the misplaced/lost item, like the wallet or key, is within your iPhone's Bluetooth range, then you can precisely locate it effortlessly.
You can use the "Find My" app to play music/sound when the item attached to the AirTag goes missing. Alternatively, you can ask Siri to find the article by playing sound/music. This feature lets you find the gadget when it is within the Bluetooth coverage area.
When the AirTag is out of Bluetooth coverage area:
If your AirTag is out of the Bluetooth coverage area, you will receive a notification whenever an iPhone or Macbook comes within the range of it.
If your AirTag is lost/ the item attached to your AirTag is lost, you can report that you lost your AirTag in the "Find My" App.
By doing this, you can contact the person whose iPhone or Macbook comes in range with your AirTag!
Yes! You can send a custom message to the person who finds your AirTag or whose iPhone or Macbook comes in range with it by sending your name along with your phone number.
Also Read: All about Airtags – Complete information
Can Android users make use of the AirTags?
Yes. Since the AirTags support connectivity through NFC, even Android users can make use of Apple's incredible invention.
Which iPhone model works best for AirTag?
Though you can use AirTags with any iPhone model, the iPhone series 11 and 12 are the best to operate with!
Since both the iPhone 11 and 12 series possesses U1 Chip with ultra-wideband technology, it can precisely track the misplaced/lost item.
So, what is inside this small, compact, round device?
It is definitely weird that one of Apple's product comes without a single moving part. It doesn't have a button, a display or a touch-sensitive part.
Even then, this small button-shaped equipment does wonders in helping you find your lost or misplaced valuables with ease.
It is possible because inside this small device lies a little circuit, battery, Bluetooth, Ultra-wideband sensors, etc.,
Well, the Apple AirTags are undoubtedly a small wonder!
If you are an Apple fan who is keenly interested in the Apple ecosystem, this technology is for you!
Also, if you are used to losing your bags, keys or wallets, then this is totally for you.
This tiny gadget can fit anywhere, and hence you can use it with almost anything you tend to lose.
Currently, it is one of the most affordable products from Apple.
A single unit of AirTags costs around Rs.3,190, and a pack of four Tags costs around Rs.10,900/-
Get this product from Poorvika and unlock a load of exciting offers, amazing cashbacks and easy EMI options.
Also, you can avail of our same-day delivery service to get the ordered products delivered at your doorsteps.
Stay safe!
Order Online from Poorvika!
Get it delivered on the same day!
Happy shopping!