06 May 2021
Best Features of the Lenovo Yoga Slim 7 Carbon Intel Core i7 11th Gen Windows 10 Home 82EV003WIN Laptop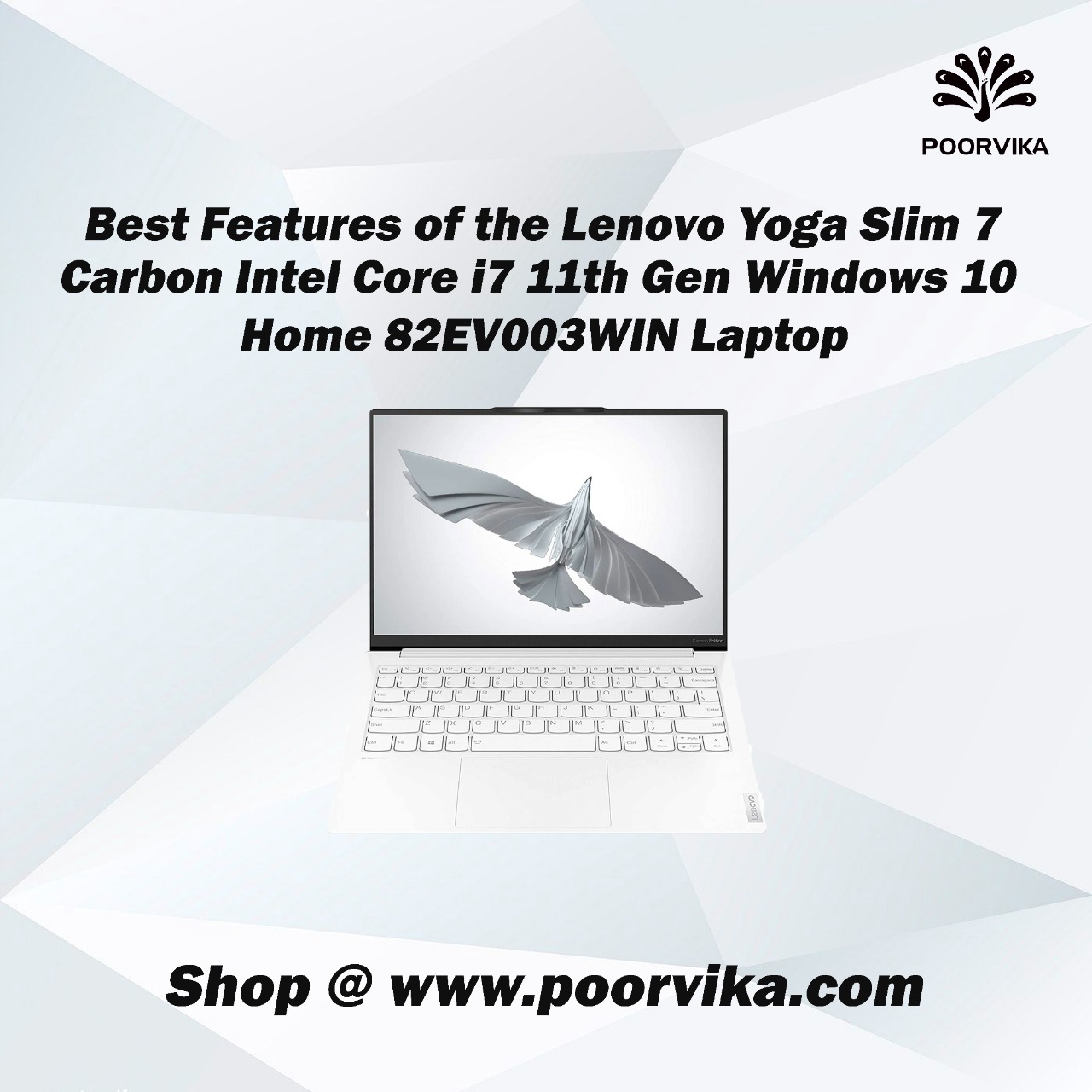 Great products at affordable price, this is the secret behind the success of Lenovo. It is also because of this particular reason, Lenovo remains a dominant force in computing industry. The all new Lenovo Yoga Slim 7 carbon laptop is another addition to the marvellous fleet of Lenovo. The aesthetics of Yoga Slim is definitely a bait to anyone in this planet. And it is also very hard to refrain ourselves from touching the laptop. As it is completely unfair to evaluate a product by looking at the specification. This blog will be presenting about the best features of the Lenovo Yoga Slim 7 laptop. Currently Lenovo holds 24.3 percent of global market share of Laptops, Computers and Workstations.
Previously Yoga series laptops were all about 2 in 1 and laptops with very flexible hinges. But it seems like, with the introduction of Lenovo Yoga Slim 7, the entire Yoga series has taken a different path. As this laptop is not like any of its predecessors. Be it aesthetics or the form factor, the Yoga slim laptop is entirely different from its other siblings. Intel Evo certification is the first thing which you need to remember while speaking about this laptop.
Intel Evo
It is just a branding given to laptops which belong to premium segment. And the specification of laptop must include certain components. Only then, it will be considered as Intel Evo laptop. And the minimum requirements are 8GB RAM and 256GB SSD for storage. A backlit keyboard, facial recognition or fingerprint scanner, Windows 10 operating system.
Above all, the laptop must use Intel's 11th Generation chipsets. Only if a laptop consist of all these components, it will be certified as Intel Evo laptop.
Chipset of Lenovo Yoga Slim 7
Now comes the most important component of a laptop. The laptop runs on Intel Core i7-1165G7 chipset. The Quad Core chipset is made to outperform other chipsets in the segment. Each physical core of the processor consists of 2 virtual threads. And the Hyperthreading support gives an edge to the processor especially while user is multitasking.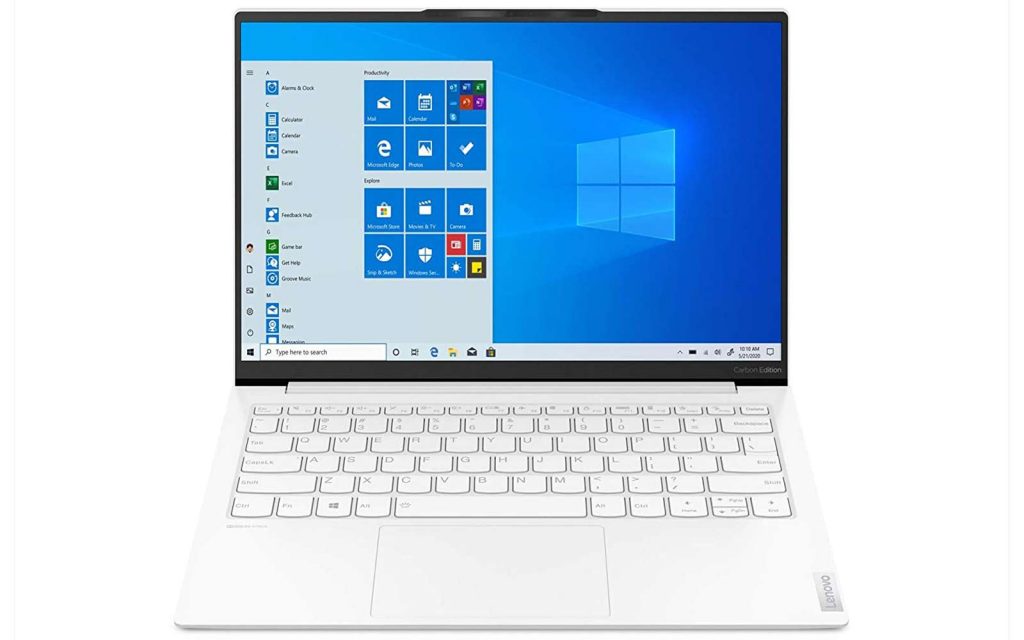 It has a base frequency of 2.80GHz and through Intel's turbo boost technology, it is able to achieve maximum clock speed of 4.70GHz. Because of blazing pace, the laptop was glides across all kind of intensive tasks and Benchmark tests.
In Cinebench R23 Single Core benchmark test, the Intel Core i7-1165G7 was able to earn 1504 points which itself is a great accomplishment. Because only the raw processing power of a chipset is tested in single core benchmark test.
Whereas, in multi core benchmark test, all cores of the chipset and Hyperthreading support work together to render three dimensional forms. Thus the scores of multi core benchmark test is higher. And the trend continues with Intel Core i7-1165G7 too. The chipset has a total score of 6070 points in the multi core benchmark test of Cinebench R23.
By the help of efficient microarchitecture design and smaller lithography, the i7-1165G7 is able to perform exceptionally well. With the Tiger Lake UP3 microarchitecture, performance of the 11th Generation Intel Core chipsets have become faster than ever.
The single thread performance of the chipset is now 23 percent faster and multi thread performance is 19 percent faster than previous generation chipset.
By refining the CPU architecture, Intel has increased the cache memory of the chipset. The 12 MB L3 Cache memory of the processor may seem petty on paper. But its role is very vital and necessary while working on intensive applications like Android studio.
Graphics Card of Lenovo Yoga Slim 7
Motherboard of Yoga Slim 7 laptop consists of most powerful integrated Graphics Card. The processing and rendering power of Intel Iris Xe Graphics is no match against the dominant forces like NVIDIA'S GTX and RTX series GPU. Yet it doesn't let the big boys take the lead by miles.
On average it was able to deliver over 85 frame per second even while playing graphically demanding games like Overwatch. The Iris Xe is also ideal for editing 4K videos under 10 minutes of duration. We were able to render a 6 minute 4K video which had a bit of colour correction in just 9 minutes.
Because of the clever heat management and high speed fans under the hood, there was no kind of heating or slowdown issues.
Memory of Lenovo Yoga Slim 7
Two components that fall under this category are RAM and ROM. And the purpose of both the components are total different. Role of RAM is to store the memory of applications running in the background. The 16GB RAM of the laptop is flawless thus overall multitasking on the Lenovo Yoga Slim 7 is very satisfactory.
For storage, the Lenovo Yoga Slim 7 comes with a 1TB M.2 Solid State Drive which allows user to store massive amount of data without worrying about running out of space or slowing down at any cost.
Display & Keyboard
The 13.3 inch Quad HD Anti-glare IPS Display supports screen resolution of 2560 x 1600 Pixels. Thus images look clean and sharp, and the overall visual experience on this laptop is top notch. It can produce maximum brightness level of 300 nits so using the laptop even under direct sunlight will not be an issue at all.
Though it is a very small laptop, size of the QWERTY backlit keyboard layout is perfect. While typing one can barely hear the noise of the keyboard. Because of the rubber dome switches under each key of the laptop. Also the key travel is merely 1.0mm hence typing becomes a pleasurable experience on this laptop.
Build
Entire chassis and body of the laptop is made out of Carbon fiber. And the rigidity and lightness of carbon fiber has enabled Lenovo to manufacture a highly powerful laptop which weighs just 966 grams. Despite its weight, the laptop is solid and sturdy.
The 180 degree hinges are pretty strong and didn't wobble once even after deliberately opening and closing the lid multiple times.
Battery
Integrated 50 Watt Hour battery of Lenovo Yoga Slim has enough charge to keep the laptop on its feet for 12 hours. And the overall battery standby time of Lenovo Yoga Slim is very similar to other laptops in the segment.
Ports
Lenovo has kept ports for connectivity very minimal. The laptop has ports on both sides which includes 1 x USB-C 3.2 Gen 2, 2 x Thunderbolt 4, 3.5mm Headphone with microphone support.
Buy Lenovo Yoga Slim 7 laptop for rupees 121,089 from our website Poorvika.