06 May 2021
What is so special about Apple AirTags?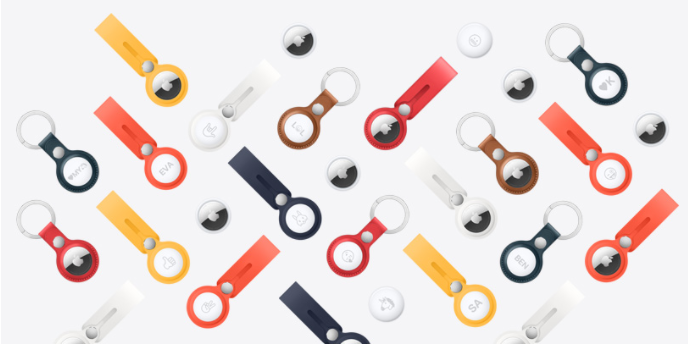 AirTags are the latest innovation by Apple that keeps track of your items that disappear magically, like the Keys, wallets and handbags.
Apple has developed this minute, button-sized technology to have an eye on your valuables, making your life easy.
You can control this battery-operated device with the "Find My" App, pre-installed in your iPhone.
If you are someone who keeps searching for your wallets or keys, you will thank Apple for discovering this innovative technology.
More than the device, you will fall in love with the price at which you can buy it.
The AirTags bags a lot of unique functions.
Offering this bundle of speciality for such an affordable price is what leaves the Apple fans in wonderment.
Let us understand what makes the Apple AirTags special!
Precision finding:
You can precisely find the location of your AirTag using the "Find My" option. Apple has embedded a U1 chip in the AirTag, which helps you precisely track its location.
If the AirTag is not lying within the Bluetooth coverage range, then the U1 chip will help you find the last known location.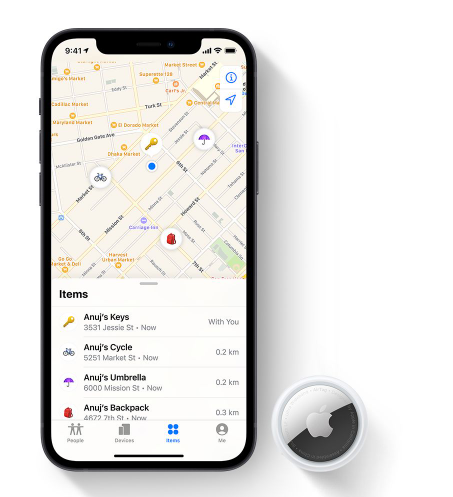 If you are an iPhone 11 or 12 series user, then the precise location finder will do wonders for you. Apple designed the U1 chip using Ultra-Wideband technology to determine the exact direction and distance to a lost AirTag.
Water Resistance:
As you will attach this button-shaped gadget with your keys, wallets, etc., you might be wondering what will happen if the object, along with the AirTags, falls into the water.
Apple stands in the shoes of its users and expects the unexpected. That is why it developed a water-resistant device.
The AirTags are IP67 rated and hence can protect themselves from water and dust. Even when immersed in the water upto one meter for 30 minutes, it causes no harm to the device.
The Apple AirTags are no exception to this feature.If you are using the Apple AirTag, you can very well be a part of the Find My Network Platform without having to share any of your personal information. Be it your location, or identity even Apple would not like to have your personal information.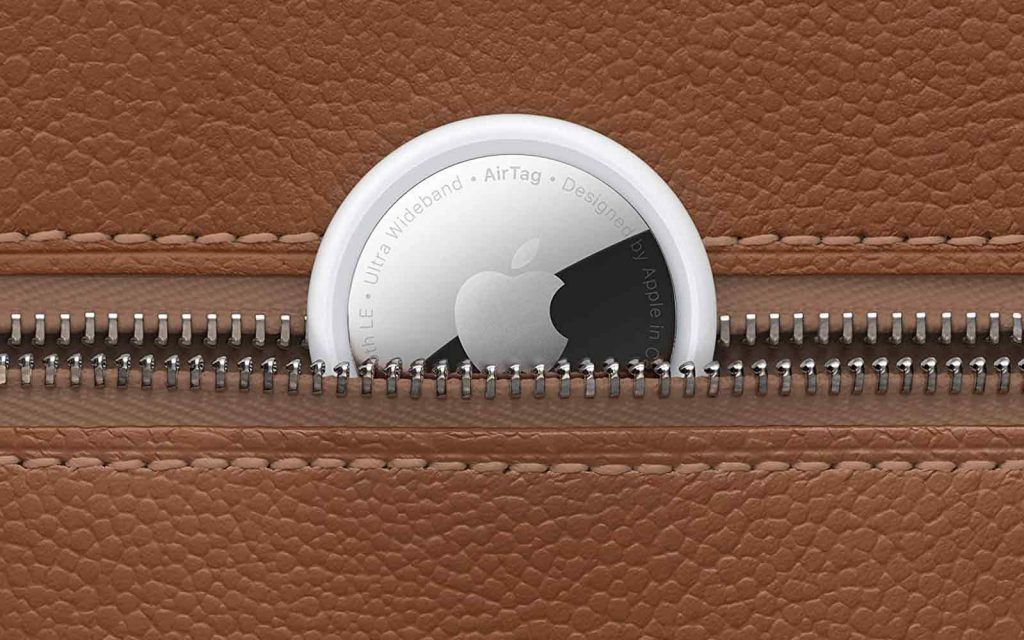 Apple does not store the details regarding the owner's location or history of travel locations in the AirTag. Also, if your iPhone or Mac locates a lost AirTag, you will still stay anonymous.
Apple is interested in finding the lost AirTag or the stuff attached to the AirTag rather than the person operating it.
Also Read: How does Apple AirTag help to find the lost items?
Unwanted Tracking prevention:
No one can track you or your location by dropping an AirTag in your belongings without your knowledge. Yes! Apple has built-in restrictions that ensure that people do not use the AirTag for unwanted or secretive tracking purposes.
If you are travelling with an AirTag other than yours, then your iPhone will send a safety alert mentioning "AirTag detected near you". So, you will be made aware if someone planted the AirTag in your belonging without your knowledge.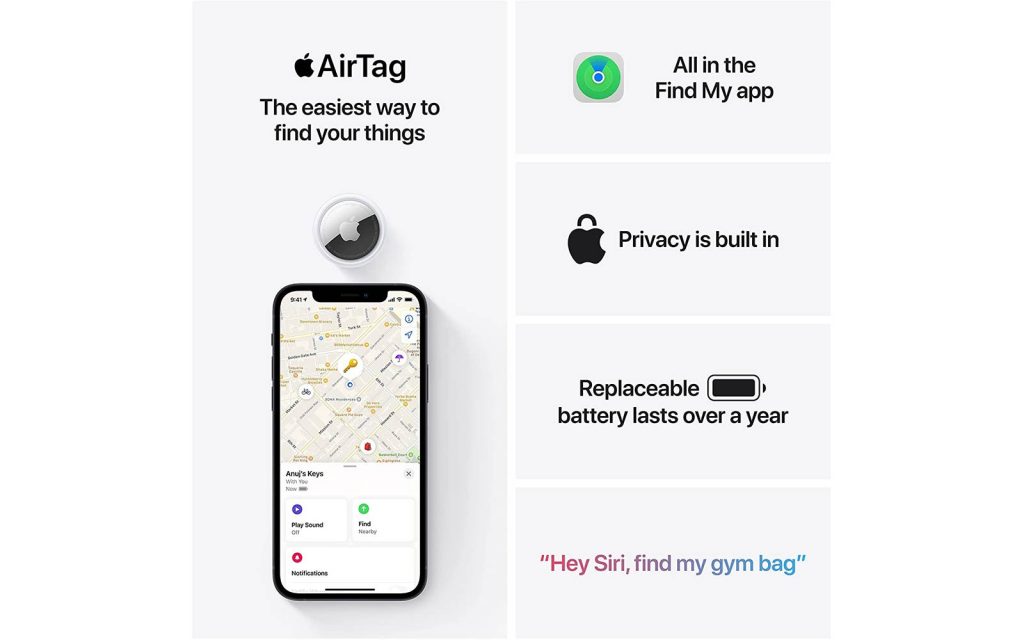 Hence, safeguarding you from unwanted tracking by unwanted people.
Sharing AirTag:
If you share your AirTag with someone else, and if you have listed them on your Family Sharing group, you can disable the safety alerts.If they are not a part of the family sharing group, they can temporarily disable the safety alerts.

Once the safety alerts are disabled, there is no other feature for sharing an AirTag with someone else. Only you can track your AirTag with your AirTag. Neither your spouse nor your parents have access to follow you via the AirTag.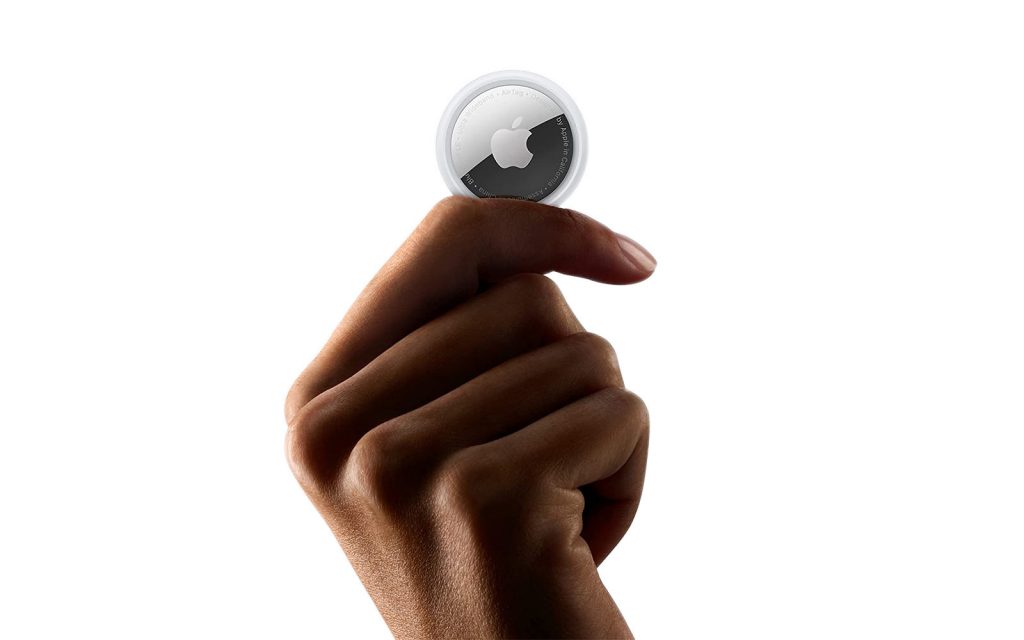 Can you track Pets and Children with Apple AirTag?
Apple has designed this tiny gadget to keep track of your things and stuff. You can not use it to track children or pets. However, you can keep an eye on your kids using the Apple watch under Family Setup.
Price of the Apple AirTag:
In India, the Apple AirTag costs around Rs.3,190 for a single piece and around Rs. 10,900 for a pack of four trackers.These AirTags are one of the most affordable products from Apple to date.There is no doubt that Apple by itself is so unique!Apple's products have a touch of innovation and uniqueness, making them different from the rest of the brands.
You can get the Apple AirTags from the official website of Poorvika. Do check out our exciting offers, cashbacks, discounts and easy EMI options.
Visit the official website of Poorvika to order your Apple AirTags.
Don't forget to avail of our same-day delivery option.
Shop online from Poorvika! Get the products delivered at your Doorsteps!! And Stay Safe!!!
Happy Shopping!