10 May 2021
Benefits of Owning a Smartwatch in 2021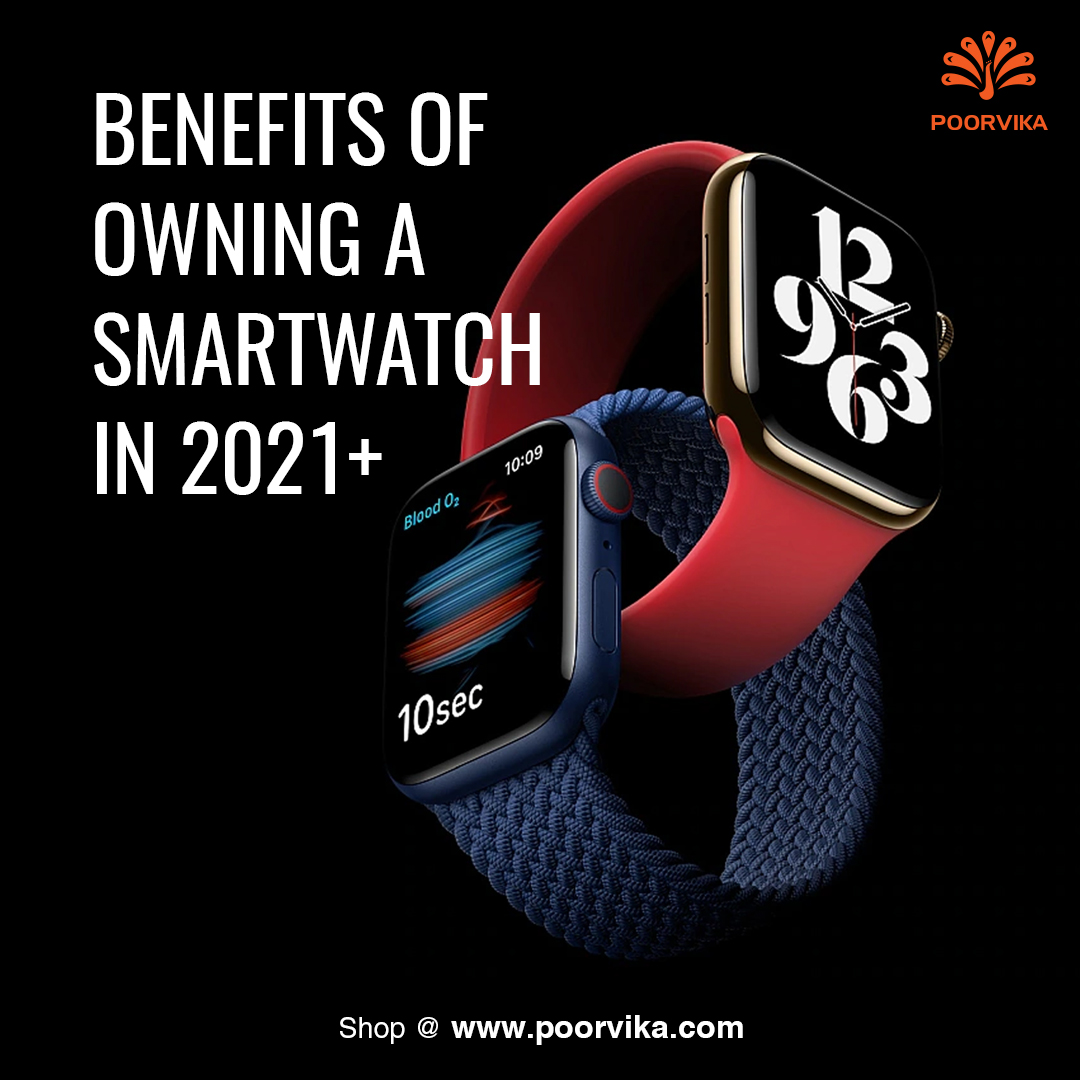 Smartwatches are quickly replacing conventional watches, and that too at a very rapid pace. However, many people are still confused about whether it is a worthwhile investment or a massive waste of money? Considering the present scenario of the worldwide pandemic, we can definitely say that smartwatches have become more of a necessity than an accessory in the wearable technology industry.
The most convincing advantage of a smartwatch is the numerous ways it can improve your lifestyle. It gets you everything from complete information about the activities you perform, nutrition; and burned calories to allow you to monitor blood pressure and heart rates that come in handy during specific situations. All this data is beneficial for accomplishing your fitness goals and keeping your health in check.
Nowadays, most models even come with pre-equipped workout modes like running, cycling, swimming, walking, hiking, yoga and many more. In other words, a smartwatch can make your workouts much more effective among a plethora of other features.
The next most useful benefit of owning a smartwatch is the level of organisation it offers to the user with its time and date related features. Of course, we aren't talking just about the time, as we can easily see it on a smartphone. No, apart from this, they also come with lots of add-ons like a stopwatch, alarm clock, calendar and event reminders etc.
You can conveniently set up an alarm on the phone with your smartwatch. Or maybe set a reminder for that business meeting, or even check up on or add things on your to-do and grocery list. The list goes on.
Yes, Some may argue that these features come readily available on a mobile phone as well, but the convenience offered by a smartwatch just can't be matched.
Overall, the easy notification system of this device is very much handy for such situations.
NOTIFICATIONS:
While speaking of notifications, this feature is something that you just can't miss out on in the list of smartwatch benefits. Having a smartwatch on your wrist lets you see notifications quicker. Incoming calendar alerts, calls, email notifications, messages and news alerts become a whole lot easier to keep track of.
That's not all; you can see social media notifications without any need to take your phone out of your pocket. It can prove extremely useful, especially if you are at an important business meeting or event. There will be no necessity to take out the phone if you want to check or ignore that text notification.
FIND MY PHONE:
Just as you are planning to leave for that business meeting in a hurry, there are those days where you misplace your keys, phone or wallet. As you understand, losing your wallet or keys is an utterly disappointing Situation. It always happens before some significant event that you just can't afford to be late for!
Fortunately, a smartwatch can render this burden a relic of by-gone times. The greater part of them has a "Discover Phone" highlight via which you can connect your phone or any gadget with the option to ring it using your watch at any point. All it takes to find it is just a few simple taps on your smartwatch screen.
HEALTH AND FITNESS TRACKING:
Numerous smartwatches have health monitoring as one of their main components. The latest ones can assist you with keeping track of your wellness objectives. So on the off chance that you regularly carry a health tracker or a blood oximeter, you can replace it with a smartwatch that can do the same.
So what exactly can a smartwatch do? It can calculate steps, calories, pulse, heart rate, rest and even your blood oxygen level if you may require it. 
Smartwatches like the Samsung Galaxy Active 3 are particularly great fitness-oriented smartwatches. However, most offer health tracking nowadays as fitness is a rising trend along with the increasingly alarming pandemic situation.
Know the Best Spo2 Smartwatches here – Best SpO2 Sensor Smartwatches you can Buy!
BATTERY LIFE:
Another reason for shopping for this little wrist-based gadget, perfected by technology, is its long battery life. In spite of providing a great number of features, tech giants have not compromised in regards to battery life. It has improved exponentially with an extensive array of features.
Moreover, there are tonnes of variants from different brands available in the market with a battery life that can last up to a whole month on a single charge. This could be very helpful while going on long trips or during extended power cuts.
CALLING FEATURES:
Smartwatches are nothing more than an extension of a smartphone that's strapped to your wrist, using which you can also make calls, among other things. The extra convenience of being able to make a call from the smartwatch quickly is exemplary.
A Calling feature is particularly useful in case you are practising or are in a situation where carrying a phone is simply cumbersome.
A few watches likewise have voice support where you can give out voice commands to activate certain features and functions. It's like experiencing something out of a Star Trek movie, where you get to converse using the smartwatch and speak with somebody miles away!  
Swiping or holding the icon for answering a call is a thing of the past. The newer models of smartwatches usually come with custom interface buttons that provide easy access and connectivity to the smartphone.
Moreover, there is always the unfortunate case where users accidentally pocket dials someone or presses the hang-up button on a smartphone. A smartwatch can quickly fix all that. Also, the quality of calls is a lot better on a smartwatch.
CUSTOMIZATION:
It's pretty easy to get bored with the same type of phone or smartwatch that will never be changed unless, of course, you plan on buying a brand new one. However, that's not the case with smartwatches, as they give you the option to change watch faces as per the mood or customise it the way you want.
Also, smartwatches these days come with a vast array of customisable watch faces and dials that can amaze you with the level of options they possess.
Besides that, changing a strap whenever you want is no longer a hassle as they are available in lots of different colours and designs. The straps are also easily removable, making them very user friendly.
These customisations help you look stylish and fashionable. Unlike a fitness tracker, a smartwatch will suit any occasion. Be it a dinner date or a business meeting, a smartwatch on your wrist will compliment any occasion.
ENTERTAINMENT:
Playing music or watching a video on the go becomes very easy with a smartwatch. Well, yes, it may not have a large screen like a phone, but it is convenient at its very best.
For instance, if you were walking down the street and you suddenly hear a song played by someone nearby. You needn't pull out your smartphone; you can instantly search for the song or its lyrics using the smartwatch.
PAYMENTS:
Nowadays, smartwatches like the Samsung Galaxy watch series let users enjoy contactless payments via Samsung Pay and other payment portals or wallets. This Payment method aids you in making purchases without the need for a smartphone or a card.
Hence the necessity to carry your wallet or debit card no longer exists, furthermore ensuring the security of payments.
We have curated the things to see before you pick the best Smartwatch here – How to pick the Best Smartwatch?
Are they worth their price? The answer to that is subjective and is solely a matter of choice and need. However, if you feel the need to get your self a smartwatch, hop over to the Official Poorvika Website; and check out our vast array of smartwatches. 
We even have tonnes of offers and discounts that are sure to surprise you. Also, don't forget to opt for our Same-Day Delivery Option to get the product delivered Safely and Securely right at your doorsteps. Stay Home, Stay Safe!