12 May 2021
Prebook your Mi 11X Pro 5G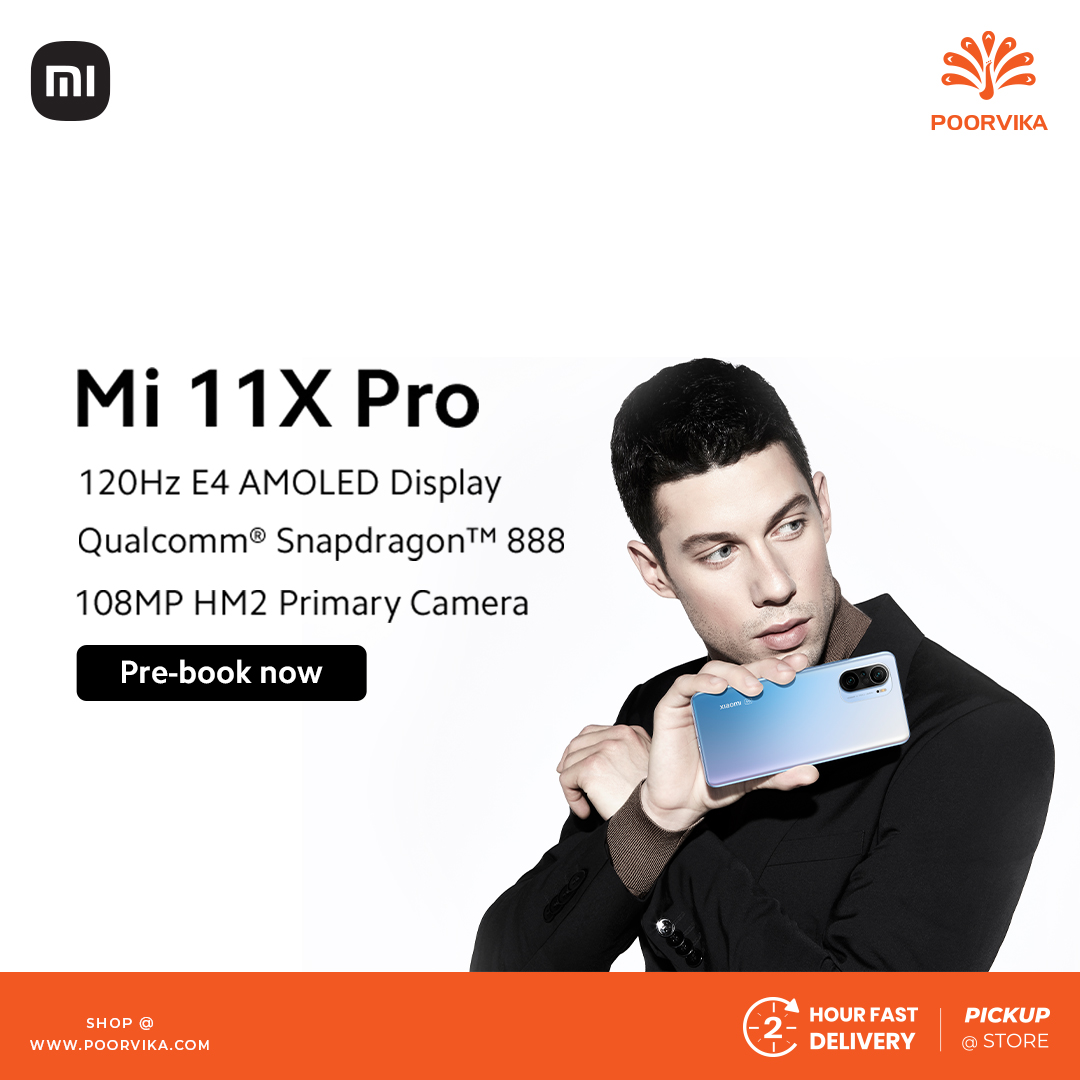 Mi, the leading Tech Giant, is all set to launch their latest beast, the Mi 11X Pro 5G, in India.

The Xiaomi Mi 11X Pro 5G was unveiled in China last month, and the company has recently confirmed its entry into the Indian market.
Read more to deep-dive into a pool of technological wonders created by Mi's team of experts in this Mi 11X 5G and get ready to analyze its complete specifications, upgrades and features.
Display and Layout of the Mi 11X Pro 5G:
The Mi 11X Pro 5G looks pretty sleek and smooth, and it comes with a DisplayMate A+ certificate. This display deserves the Crown of Displays Status in terms of colour Accuracy, Brightness, Resolution, and much more.
This smartphone cleared every single rigorous test set by DisplayMate, the World's Highest Screen Technology Certification body, and received the highest rating of A+. Get ready to get the A+ Technology for you.
Apart from getting A+, it's remarkably light at just 196 grams. The Smartphone features an FHD+ 6.67 "AMOLED DotDisplay with a screen resolution of 2400×1080 FHD+ pixels and a contrast rate of 5000000:1. The aspect ratio for this mobile is 20:9.
The display is the brightest one you can meet with its 1300nits capacity and 100% Color Volume.
This mobile comes with a 120Hz high refresh rate. This device offers a super fast and smoother scrolling experience for daily usage.
The display is perfect for gaming. The Pro 5G provides a 360Hz touch sampling rate that offers a faster touch response while playing your favourite games.
The Smartphone comes with a colour temperature sensor that accurately catches the colour temperature of the surrounding environment's light. Whether you are in a warmly sparked cafe or a coolly bright office, the display intuitively adjusts to the optimal colour, giving your eyes the most pleasant experience.
Camera of Mi 11X Pro 5G: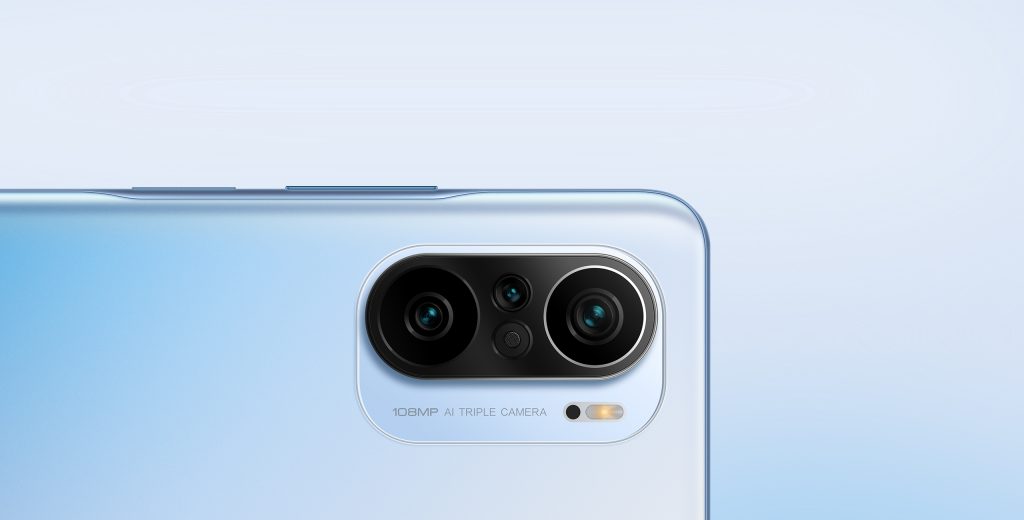 The Mi 11X Pro 5G is a Camera-focussed smartphone featuring an extraordinary Triple Camera that makes it stand out from the crowd. The mobile features an 8 Megapixel Ultra Wide-Angle Camera, a 108 Megapixel HM2 primary Camera, and a 5MP Telephoto Camera. Get ready! It's time to get the cinematic photography experience with more precise details.
When you capture your picture in front of a camera, the 20 Megapixel Selfie Camera integrates every pixel to show you the most authentic you. Get that Instagram Fashionista title right now!
Coming to Videos, the advanced technology in the Mi 11X Pro 5G lets you record your videos in 8K resolution at 30fps. You can capture many high-resolution videos and photographs as well.
The Camera functions include Time Freeze, Magic Zoom, Slow Shutter, Night Time-lapse, Parallel World, Freeze Frame Video and much more. Test your editing skills with just a tap.
Mi 11X Pro 5G comes with a Powerful Processor:
The latest Qualcomm Snapdragon Snapdragon 888 processor powers the Mi 11X Pro 5G, built with a 5nm octa-core process technology. The 5nm processor provides a 25% faster CPU performance and a 35% faster GPU when compared to its predecessor, the Qualcomm Snapdragon 865 processor. It comes with an industry-leading 5G built-in modem, which lets you experience uploads and downloads in mere seconds. It allows you to enjoy the first-class 5G speed without buffer or lag when playing games and watching videos.
It's time to hear the magic:
The dual speakers in the mobile sport Dolby Atmos, offering a much more powerful surround sound for that perfect Immersive Audio Experience!
Dolby Atmos have the power to take you right to the middle of it all, giving you an illusion you might actually be in the studio with the artists.
Long-Lasting Performance:
Bearing Top-level specs would have no credibility without a battery that lasts.
The device has a massive 4520mAh battery capacity. It makes you feel secure by knowing the battery lasts all day with more power to spare. The handset also supports 33W fast charging.
The device carries increased charging speed, facilitated through Middle Middle Tab (MMT) technology. In conventional batteries, the electric current passes from the bottom of the module, filling it upwards, resulting in a considerably slower charging speed.
In the Middle Middle Tab (MMT) technology, an innovative scientific method holds the base. The battery carries the electric current from the middle and concurrently spreads it to the module's top and bottom areas. So, the Mi 11X Pro will get charged in no time.
Colours:

The Mi 11X Pro 5G is available in three unique colours: Celestial Silver, Lunar White, and Cosmic Black. These are great colours designed with inspiration from space. These colours give an elegant look to the device, and they are also perfectly designed to suit your outfits.
The Mi 11X Pro 5G supports two storage variants: 8GB+128GB and 8GB+256GB. It strengthens its connectivity via the more advanced version of Bluetooth 5.2. You can connect to your neckband or TWS earbuds, and it provides exceptional signal accuracy and stability.
How about getting the premium smartphone before everyone else does? Sounds cool? Alright then! Pre-book the Mi 11X Pro 5G today from Poorvika Online. Be the first person to get it when it's ready for Sale!!
Do check out our exciting offers, cash backs, discounts and easy EMI options for your favourite Mi 11X Pro 5G smartphone.
Don't forget to avail our same-day delivery option. Have your product safely delivered to your doorstep with all the necessary precautions!
Order online from Poorvika and Get the products delivered to your Doorsteps!!
Stay Safe at Home!