13 May 2021
ASUS VivoBook 14 Intel Core i3 10th Gen Windows 10 X415JA-EK092TS Home Laptop – Everything you need know!

In current world, laptop is a very essential product. Because it allows user to do, whatever they want without going anywhere. Since the form factor of laptop is very compact, it is more convenient and practical to use a laptop. After connecting the laptop to a wireless internet connection, you can work anywhere within the network range. This blog will describing about ASUS VivoBook 14 laptop which is a perfect laptop for work from home and academic purposes.
The design of the ASUS VivoBook 14 is sleek and slim, which is a great news for windows users and people who buy budget friendly laptops. Because aesthetics of entry level laptops are usually displeasing and unattractive. But with the launch of ASUS VivoBook X415JA laptop, ASUS has overthrown the existing opinions and facts on budget laptops.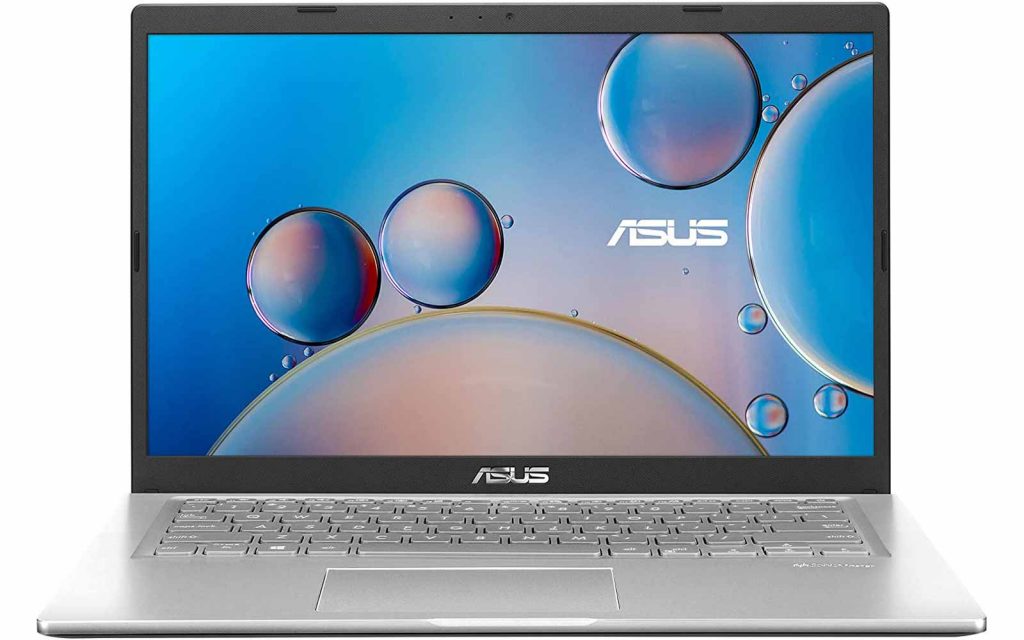 Chipset of ASUS VivoBook 14
The motherboard of the ASUS VivoBook 14 consists of Intel Core i3-1035G1 chipset. It is a mid-range processor from Intel to handle less intensive tasks. The Dual Core processor is flawless because it didn't flinch a bit even after testing beyond its potentiality.
Each physical core of the CPU consists of 2 virtual threads that can achieve maximum clock speed of 3.40GHz. Intel uses Sunny Cove cores to build Ice Lake microarchitecture of the i3-1035G1 processor.
According to the claim of Intel, their 10th Generation processors are capable of delivering 18 percent better Instruction per clock. Hence the performance of i3-1035G1 processor is similar to 7th Generation i7 processors.
In Multi core benchmark test of Cinebench R23, the i3-1035G1 processor has a total score of 949 points. This score is pretty high for a Dual Core processor but the Hyperthreading support of Intel Core i3-1035G1 makes the laptop glide through benchmark test.
In addition to CPU performance, the GPU performance of 10th Generation processor is lot higher and better. It has 32 compute units which can operate between 300 to 900MHz. Hence user can play games like Rise of the Tomb Raider in low resolution and graphic settings.
10th Generation Intel Core processors takes a massive lead in power efficiency too. Because it uses smaller 10 nanometre lithography process through which Intel is able to reduce the size of each transistors on the chipset. Thus the 10th Gen processor consumes lesser power than its predecessors.
Memory of ASUS VivoBook 14
The 8GB DDR4 RAM ensures user doesn't experience any kind of lag or slowdown even while vigorously toggling between applications.
ASUS doesn't compromise here as well. Instead of providing just a Hard Disk, the ASUS VivoBook X415JA laptop has dual option for storage.
Under the hood it packs a 1TB SATA Hard Disk Drive. The needle inside the Hard Disk has the capability to spin 5400 times per minute thus sharing massive amount of data, will be very quick. One more advantage of having a 1TB Hard Disk is, user need not worry about running out of space.
The laptop also has a 128GB M.2 NVMe PCIe 3.0 Solid State Drive, where user can store operating system and other important files without worrying about the laptop slowing down at any cost.
Display & Keyboard of ASUS VivoBook 14
It has a 14 inch Full HD Anti-glare display with a supporting screen resolution of 1920 x 1080 Pixels. Hence the laptop's display is able to deliver super smooth and clean content without loss in detail. However under direct sunlight, it is very hard to view contents on the display of ASUS VivoBook laptop.
Keys on the Chiclet keyboard has just 1.4 mm key travel, which makes the laptop ideal for typing lengthy passages. By using this laptop, person with average typing skills must be able to type at least 50 words per minute. \
Battery
The laptop consists of a 37 Watt Hour, 2 cell Lithium-ion battery which has enough charge to keep the laptop on its feet for 6 hours.
However by lowering the brightness of the display to 50 percent, the laptop will last for another one and a half hours.
Ports
The Laptop features several ports for media and connectivity on both sides. And the list includes 1 x USB 3.2 Gen 1 Type-A, 1 x USB 3.2 Gen 1 Type-C, 2 x USB 2.0 Type-A, A HDMI port to share content from your laptop's display to another device, A 3.5mm audio jack with microphone support, A separate slot for SD card reader.
Buy ASUS VivoBook 14 laptop for just Rs.40,990 from our website Poorvika. And don't fail to opt our safe and secure delivery service, to get product to your doorstep.