15 May 2021
ASUS VivoBook 15 X515 Intel Core i3 10th Gen Windows 10 X515JA-EJ321T Home Laptop – Everything you need to know!

Presently, ASUS has become an indomitable force in the computing industry across the globe. Over the past few years, ASUS has attained this spot mainly through the qualitative state of their products. This blog will give an outline of the specifications and features of the ASUS VivoBook 15 laptop.
As we live in the post-modern era, it is almost impossible to live without the help of laptops and smartphones. It is always better to buy a laptop on any given day because laptops offer top-notch convenience to the user.
With the pandemic rendering us homebound, the need for laptops with plenty of features is very essential. The VivoBook X515JA laptop is ideal for students to attend online classes and complete their projects on time.
Chipset of ASUS VivoBook 15
The ASUS VivoBook laptop runs on Intel Core i3-1005G1 10th Generation processor. The performance of this 10th Generation processor leaves previous generation processors in the dust. By introducing Ice Lake microarchitecture, Intel has taken performance of their processors to another level.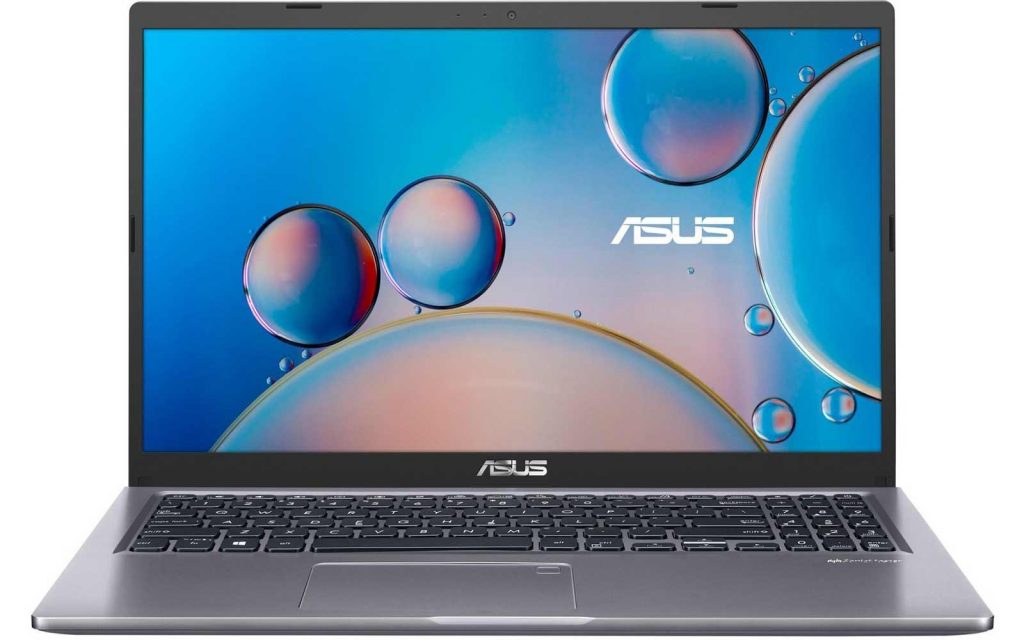 The raw processing power of Ice Lake microarchitecture makes it the best choice for demanding tasks like Video Editing and Gaming. However, gaming on the Dual Core i3-1005G1 processor is not going to be pleasing and comfortable experience.
Processors with more cores can easily sustain any demanding tasks, which means the dual-core processor might face some hitches along the way.
Headed by the Turbo Boost Technology of Intel and Hyperthreading support, the Intel Core i3-1005G1 achieves a top clock speed of 3.40GHz.
The Ice Lake microarchitecture allows the i3-10035G1 processor to deliver more instructions per cycle. Thus, the processor can offer 18% better performance at the similar clock speed of 8th and 9th Generation processors.
Also, a 10th Gen processor consumes significantly less power than its predecessors. As the manufacturer builds it using a smaller 10-nanometre lithography. This spacing technology brings the TDP of the Intel Core i3-1005G1 chipset somewhere between 15 to 25 Watts.
The processor's overall performance is more than enough to handle tasks like browsing, presentation, and editing photos on Adobe Photoshop.
The all-new Intel UHD Graphics G1 GPU performs much better than the previous generation UHD 620 Graphics. It has 32 cores to deliver 25% more performance while playing games, including high fps games.
Memory of ASUS VivoBook 15
There are two key components that fall under this category that helps a processor to improve the performance of a laptop. The 8GB DDR4 RAM of the ASUS VivoBook laptop ensures the user doesn't face any difficulty while working on multiple applications simultaneously.
For storage, the laptop features a 1TB 2.5 SATA Hard Disk. It is not your regular average Hard Disk that is highly prone to damages. The shock dampener present inside the laptop keeps the Hard Disk of the laptop intact.
Additionally, 1 Terabyte of storage means the chances of running out of space is very unlikely to happen.
Display & Keyboard
It has a 15.6-inch Full HD Anti-glare display with a supporting screen resolution of 1920 x 1080 pixels. The high resolution of this laptop makes sure all sort of content looks clear and sharp without even a tiny bit of blur.
However, it is a bit hard to use the laptop under direct sunlight because of the screen brightness. The Round shaped keys of this device are light and very responsive in order to provide a soothing and comfortable experience while typing on the VivoBook laptop.
Battery
ASUS laptops are known for their incredible battery life, and the same glory persists in this device as well. The 37 Watt-Hours 2 cell Lithium-ion battery has enough juice to keep your laptop running for 6 hours straight.
Ports
The laptop has an array of peripherals for media and connectivity. The list includes 1 x USB 3.2 Gen 1 Type-A, 1 x USB 3.2 Gen 1 Type-C, 2 x USB 2.0 Type-A, an HDMI port to share content to other devices, a 3.5mm Audio Jack, and a slot dedicated for Micro SD cards.
We hope this blog convinced you enough to buy the ASUS VivoBook Laptop. Buy the laptop from our Poorvika website for just Rs.33,990. Shop safe and avail our safe and secure delivery service to get your products delivered to your doorstep.