20 May 2021
Advantages of buying ASUS VivoBook Flip 14 (TP412FA-EC372TS )Intel Core i3 10th Gen Windows 10 Home 2 in 1 Laptop.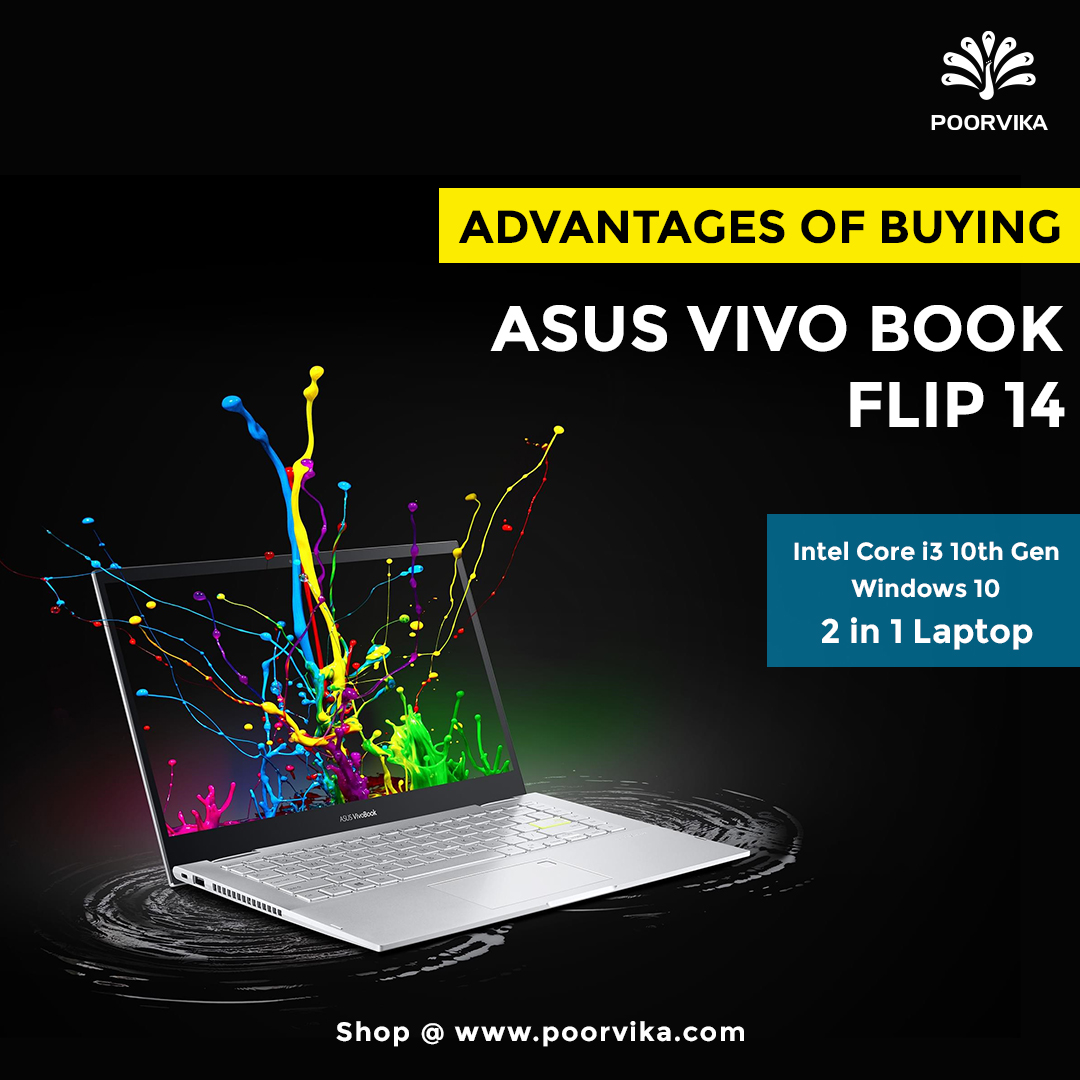 Because of the technological advancements, the invisible pathogen couldn't ruin our lives completely. We are able to stay safe only through the products of science. Today in this blog we are going to unveil about a product, which plays a prominent role in maintaining the qualitative state of our work. Other than laptops, no other product can help us to keep our productivity intact. We wholeheartedly agree that 'Smartphone' has grown to a great extent. But smartphones have a lot of limitations. Hence it is better to choose a laptop over smartphone and tablet for official purposes. And specification of a product must help us to increase the qualitative state and our productivity to a great extent. This blog is going to mention about advantages of ASUS VivoBook Flip laptop.
This laptop from the Taiwanese manufacturer is not like any other laptops available in the segment. Because it is a 2 in 1 laptop. While buying a 2 in 1 laptop, you're buying 2 products at the cost of 1 product. This is also the reason why 2 in 1 laptops maintain an edge over conventional laptops. 2 in 1 or convertible laptops take convenience to a whole different league.
ASUS is a company known for top notching gaming laptops. They are dominating the gaming segment for a long time because no other company has fleet of products only for gaming. By launching ASUS VivoBook Flip laptop, it seems like ASUS is eyeing on budget segment. On paper specification of the VivoBook Flip laptop looks very impressive. Let us see how it performs in real world.
Design of ASUS VivoBook Flip
Aesthetics of the ASUS VivoBook Flip looks very attractive. Except the lid, entire body of the laptop is made of plastic. Yet the laptop doesn't look inferior or unimpressive. Sandblasted finish on the lid of the VivoBook Flip laptop looks lovely and it is very hard to cast your eyes away.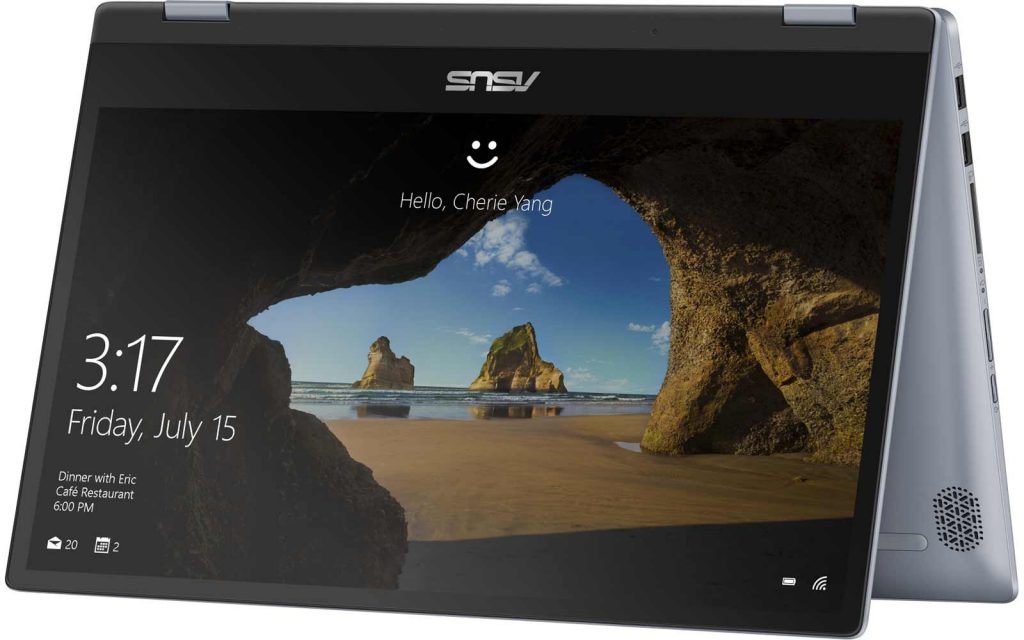 Because of the plastic build, the overall weight of the laptop is just 1.50 Kilograms. So you can carry the laptop wherever you want without straining much. Not just the weight, flexibility of the 360 degree hinges plays a crucial role in portability. Anyone in the town can fold, open the laptop using just one finger alone.
Since ASUS VivoBook Flip is a convertible laptop, you can use it as a tablet by folding it into two halves. This design enhances user experience to a great extent. Let us assume you're lying on your stomach and watching your favourite movie by using the laptop in tent mode. You can watch the entire content without straining your neck a bit. Metal hinges of the laptop will embarrass even the toughest guy in the hood.
Display & Keyboard of ASUS VivoBook Flip
The 14 inch Full HD LED Backlit glare IPS Level touch display of the ASUS VivoBook Flip laptop delivers stunning visuals across all lighting conditions. The screen response is very quick to mild touches too. Hence you need not apply much pressure while touching the display of ASUS VivoBook Flip laptop.
There is no kind of colour bleeding from the display. Slim bezels on right and left side of the laptop offer a great viewing angle. And the colour reproduction is pretty accurate so, the laptop is ideal for content creators.
Keys on the Chiclet are light and responsive. Using this keyboard, person with mediocre typing skills must be able to type at least 45 words per minute. Overall typing experience on the keyboard of ASUS VivoBook Flip laptop is very satisfactory.
Chipset of ASUS VivoBook Flip
Here comes the most important component of a laptop. It is also known as the brain of a computer. Because it monitors and executes the entire functionality of a laptop. The ASUS VivoBook Flip laptop runs on Intel Core i3-10110U processor.
Performance of the Dual Core processor is exceptionally good in both real life and benchmark tests. The Intel Core i3-10110U chipset can perform 12,606 MOPs Integer Math per second and 3,435 Million Matrices Extended Instructions per second. Aren't the numbers mind boggling? Yeah, it is beyond the capability of a Dual Core processor. It is astonishing to see a Dual Core processor devouring all kind of tasks put on its way.
By launching the 10th Gen chipsets, Intel began to regain its former glory. Though previous generation processors had the ability to work at higher clock speeds. Intel couldn't keep with Aggressive Research & Development team of AMD. Since Intel didn't spend all of its resources to attain pinnacle. With the launch of Comet Lake microarchitecture, Intel is ready to capture the throne comfortably.
Because this time Intel has done so many great things to usurp the power from their competitor AMD. In addition to latest Microarchitecture, the 10th Gen Intel processors feature so many ground breaking innovations.
In order to avoid heating issues, Intel has shaven around 300 microns of material on top of the chipset. Theoretically, this may sound like easy-peasy but in reality, Intel has fought against the fundamental of Physics in order to deliver top notch performance.
Though the performance of the Dual Core processor is phenomenal, it is not ideal for heavy tasks like gaming, video editing and application development. However, designing posters and photos on applications like Adobe Photoshop and Adobe Lightroom will not be an issue at all.
Memory
4GB DDR4 RAM is the non-volatile component of this laptop. It works well and ensures user doesn't face any kind of discomfort even while working on many applications simultaneously. 17 tabs on Google Chrome browser was not sufficient to make the laptop droop a bit. For storage, the ASUS VivoBook has a M.2 NVMe PCIe 3.0 512GB Solid State Drive.
Battery
Because of the slim form factor, convertible laptops don't come with massive batteries. But ASUS has done something which a lot of companies haven't done. ASUS VivoBook Flip laptop packs a 42 Watt Hours, 3 cell Lithium-ion battery. It has enough charge to keep the laptop alive for 8 hours.
Ports
On both sides, it has several ports for media and connectivity. There are three USB-Type-A ports, one USB-Type-A, HDMI ports to share content from your device to peripheral device, a discrete slot for SD/MMC card reader, 3.5 mm headphone jack with microphone support.
Buy ASUS VivoBook 14 Flip laptop for just rupees 48,990 from our website Poorvika. Avail our safe and secure delivery service to get products to your doorstep.