20 May 2021
Best Smartwatches for Women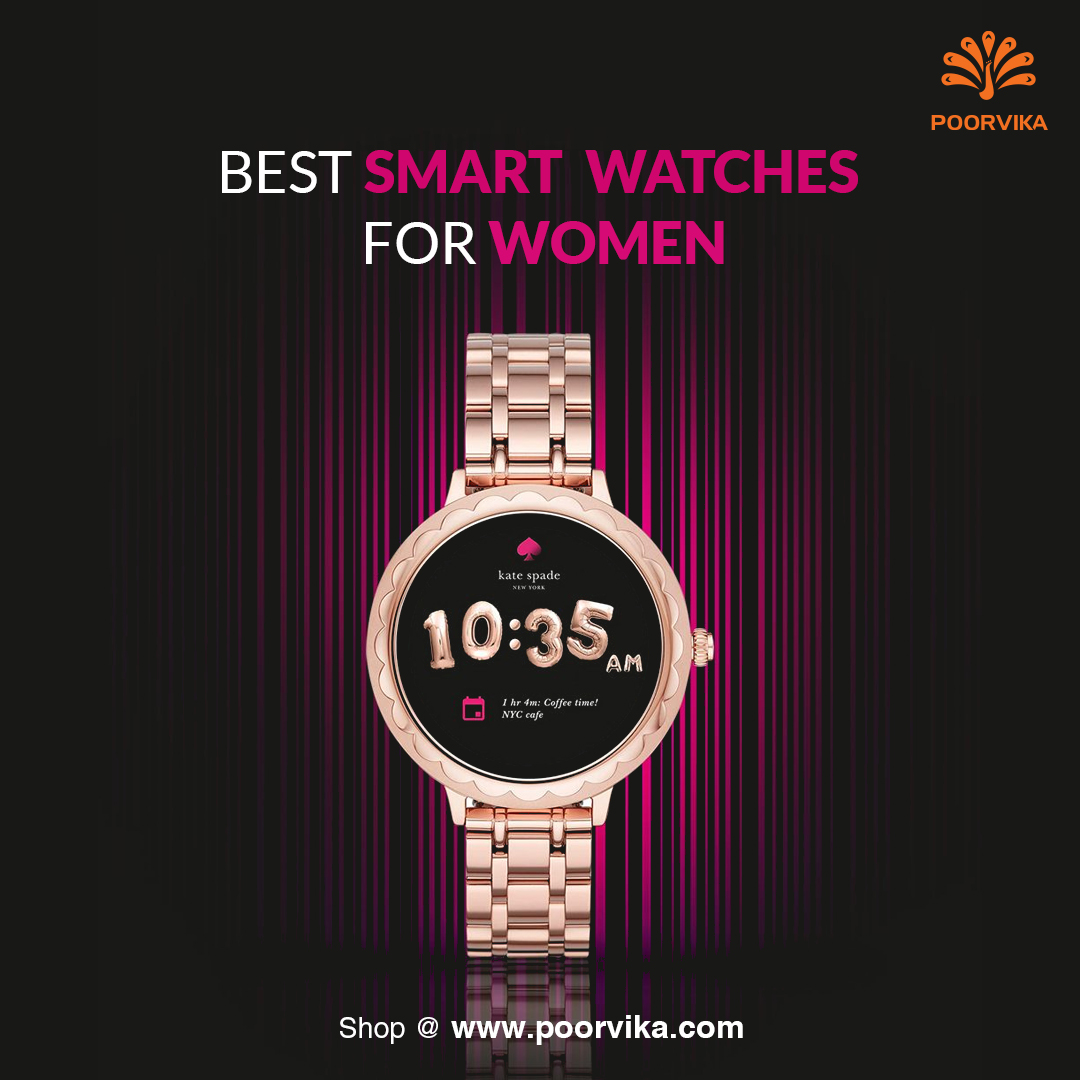 When it comes to smartwatches in today's scenario, what is the first thing that people associate it the most with? Becoming fit and healthy in the blink of an eye with all the fitness tracking features these devices have to offer.
However, contrary to popular belief, getting yourself a smartwatch won't magically make you fit or let you get loads of sleep. But these little wonders have an army of female users who swear by the fact that the right smartwatch can help in improving your overall health, other than just achieving fitness goals.
Smartwatches can track your heart rate, count your steps, monitor your sleep, notify you of incoming texts and calls, among a whole host of other things to help you be organized and healthy. While older smartwatches looked kind of bulky, the newer models are sleek and stylish and are more preferred by women.
If you are looking for a smartwatch tailored for Women but aren't sure where to start, this blog should help sort that out by listing out the best smartwatches for women in the market today.
Samsung's Galaxy Watch Active 2:
The Galaxy Watch Active 2 from Samsung is the latest and best smartwatch that the Tech giant has released so far. Although it looks like a "regular" watch, the Watch Active 2 does so much more.
This Android and iOS compatible wearable device has a built-in GPS, improved sensors, and more options compared to its predecessor.
This device gives women an added advantage as it comes with a menstrual cycle tracking feature that helps keep a check on everything from ovulation periods to notifying them about upcoming periods.
The device can track your heart rate, monitor sleep quality with its built-in sleep tracker, and can even monitor your stress levels while offering suggestions and exercises to help destress.
While most wearables stop with just a step counter, the Watch Active 2 has up to to 39 different fitness and sport modes, ranging from rowing to cycling or even swimming, thanks to its IP68 rating.
This Galaxy Watch Active2 also comes in a variety of different interchangeable straps, colours, and numerous watch faces allowing you to customize the device as you like it.
When it comes to battery, this smartwatch can last anywhere from 24-60 hours on a single charge thanks to its 340mAh battery.
The Samsung Galaxy Watch 2 price in India is Rs.30,990 and you cant get it right here at Poorvika.
Apple Watch Series 6 and Apple Watch SE:
The Series 6 is the latest smart Watch from Apple apart from the Apple Watch SE, and both come loaded with plenty of new improvements in terms of software and hardware.
For starters, they both come with a wide range of straps and new customization options to suit your sense of fashion and style. The 64-bit dual-core processor on the device makes it 20% faster than its predecessor allowing a faster and smoother user experience.
The display features an always-on Retina display that is now 2.5 times brighter than the one on the Series 5, making visibility less of a problem even under bright sunlight.
There are lots of new features that come with the WatchOS 7. Both devices feature an FDA-certified heart rate tracker and a menstrual cycle tracker that is pretty useful for women and helps keep track of their periods and menstrual cycles.
However, among the two, only the Apple Watch Series 6 comes with an ECG monitor, SpO2 sensor to measure your blood oxygen, an always-on altimeter and sleep tracking. The improved U1 Ultra-Wideband wireless chip also offers improved tracking accuracy.
Both devices don't mention an IP rating, but Apple claims both are resistant up to 50m and have a battery life of 18 hours.
You can buy the Apple Watch Series 6 and Apple watch SE right here at Poorvika. The Apple Watch Series 6 price starts at Rs.39,990, and the price of the Apple watch SE starts at Rs.29,900
Fitbit Versa 2:
If there is a smartwatch that proves to be a pure value for money, this is it. The Fitbit Versa 2 is a brilliant smartwatch that comes with loads of features but costs a fraction of its Apple counterpart.
This device qualifies both as a fitness tracker and smartwatch and is iOS and Android compatible.
Once paired with your smartphone, you can track things such as your heart rate, sleep, menstrual cycle, and sports activities. It also allows you to manage and receive all your calls, notifications and messages.
With Amazon's Alexa compatibility, you can get news and information, set timers and alarms, check the weather, ask for directions, and even control your smart home devices with your voice.
The battery lasts about 6 days on a single charge and is water-resistant up to 50m meaning you can wear it for a dip in the pool.
You can get the Fitbit Versa 2 right here on the Official Poorvika Website for Rs.13,999
Amazfit Bip U and Bip U Pro:
Both Amazfit Bip U and the Bip U Pro come with a 1.43-inch IPS LCD display, boasting a screen resolution of 320 x 320 pixels. Both the Bip U and Bip U Pro have the same weight of about 31g and are 11.4mm thick.
The straps are comprised of silicone, while the body of the device is of polycarbonate material. The watch comes with a 230mAh battery and can last for up to 9 days with typical usage. However, the battery will last 5 days if the usage is heavy.
The devices pack a Gyroscope sensor, Acceleration sensor, Geomagnetic sensor, and BioTracker PPG 2 developed specifically by Huami.
Both smartwatches come with a range of 50 watch faces to choose from and also allows users to further customize the watch face with a picture of their choice.
The Amazfit Bip U and Bip U Pro support animated watch faces while featuring 60 sport modes that can track all your fitness activities; that include walking, running, swimming, and cycling.
The device has the ability to measure the level of oxygen in your bloodstream with the SpO2 sensor and give you detailed reports of it on the PAI system (Personal activity intelligence). Both the Bip U and Bip U Pro have features that include Stress Monitoring, Heart Rate Tracking, Sedentary Reminders, Menstrual Tracking, and Breathing Training.
Using the smartwatch, you can control the music and even the camera on your phones. Amazfit claims that the smartwatch is water-resistant up to 50 metres.
However, the Bip U Pro supports both GPS+GLONASS, and it comes with a microphone giving it a slight edge over the Bip U.
The watch also the usual set of features which include alerting users of incoming calls, app alerts, text messages etc.
Both the Huami Amazfit Bip U and Bip U Pro are available right here on the Official Poorvika Website. The Huami Amazfit Bip U price is Rs.3999, and the Price of the Huami Amazfit Bip U Pro is Rs.4999
Amazfit GTR Glitter Edition:
The Amazfit GTR Special Glitter Edition is one watch most women would love and comes embellished with 60 Swarovski crystals and an elegant white leather strap that makes it look gorgeous.
The GTR Glitter Edition has a 1.2-inch (3.05 cm) AMOLED Display, making the clarity of apps and other functions of the smartwatch top-notch. This smartwatch is quite light on the wear-ability side of things and weighs just 25 grams, even with its Metal Ceramic design.
Though the device looks dazzling and delicate, the screen is quite tough as it is protected by Corning Gorilla 3 tempered glass and an anti-fingerprint coating.
The display on the device is quite bright, making it visible even under strong lights. It also shows notifications, incoming calls, reminders, texts and even weather information on the go.
The GTR Glitter Edition comes with 12 different sports modes like running, swimming, cycling, swimming, and some rare modes like trail running and mountaineering.
The device has up to 12 Days of battery life thanks to its 195mAh Li-Po battery and is water-resistant up to 5ATM.
The price of the Huami Amazfit GTR Glitter Edition smartwatch is Rs.7999 and is available on the Official Poorvika Website.
Ladies, we hope you loved these suggestions and is on the way to buy them right away. If that's the case, visit the Poorvika website and Order the smartwatch that caught your attention. We also have tonnes of offers and discounts on these smartwatches on our offer page.
We have the Same-Day Delivery option to deliver your device Safe and Sanitized as per Lockdown Regulations set by the Govt.
We hope you Stay Home, Stay Safe and get all your favourite devices right from the comfort of your home.