22 May 2021
Best Smart Speakers under Rs.5000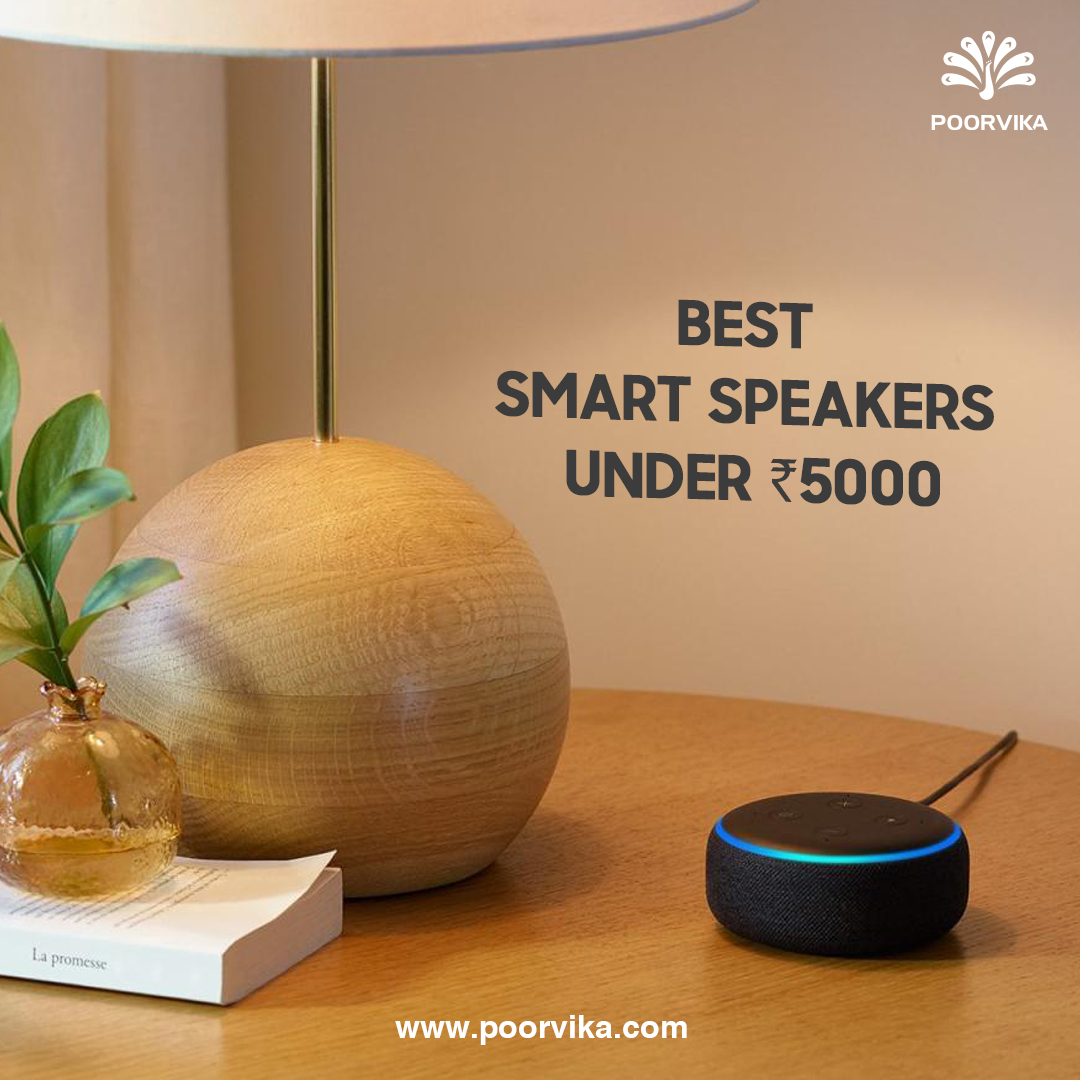 There are loads of Smart Speakers out there in the market today, and choosing the best one under a tight budget is not easy. They need to be fashionable, durable and functional, all the while not costing too much.
If you are looking for a Smart speaker that meets all these standards, we have a list of Smart Speakers under Rs.5000 curated for you right here.
Amazon Echo Dot 3rd Gen:
Amazon Smart Speakers are the one that comes to our mind when we talk about Speakers with Voice Assistant. First on our list is the Echo Dot 3rd Gen, a smart speaker from Amazon that has Alexa voice assistant built-in.
The device still maintains its small puck-like design. However, the third generation, Echo Dot, has a softer, more rounded aesthetic with fabric sides than its hard-edged predecessor, The Echo Dot 2.
Measuring 99mm in diameter and 43mm in height, it is also slightly larger in size. The back features a circular power socket, along with a standard 3.5mm analog socket that allows you to connect the device to another external speaker, should you need something louder.
If you want to go wireless, you can use its Bluetooth functionality to stream content and music from the Dot to other speakers or from your phone to the Dot to use the Echo Dot itself as a Bluetooth speaker.
You can access music from various streaming platforms like Amazon Prime Music, Apple Music, Jio, Spotify, Saavn and much more. It can also stream content in almost all the regional languages available.
On top of the device, you have the Echo Dot's signature control panel with the action button, volume control buttons, and a button to mute the microphone.
Speaking of microphones, the Echo Dot's performance is top-notch, with its four-microphone array being able to pick up your voice over most things like children playing at home or the TV in the hall. Alexa sounds pretty loud on the Echo Dot's speakers as well.
Another little interesting addition to the Amazon Echo Dot 3rd Gen is that you can change Alexa's wake word as well with default options that include Echo, Computer or Amazon.
Music Playback, Smart Home Control, News Briefings, Podcasts, Radio Stations, setting multiple Alarms, Timers, and various other functions work really well on the device.
You can Buy Amazon Echo Dot 3rd Gen Online for Rs.3099, right here on the Official Poorvika Website.
Mi Smart Speaker:
The Mi Smart Speaker comes with an aluminium build which is quite sturdy, and a perforated grill that runs around the speaker for audio output. The plastic body on the top and bottom of the speaker is of good quality and feels solid.
The Mi Smart Speaker has dimensions that measure 131mm x 104mm x 151mm and weighs less than 1Kg. Its "Can" shaped design houses a powerful 12W speaker with a 65.3mm Driver. The Company claims that the speaker has 10531 sound holes that allow the device to produce a mesmerizing sound that is loud and crystal clear.
The touch controls for volume control, play, pause and microphone mute are highly responsive. Additionally, an LED ring runs along the top of the Mi Smart Speaker, and it glows to indicate when the speaker is listening to voice commands.
The Smart Speakers LED ring comes with 16 million combined colours that create a glow in the living room the minute you wake it up by saying, "Hey Google!". The ring turns blue when the microphone is enabled and turns orange when it is turned off.
The device's overall design is minimalistic, with a fairly small Mi logo in front and a single power socket at the back for power. The Mi Smart Speaker has two far-field microphones located on top of the device that does an outstanding job of picking up voice commands from anywhere across a noisy room.
Additionally, the speaker allows you to control Smart Lights, Air Conditioners, Home Security Cameras, and other smart devices as well. How?
Well, the Mi Smart Speaker seamlessly integrates itself into your smart home ecosystem thanks to the infamous Google Assistant.
By enabling all the required settings on the Google Home app, you can even ask the device to make a Google Duo Call or connect to various streaming platforms like Jio, Saavn, Spotify, YouTube Music etc.
The Mi Smart Speaker price is Rs.3999 and is available on the Official Poorvika website.
Amazon Echo Dot 4th Gen:
The Echo Dot 4th Gen comes in a new ball like design with a fabric top and front and hard plastic sides and back. It also has Amazon's traditional four-button array for muting the microphones, turning the volume up or down and an action button.
Echo Dot 4th Gen's redesigned look helps deliver loud and crisp sound. Its spherical inner structure helps amplify audio, providing you with powerful bass notes as well as mid-tones.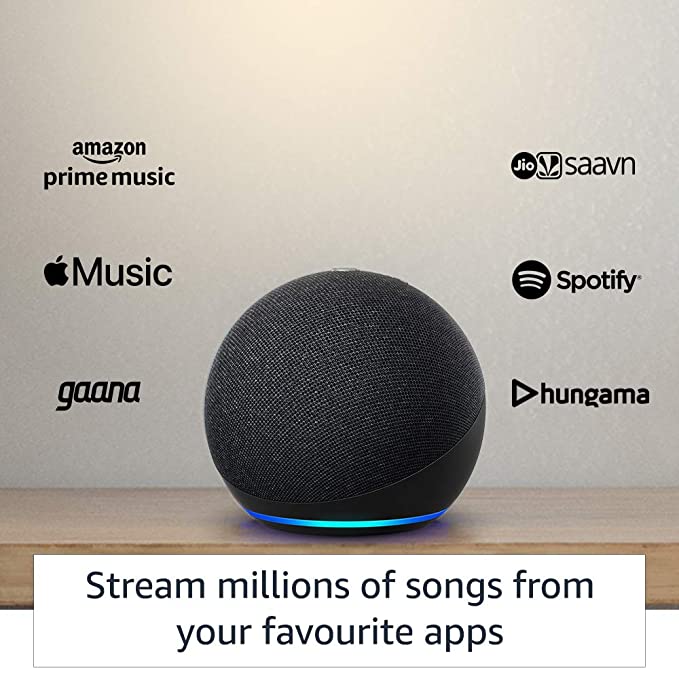 The device has a 3.5mm analog audio socket that allows you to connect external speakers apart from its Bluetooth connectivity option. The power cable for this device also goes right in the back next to the 3.5mm audio socket.
The aesthetic light ring on the bottom of the Echo Dot 4th Gen makes it look like the speaker is glowing when Alexa is active or shows alerts or adjusting the volume.
You can stream all your favourite songs from Amazon Prime Music, JioSaavn, Spotify Gaana, Hungama Music and even Apple Music. Apart from English. The device even has access to songs in almost all regional languages like Hindi, Punjabi Telugu, Tamil, Marathi, Kannada, Bengali, Bhojpuri etc.
How can we forget the most important aspect of this device? You can control your Smart Home by using your voice to control lights, TVs, ACs, Geysers, and other smart devices.
Other than that, you can ask Alexa for music, trivia, news, scores, alarms, weather, kids' rhymes and almost anything else. What's more? Alexa can now understand and respond to both Hindi and English.
With 4 microphones, Alexa can clearly hear your request from across the room, unlike most other smart speakers that fail to pick up voice commands when the source is a bit far away.
However, with all this clarity in picking up sounds, what about privacy? Well, it comes with a microphone off button that electronically disconnects the microphones, so you have control over what it hears.
The Amazon Echo Dot 4th Gen price is Rs.4099 right here on the Official Poorvika Website.
You can find all these Smart Speakers and more on the official Poorvika website. We have many offers, cashback, and easy EMI options curated just for you. Have your products delivered safely with our same-day delivery service! Our delivery experts make sure that all deliveries are Safe and Sanitized. Happy shopping