24 May 2021
Best Features of Dell New Inspiron 3501(D560424WIN9S) Intel Core i3 11th Gen Windows 10 Home Laptop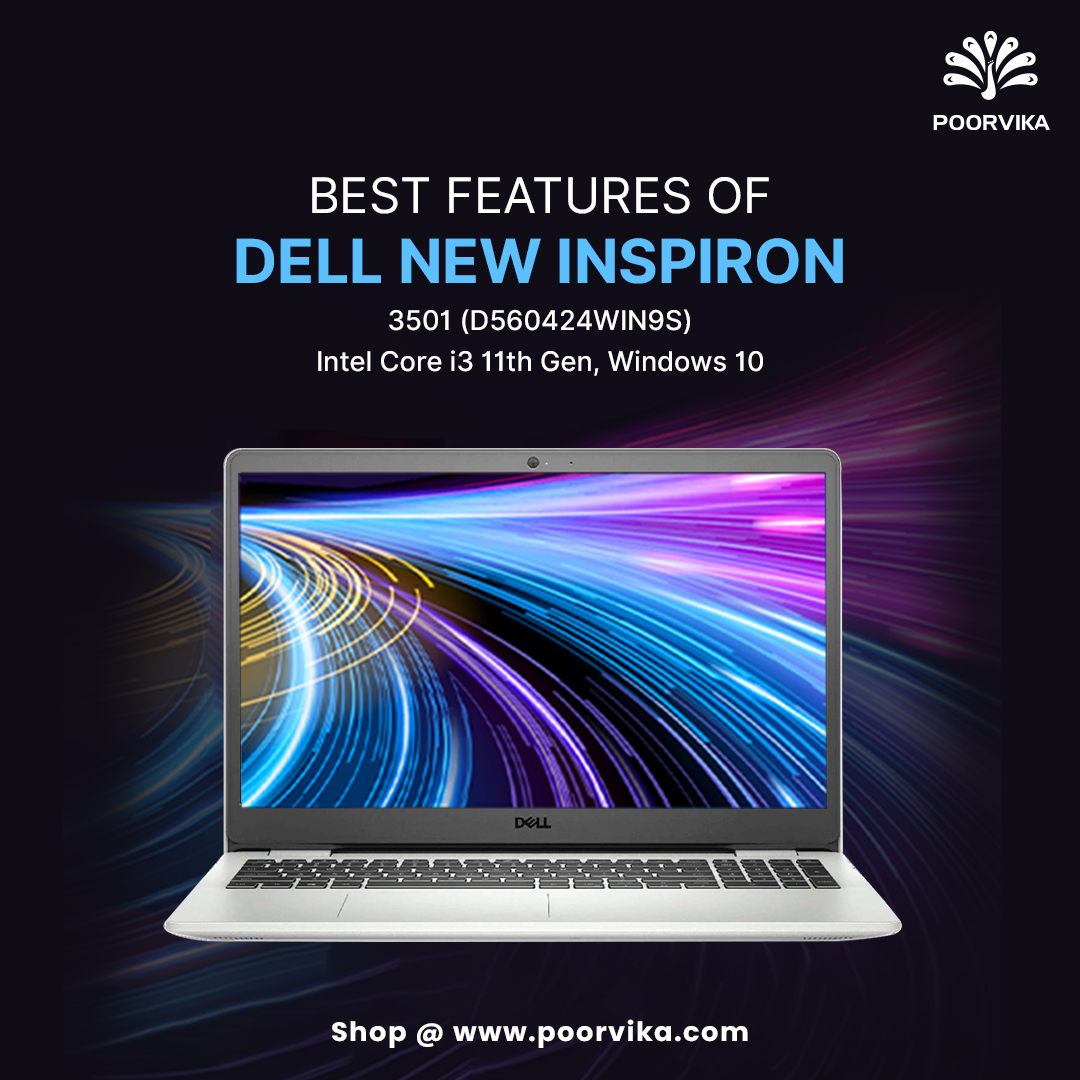 Despite reaching the pinnacle of advancement, currently we are helpless. The only option we have is not letting the virus infect us. Again staying safe doesn't mean reducing the qualitative state of our work. This is the right time to push things beyond the limit and we are hoping to recover from this scenario soon. Today this blog is going to discuss about a product which will help us to boost the standard of our work. Dell is a company which is known for delivering top notch computers and laptops. Because their products haven't failed till this day. The Dell Inspiron 3501 laptop is another feather to the crown of Dell.
No other company except Dell has won the India's most trusted brand consecutively. This itself is a proof to validate the qualitative state of their products. 80 percent of customers who use Dell are either large scale businesses or institutions. No other company was able to win the hearts of customers like Dell. This is also the reason behind their overwhelming success and dominance in the computing industry over a decade. On paper specification of Dell Inspiron looks like, it can effortlessly fulfil the requirements of school and college students. Be it editing documents on spreadsheets or designing circuit diagram on Proteus. The Dell Inspiron 3501 laptop can handle everything easily.
Design of Dell Inspiron 3501
Aesthetics of the Dell Inspiron 3501 laptop is lovely to our eyes. Its dimension will remind you of high end premium laptops. Because even the thickest part of the laptop doesn't look bulky. Watching the ceramic finish lid of the laptop is definitely a visual treat to our eyes.
Hinges and the build quality of the laptop is great. Even after plonking the keys, the lid didn't wobble a bit at one point of time. Black colour keys on the keyboard layout of the laptop looks contrary to the exterior of the laptop. Positioning the trackpad towards left is probably the best thing which Dell has done to this laptop. Because of this placement, user will have ample space to rest his/her palm in a very comfortable manner.
Chipset of Dell Inspiron 3501
The Dell Inspiron 3501 laptop runs on Intel Core i3-1115G4 chipset. It is a Dual Core processor which is made to perform wondrously and deliver seamless performance. Each physical Willow Cove core of the chipset consists of 2 virtual threads. Hence each core of the laptop can execute more than one action at a time. Using the turbo boost technology of Intel, the processor was able to reach maximum clock speed of 4.10GHz.
The chipset is built using Intel's Tiger Lake microarchitecture. Tiger Lake microarchitecture has a separate fan base for its incredible performance. Since the Intel Core i3-1115G4 has only two cores, its multi core performance is not up to the mark. However its single core performance is insane. In the benchmark test of Geekbench 5, 64 bit, the processor has a total score of 1245 points. Even there are some Hexa and Octa core processors that struggle to score above 1000 points.
As the processor has only two cores, it is not ideal for intensive usage like App development and gaming. But it is a great option for academic and official purposes.
It is a hellish task to render and process the graphic contents in a game. Only a chipset with tons of muscle can handle graphically intensive games like Call of Duty, Assassin's Creed: Odyssey. Graphics quality of latest games are exceptional. However processors built using Tiger Lake microarchitecture with more than 4 cores will be perfect for heavy and intensive usage.
Graphics Card of Dell Inspiron 3501
Next major improvement of the 11th Gen Intel core chipset is integrated graphics card. Intel Xe graphics has 48 EU which can operate between 400 to 1250MHz. So playing light games and designing posters on applications like Adobe Photoshop will be a blissful experience.
In addition to benchmark test and real life performance, the numbers are in favour of Intel Core i3-1115G4 Chipset. The chipset was able to perform 18,541 MOPs Integer Math per second and 4,925 Million Matrices extended instructions per second.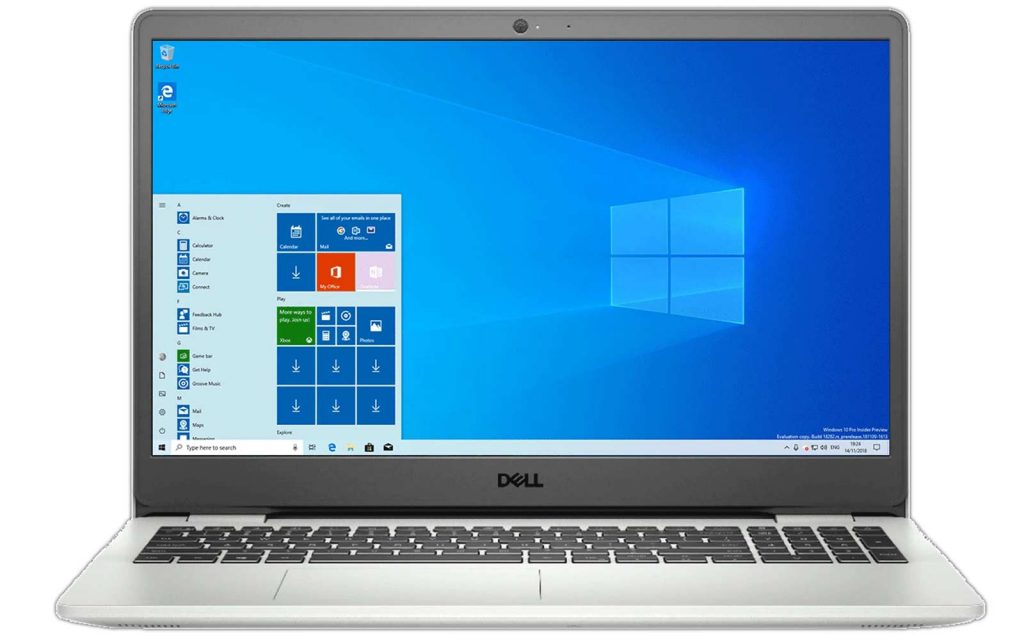 Another reason behind the impressive performance of 11th Generation Intel Core chipsets is 10 nanometre lithography. Transistors inside the 10 nanometre processor are much smaller than the 9th Gen processors.
There are two major advantages of using smaller transistors. Since it allows manufacturers to add more number of transistors which consume considerably lesser power than chipsets with bigger transistors.
While working on multiple applications, the contribution of 6MB L3 Cache memory enhances the performance of Inspiron 3501 laptop to a great extent.
Next major improvement of the 11th Gen Intel core chipset is integrated graphics card. Intel Xe graphics has 48 EU which can operate between 400 to 1250MHz. So playing light games and designing posters on applications like Adobe Photoshop will be a blissful experience.
Display & Keyboard
Dell Inspiron 3501 laptop has a 15.6 inch Full HD Anti-glare display with a supporting screen resolution of 1920 x 1080 Pixels. Because of the closely held pixels, images, videos and all sort of content, look clean and sharp without any distortion.
Slim bezels on three sides of the laptop's lid ensures user is able to watch entire content on the screen without tilting their head. The colour reproduction is vibrant so, the overall visual experience on the Dell Inspiron 3501 laptop is satisfying and impressive.
Keys on the standard notebook keyboard of Inspiron 3501 is light and very responsive. It also has less key travel and actuation force. So user need not apply much pressure in order to type while using the Inspiron 3501 laptop. Dell's decision to include numpad is useful while user is working on excel sheets.
Memory
8GB DDR4 RAM of Inspiron 3501 helps the Intel Core i3-1115G4 chipset, in order to avoid hanging issues even if user is using many applications simultaneously. No matter how quick you press Alt and Tab key together, the laptop will respond to every command within a blink.
Inspiron 3501 laptop has a 1TB Hard Disk. Thus the chances of running out of space will not happen. Needle inside the Hard Disk spins 5400 times per minute in order to match with the performance of SSD.
Battery
3 Cell battery of the laptop has enough charge to allow user continuously to operate Dell Inspiron 3501 for 6 hours. Lowering the screen brightness to 60 percent will give another hour of standby time.
Ports
The laptop has very minimal number of ports for media and connectivity which includes two USB Type-C ports, HDMI through which you can share content from your device to another, RJ 45 for Ethernet, discrete slot for micro SD card reader.
Buy Dell Inspiron 3501 laptop for just rupees 42,490 from our website Poorvika. Avail our safe and secure delivery service to get products instantly to your doorstep.