25 May 2021
Best Smartwatches under Rs.3000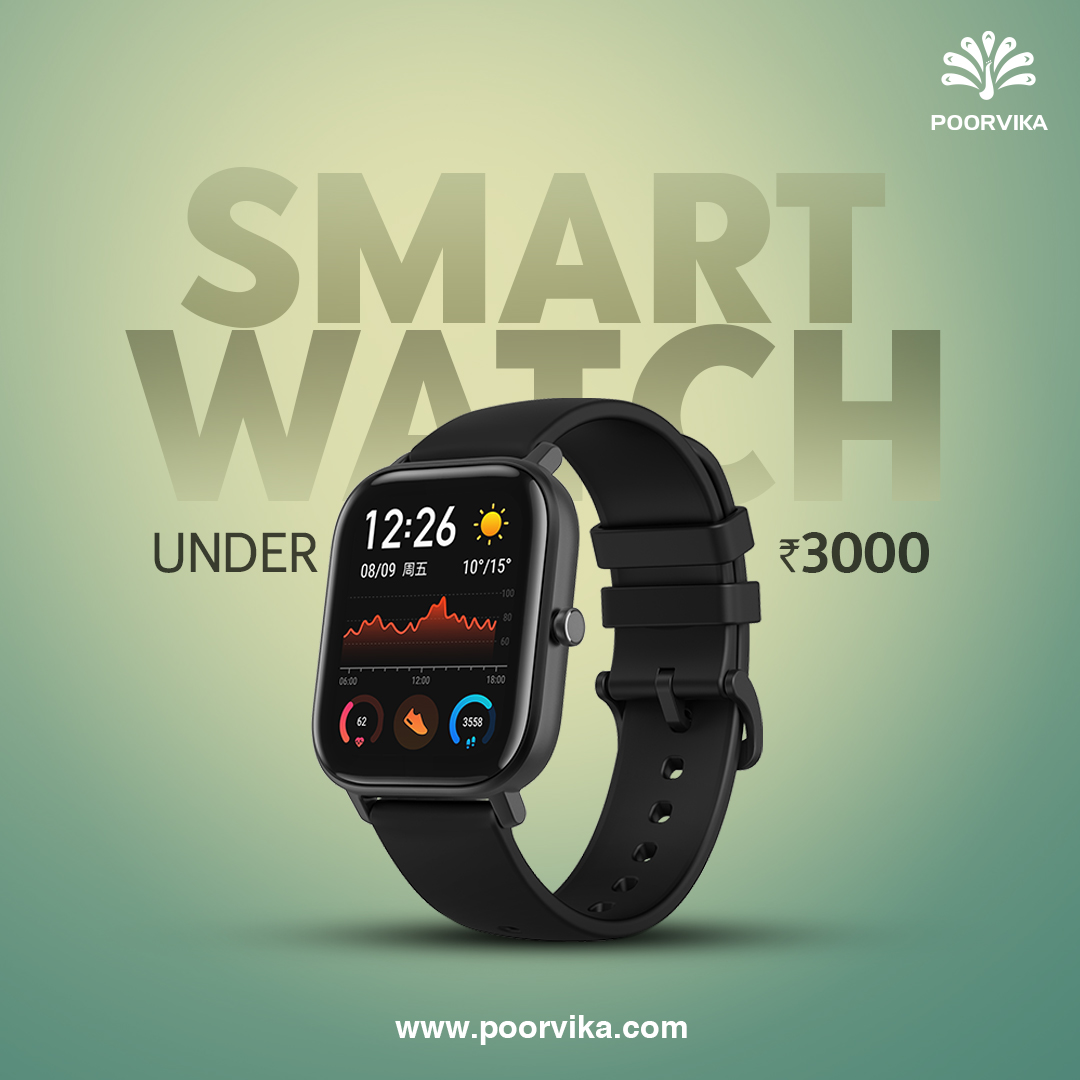 When it comes to smartwatches, the general perception is that they are expensive and, more often than not, will burn a hole in your pocket than anything else. Well, not anymore.
Brands are now trying to make smartwatches that are more affordable yet functional at the same time. If you are looking to invest in a smartwatch within the price bracket of Rs.3000, well, here's our pick for the best smartwatches under that range.
Inbase Urban Fit Smartwatch:
The Inbase Urban Fit comes with a bunch of basic health, and fitness tracking features with music control, app notifications, and decent battery life. The device is based on Apple's design traits and will surely interest those looking for basic fitness features with high-end design at a very minimal price.
The square display sits snug within the polycarbonate body, and the bottom is of plastic material. Considering its price point, it has a pretty good build quality. The device also comes with an interchangeable silicone strap of high-grade quality, which is also quite comfortable.
The device comes with a 1.3-inch IPS LCD Full Touch Curved Display that has punchy and a more colour-accurate display than other smartwatches in its weight class. The brightness of the screen is very good as well, making it easy to read texts on the smartwatch even under bright lights.
Navigating through the watch UI is only possible by swiping and interacting with the display, as the device has no physical buttons on it. It's worth mentioning that the touchscreen is quite responsive.
The smartwatch has a 'Connected GPS' functionality, meaning it can connect to your smartphone's GPS as it doesn't have an in-built GPS. With this, you can track walks, swims, runs, and any other activity you can think of.
It even provides data on your heart rate patterns, monitors your Blood Pressure and your Blood Oxygen levels, gives you accurate data on your sleep cycles and even helps you destress with built-in breathing exercise guides.
The Inbase Urban Fit has an IP68 rating, allowing it to handle a lot more than just splashes and be submerged for around 30 minutes in water up to 1.5m. It has a Run-Time that can last up to 7 days with typical usage and up to 15 days with basic use.
You can Buy Inbase Urban Fit Online right here at Poorvika for just Rs.2499.
Huami Amazfit Neo Smartwatch:
The Amazfit Neo is one of those smartwatches that brings us nostalgic memories. It features a rectangular dial with a 1.2-inch STN Always-On display.
It has black plastic elements around it, which gives it a rugged feel with a circular plastic partitioning inside the display that separates the mode selector from the rest of the display.
It is one of the lightest smartwatches you can wear, weighing just 32 grams. You can track cycling, walking and running activities on Amazfit Neo, including steps and calories burnt, although we only get to view all this data via the app. The device can even check your Heart Rate, Sleep Cycles, and PAI score via the Zepp app.
Other than that, the Amazfit Neo gives you the options to set timers and alarms. It has notifications for messages and calls as well as a blinking icon and a loud beep to alert the user of a new notification. In case of incoming calls, the beep keeps going off until the call gets cut or is attended to.
The Amazfit Neo has a battery life unlike any other. It can last for almost a month, even with sleep tracking and automatic heart rate detection turned on. The device is also water-resistant up to 50m
The Amazfit Neo Smartwatch price is just Rs.2499 and it's available right here at Poorvika
boAt Storm Smartwatch:
boAt is one of Indias leading manufacturers of mobile accessories, and last year, they released their latest smart device, the boAt Storm Smartwatch. It features a 1.3-inch Full-Touch 2.5D TFT Curved Display with a screen resolution of 240×240 pixels.
The device has multiple watch faces to choose from, making customization a breeze. It offers incoming call, text notifications, and an option to control your Music via the watch itself. It helps you get organized and allows you to set reminders, alarms, timers, etc.
The device comes with lots of health-related features. It has a smart activity tracker that checks the number of calories burnt, steps & distance while walking and running.
Achieving all your fitness goals will no longer be a problem with the 9 Active Sports Modes available on the smartwatch – Walking, Running, Hiking, Cycling, Climbing, Fitness, Yoga, Treadmill, and Dynamic Cycling.
Apart from this, the boAt Storm also has a spO2 sensor that can keep track of your Blood Oxygen Level, a Menstruation Cycle Tracker; and sensors that allow you to monitor sleep along with checking your Heart Rate and Blood Pressure.
The boAt Storm comes with 5ATM water resistance and comes with a battery life that can last anywhere from 8-10 days on a full charge depending on the frequency of usage and the features used. Its 210mAh battery takes 2.5 hours to get fully charged and has a standby time of 20-30 days.
You can buy boAt Storm Watch Online, here at Poorvika for only Rs.2990, which is the best deal you can get.
Inbase Urban Lite Smartwatch:
The Urban Lite features a vibrant 1.4-inch TFT LCD full touch display with a screen resolution of 240×240 pixels. The screen has different levels of brightness. The devices various levels of brightness ensures that the screen is visible in both outdoor and indoor situations.
The Urban Lite looks almost like the Huami Amazfit GTS smartwatch. It comes with an aluminium case and a high-grade silicone strap. The right side of the device has a small power button that also serves as a home button.
Customization options are plenty in the Urban Lite, with 100 watch faces to choose from. The device has many other functions, including setting alarms, reminders, and displaying incoming text and call notifications.
It also has a unique camera function that allows you to click pictures on your smartphone using the watch; and also a Find Watch function, among many others.
The Urban Lite has 7 sports modes with activity tracking for running, cycling, skipping, basketball, football, etc. The device also features sensors that can monitor heart rate, blood pressure, sleep quality, and blood oxygen.
The Urban Lite claims up to 5-7 days of battery life when used normally with maximum brightness and most of its features activated. The smartwatch takes around 2-hours to be fully charged and has a whopping standby time of 15-30 days. It has an IP68-rating allowing it to survive anything from rain to a swim in the pool.
You can Buy Inbase Urban Lite Smartwatch Online on the Official Poorvila website for just Rs.2999 and stay ahead!
You can find all these smartwatches and more on the official Poorvika website. Our delivery experts make sure that all deliveries are Safe and Sanitized. We have many offers on the Poorvika website, including a same-day delivery Option, cashback, and easy EMI Choices to make life easier for everyone!